In 2011, the Grammy Award for Best Instrumental Soloist Performance (without orchestra) went to organist Paul Jacobs. A two-disc set, music by Olivier Messiaen, Livre du Saint-Sacrament. It marked the first time this award had been given to an organ soloist. The work is very, very dense. Each track is a meditation -- a harmonic structure in which to contemplate an image of faith or doctrine, such as "The Transubstantiation" and "The Multiplied Presence".
The organ and model of choice was the much treasured Aeolian-Skinner Opus 891 at the Church of Saint Mary the Virgin -- located in Manhattan's theatre district, Midtown West. Also very dense. St. Mary the Virgin, a theologically complex Anglo-Catholic wing of the Episcopal Diocese of New York, is known for its lush acoustics and the excellence of its musical liturgies. Paul had performed the same work there in 2007. He knew what to expect when he returned in September 2010 for the recording. Messiaen's "Book of the Holy Sacrament" is hardcore organ composition. In the hands of Paul Jacobs, the music is a means to the Eternal.
Paul recently participated on a judging panel for a competition held at Longwood Gardens in Kennett Square, Pennsylvania. Once the private estate of Pierre S. du Pont, Longwood Gardens has long been recognized as one of the foremost botanical sites in the world. Within its colossal four-acre conservatory is a large ballroom which contains a massive and recently restored Aeolian organ with 10,010 pipes. The occasion was the first Longwood Gardens International Organ Competition.

PAUL JACOBS. Photo, Felix Broede
Organists and fans of the instrument are well acquainted with at least two of Paul Jacobs' celebrity students, Cameron Carpenter and Christopher Houlihan. They are about to meet another. Twenty-three year old Ben Sheen was awarded the Pierre S. du Pont First Prize -- a cash prize of $40,000 and a contract for professional management from Phillip Truckenbrod Concert Artists. In the final round, Ben generated a wholehearted response from the Jury and audience with his stunning rendition of Mendelssohn's Hebrides Overture, a transcription that began with his father, Graham Sheen, principal bassoonist with the BBC Symphony Orchestra. During our recent interview, I asked Paul about the responsibilities of a competition judge. What goes into the jury's final determinations? How much does showmanship influence the outcome?
"It's always a balance of judging the technical ability along with how powerfully an artist can communicate the invisible musical message," he said. "Both of these aspects and others need to be considered when judging a competition. The piece has to be played with confidence and accuracy. There is also that indefinable something that permits a performance to be memorable and touch the deepest corridor of the human heart. But, as a judge, one must listen to the music unnaturally. I had to remove myself from the pleasurable way of listening and be objective, be impartial and critical of what I was listening to. I think that virtuosity and flare is a consideration. However, some artists are by their very nature more refined and subtle in their manner at the console. I don't think that one can compare somebody who is by nature quite flamboyant and someone else who believes in subtlety and nuance a little bit more. There are qualities to admire in each. As a judge, one has to ask how consistent was each competitor within the parameters that he or she set for themselves. There is also the question of depth in one's artistry. It's possible to wow an audience. But a sensitive listener can detect the lack of substance against the fluff and glitter."
Every professional performing artist I've interviewed understands the benefits of proper management. It can spell-out the difference between sustaining a career and not. Tuition at a world class conservatory such as the Juilliard School runs $55,000.00 per year. What does the job market look like for the thousands of young musicians who pass through such conservatories and universities? The woods are full of graduates who may never see another audience once they leave school. Those bent on the Broadway stage, for example, may have missed the lecture on, "The Union Card". Without that piece of paper -- which can take years to acquire -- they can't even approach the audition line which had already wrapped around the block long before breakfast. The vast majority of degreed performing artists will never sustain a career in their chosen field.
When he was 27, Paul became chairman of the organ department at Juilliard. "In some ways," he said, "the scene is a bit brighter for organists. There is a slight shortage in the number of young people pursuing the instrument -- unlike good pianists, violinists and singers who seem to grow on trees. But for organists, there are many opportunities to make a decent living -- through teaching, performing, and in the realm of sacred music. Any combination of these things are possible for young organists. And, I dare say, that the standard of performance among young organists is perhaps higher now than it has ever has been. But, yes, you're absolutely right. At some point, it's important for any young artist to understand that a lack of management is a silver bullet for a career. It's important to have someone who values your ability and is going to help you bring your talents to a larger audience. There's no denying that management is a very important tool. It is important for young organists to develop a passion for building bridges from the organ world into the broader realm of classical music."
One of the reasons the Longwood Gardens Competition could have such a positive impact on the organ profession is not only that it brings organ music to a broader audience, but it also forces gifted young organists to confront a wild, daring instrument such as the massive Aeolian organ at Longwood.
"They might have to throw out much of what their teachers taught them about performance practice," says Paul. "This competition emphasizes personally compelling, expressive, and imaginative performances because of the nature of the instrument. The instrument itself is a technological marvel. It has its own idiosyncracies and it's not as though there is an unlimited time to become acquainted with every corner of this elaborate and complex instrument. It forces the competitor to sink or swim. Fortunately, for all of us, there were no train wrecks."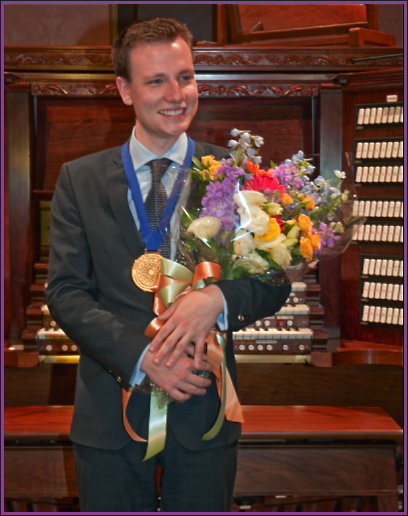 BEN SHEEN. Photo, L. Albee
Paul has been a professional organist for a dozen years. I asked him about those strategic "A-ha!" moments that come to such musicians along the way, those game changes that re-kindle the artistic fire and personal commitment to daily practice. What bolt of realization might be in store for his other up-coming students?
"Hopefully, how precious the art form is -- the art of playing the organ. And how much our world is in desperate need of more beauty. The art of organ playing widens the human being's perspective toward infinity. The organ as an instrument is the mechanism that will broaden one's horizons to the infinite.
"For me, Bach has always been the Alpha and Omega of music. Like Shakespeare, Dante or Rembrandt, Bach presents the most complete and awesome vision of man's destiny. I think a case can be made for drawing a distinction between art music and pop music. And I'm not saying pop music is bad. But I was thinking about what drew me to music in the first place. While I didn't understand it -- and I'm not sure I understand it now -- music is proof of the spiritual dimension of reality. Life is not just material existence, not just the bottom line. There is an immaterial reality. Music is perhaps one of the strongest proofs of this. Music is invisible. It's immaterial. Yet we know it's real and its effect upon us is undeniable. I believe that our Age is, in some ways, moving too fast. It's hyper, anxious, and restless. It desperately needs to be reminded that there are greater realities and music can help us do this."
Want to compete in the 2014 Longwood competition? It will probably take a year to assemble your audition packet. Click here to check out the rules and repertoire requirements for this year's event. In the meantime, get acquainted with this year's winner: Ben Sheen
REAL LIFE. REAL NEWS. REAL VOICES.
Help us tell more of the stories that matter from voices that too often remain unheard.