 Long ago, proud Hellenes considered Delphi and its illustrious oracle as the Navel of the Universe. Now a newly formed Greek NGO called Organization Earth has baptized its headquarters "Center of the Earth."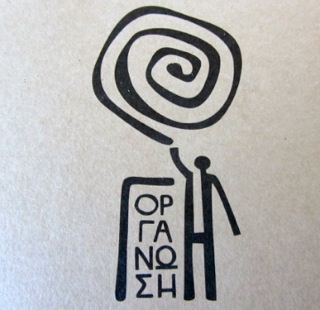 Was there any hubris involved?
"Well," explained Christos Zouras, one of the organization's four founding members and its director, "It's more like a play on words. Because our aim is to increase environmental awareness, we wanted to include the word 'earth' in our name. From there it was almost inevitable that our Organization should have a Center.
You see, my partners, Petros Kokkalis, Sergios Fotiadis, Yiannis Sakiotis, and I were trying to find a way to change how people view the environment and nature, but we wanted to show the optimistic side -- practical things we can do to make us (and the world) feel better -- in a place you can actually visit. So many pessimistic messages bombard us all the time, but at the Center of the Earth visitors can see and touch green principles at work.
Although the Center of the Earth is just 25 minutes bus ride (8 km) from the center of Athens, the moment you pass through its gates, you enter a bucolic estate that belongs to another era. Not only does it adjoin the Tritsis park, the largest in the Athens area, some of its buildings once belonged to Greece's first queen, Amalia. And it rents the land under a special agreement with the owner of a working vineyard/olive plantation that the queen started in the 1850s. She modelled her neogothic mansion, Tour la Reine (the Queen's Tower), on the Hohenswangau castle built by her brother-in-law, Maximilian II, in Bavaria. Now it forms the boundary between the private farm and the public space. At the time her farm won prizes for its livestock, corn, wine, and legumes, and the wine was even exported to America.
Since the queen's passion for trees and nature endowed Athens with two other major green areas -- the National Gardens and Botanical Garden -- she would no doubt be delighted to see people thronging to the Center of the Earth and painlessly absorbing the lessons on biodiversity and vegetable planting.
In just one year since it opened, the Center has welcomed 25,000 visitors -- school groups during the week, families on the weekends, when there are free workshops on cooking and foraging, environmental games, guided tours, and a well-stocked ecoshop. Exhibits include showcases inhabited by the mini-beasts that have colonized the area, the insects, frogs, and creepy crawlies that are so beguiling to kids; a stable with horses; organic vegetable patches, colorfully guarded by floppy scarecrows; a collection of old farming equipment; composting; and three experimental plots. Formerly polluted by heavy metals and filled with rubble, they were cleaned and given different soil or compost but never seeded, watered, or weeded. Now the plots are ongoing examples of how Nature heals itself. They may look like messy vacant lots or untended roadsides to us, but in the three years since the project started, they are home to some 200 species and growing.

A part of the biodiversity garden with the Queen's Tower in the background
"These are just a few of the ideas we have adopted to raise awareness," said Zouras. "Actually, it might sound utopian, but our goal is to develop and propagate a collective Environmental Social Intelligence (ESI). Information, education, and awareness of environmental problems can lead to more ecologically-friendly changes in behavior and better quality of life.
When people witness first hand, through slide shows and before-and-after photos, what nature is capable of, they are usually astonished and more respectful. Also, these days, city children have no idea what vegetables look like before they are picked, so the sight of a cabbage or a pumpkin actually growing can be a marvel, never mind a carrot or a potato dug up from underground. We hope to inform by example, we don't have a didactic approach.
Zouras and his partners run the Organization Earth as a committee, each with an equal vote. Successful businessmen, they and the other 44 members of the organization -- all in their thirties and forties -- represent a wide range of talents and experience in the media, IT, environmental protection, and the law, with a great many degrees from top US and British universities.
Zouras himself first left the corporate world in 2005 to take over the running of the Arcturos Organization & Bear Sanctuary in northern Greece. During his five years there, he multiplied their activities by eight and more than tripled the number of employees.
After that success, I thought of doing something in Athens and at first to combine it with Arcturos. My friends were excited by the possibilities but we soon realized that our targets here would be very different and we'd have to create a separate organization.

Now that the Center is becoming established, we're devoting more attention to a new concept. We're restoring one of these beautiful old stone buildings for use as a 'Green Incubator,' a place for supporting innovative ways of facing environmental issues, presentations, and the like for young professionals and fledgling NGOs.

Of course, organizations like ours are the first to be hit by the crisis, but many Greeks are ready to fight and find different approaches to survive without causing more damage to the world around us. Human beings are designed to solve problems. If we all get together for one second, we can change things. Eventually we'll have enough followers to tip the balance.

Meanwhile, the Center of the Earth is dedicating itself to other activities. In early March, they will begin holding their free Sunday communal cook-ins for families, they already donate their vegetables to two needy institutions in the vicinity, and they will soon be offering 9 weeks of free seminars on theoretical and especially practical aspects of farming to unemployed men and women, preferably under the age of 50, who are thinking of turning to the land for a living.
With initiatives like these, it won't be long before Athens at least will be revolving around the Center of the Earth.
Related
Popular in the Community