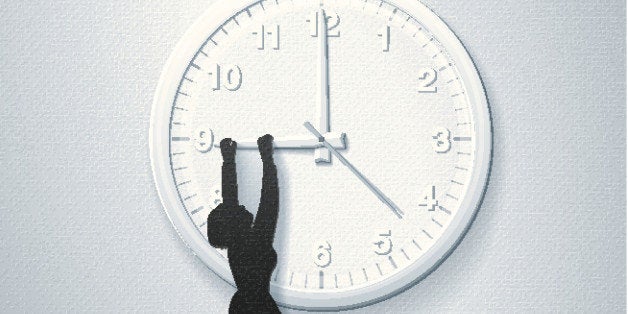 It's after Labor Day, and as my family always said, the year is "doing an Icarus." The lazy days of summer are yielding to the frantic days of autumn, barreling towards the holidays, and with it a new year, if not in sight, just around the corner. It's easy to fly too high, do too much, and crash and burn.
In our first book, How to Get Things Done: An Achiever's Guide to Time Management (National Press Publications, 1998), my co-author Paul Kraly and I spent a ton of time brainstorming. While it might not have been the best use of our time, we eventually figured out ways to save time, manage every second of each day, at home and work, and have enough time for a leisurely, well-organized existence.
We forgot that the world changes over time, and when we revisited those tips, we realized we really didn't have a clue what we were talking about. So, I restructured them for the here and now.
Since I don't suffer from triskaidekaphobia, here are my top 13 tips to guide you through the fall!
1) Use lists -- You have a smartphone, a tablet, an iPad, or something, right? Make a list. Failing an electronic device, keep a few old school notebooks within eyesight to jot things down. I'm frankly too lazy to always access my phone, so this keeps me organized and on task, since I tend to meander.
2) Use the calendar -- Your smartphone, tablet, iPad, computer, and wall should have one, so use it. Make sure you record everything you do. As much as you may hate Monday mornings, it's the perfect time to pull up the calendar and record appointments, meetings, deadlines for projects, goals, or anything you need to do that week - and make a small note on how much time each will take. This way, you control time, and it doesn't control you.
3) Do the worst first -- If you hate cleaning the bathroom or doing the laundry, schedule these chores first, and get them done. This way, everything else that needs done won't seem so daunting.
4) Be flexible -- Rigidity is the enemy. Don't take the lists, the calendars, and the schedules so seriously that any deviation will cause you to become hysterical. Life happens, and it's bound to mess with your perfect timing. Just deal with the inconveniences, move on, and remember to breathe deeply.
5) Have an adventure -- Convert routine driving tasks into odysseys. Find interesting places to shop, or to visit, or find an alternate route while you're out doing errands.
6) Set time bites -- Yes, time does bite sometimes, but that's not what I mean. I'm saying, don't do it all at once. Set aside short intervals instead. Trying to clean your office or your room, for example, can be a day-long process. Do yourself a favor and just do what you can for half an hour or so, then move on to something else. The clutter didn't happen in a day, and it certainly won't be cleared in one.
7) Pick up the mess -- As soon as you generate it, pick it up. Don't wait for it to accumulate into a much larger, difficult task that could take hours from your life to clean.
8) Create a gift box -- This one is so practical and simple, it's scary. Throughout the year, you're going to need presents, be it for birthdays, holidays, showers, parties, whatever. Running out to buy that last-minute gift costs time and money. Stores have clearance sales all the time. Visit them and stock up on picture frames, kitchen gadgets, books, toys, towel sets, even wines and spirits. Wrap them up, put them away inside a large box, and you're Santa Claus year round!
9) Be aware of your energy cycle -- If you're a morning person, do your most difficult tasks then. If you're a night owl, you may find you have extra gas late in the evening to do a few things. Realize when you're functioning at your best and do chores then, while you have that burst of energy.
10) Map your errands -- Plan the errands and the paths you'll take. Don't run out, go home, and run out again. Make all your trips at once. Even if you're stuck with a bag full of frozen groceries that absolutely must get home, a cooler bag or box in the car will keep stuff cold. Remember, single-trip tasks save time and fuel!
11) Cook ahead -- Even if you're single, make food ahead of time, divide it into meal portions and freeze it. Then you'll have it available to heat up and eat. This works for busy families as well. Keeping meals ready to go takes away the burden of cooking all week, when schedules are crazed, and you'll avoid the less-healthy fast-food traps.
12) Don't accumulate -- Get rid of that quesadilla maker you used just once, or the old clothes tucked away in bags or boxes. Have a sale. Donate to a charity's flea market or sell on eBay or Craigslist. If you haven't used it or worn it in over a year, get rid of it. There is one exception: books. Those you should keep, because you never know when you'll need to read them again.
13) Give yourself a break! -- Stand up, go for a walk, workout, or read something interesting. Play. Go out to eat. See a movie. Relax. If you follow all these tips, you're saving time. Now you can use it to do something you really want to do. Revive yourself for the tasks ahead. You'll be glad you did.
Hopefully, you'll find these tips useful and they'll keep your inner Icarus from flying too close to the sun.
HuffPost's GPS for the Soul app is based on two truths about human beings. First: We all have a centered place of wisdom, harmony and balance within us. Second: We're all going to veer away from that place, again and again and again. What we need is a great course-correcting mechanism -- a GPS for the Soul -- to help us find our way back to that centered place, from which everything is possible.
Because no one knows better than you what helps you de-stress and tap into that place of peace inside yourself, it's important for you to create your very own GPS guide -- a personalized collection of whatever helps you course-correct. Email us at GPS@huffingtonpost.com and we'll set you up with your very own HuffPost blogger account to share your guide on the site. If you're already a blogger, we encourage you to upload your personal guide today. We can't wait to see what you have to share.