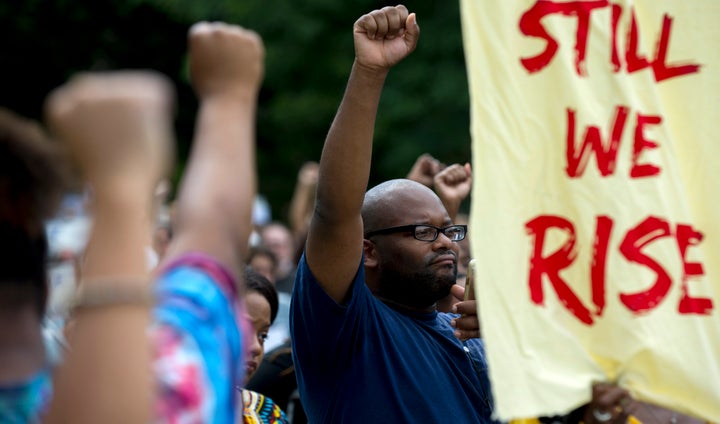 As is true for most born, bred and rooted Southerners, my relationship to the US South, its people, the land, its complex and often misunderstood histories, shapes my understanding of every single experience in my life. So in the context of 45 and crew's accession to executive power, and the attention of folks from all over the country being focused on recent white supremacist violence in Charlottesville, people are beginning to talk about and observe what's happening down South. The reminder that white supremacy and nationalism as a politic still exists, as well as the organizations and institutions that perpetuate those politics, visibility of what that looks like in the South at it's ugliest, has once again sparked the attention of politicized people and stirred the spirits of people across the country.
In a time where people of good will are hungry for strategies to win, tactics to move those strategies, concrete direction, entry points, and actions that regular, everyday people can plug into, it's critically important that those of us who have committed our lives to the liberation of our people move with intentionality about accurately describing what's happening in this moment. Questions that impact strategy development and the tactics that we choose. What's happening right now? Where is it happening? Is this the first time it's happened? What's the impact? Who's impacted? What's our liberatory and utopian vision? How can we, while centering the most marginalized and directly impacted, resist and respond to the crisis while building the communities and alternatives that our people deserve.
Those aren't the questions I'm getting though—not from enough comrades in the region, not from folks outside the region that are making assessments of the role of Southerners, declarations about why the conditions are as they are in the region, what should be done to fix it and how the fixing it should take place. Maybe that's not where we need to start in the conversation about how to organize the South to save the country anyhow, in an effort of meeting folks not from the region and those of us who are who've been taught to hate ourselves where we're at. Shouting "As goes the South, so goes the nation" or spitting facts to justify why Southern organizing and action is important and valuable isn't what's needed right now. Maybe being my Southern self, sharing my Southern perspective, is useful.
I wonder if folks can wrap their imaginations around the many different ways it can feel, what it means, how it looks to live where white Nazis, nationalists, and supremacists can be your neighbor. I wonder if folks recognize that although that's very obviously a possibility in the South where white supremacist infrastructure has always been more resourced that the social movements to dismantle systemic oppression in all it's ugly forms, that possibility is also just as real in the north and west.
I find inspiration in the beauty of this land, the radical legacies and 21st century manifestations of resistance of Southern people, the expressions of Black queer feminism, living into the beauty and challenges that come with family (blood and chosen), and so much more, very similarly to how folks find joy, love and community outside the region. For every story of terror, fear, lived realities that drove Black people out of the South, fleeing Jim Crow and chattel slavery, there is a sacred story of love and resistance and winning that keeps me rooted and grounded and staying to fight for this place and our people here. Our people deserve the world we envision, and that world requires us to birth and build it. I deserve to experience that world in the place that I was born. This beautiful, fertile, sacred place shouldn't be abandoned or conceded to the right or to white supremacists, and doesn't have to be. So many of us, choose to stay and fight and build. Knowing Nazis can be our neighbors. Klansmen are our judges. White supremacist cops run rampant in our streets.
It means that organizers and activists have to be creative, risk taking but intentional and prepared. We have to study what's been done before and who's done it (both in terms of folks fighting for liberation and building beloved community, but also folks who have done the opposite). We have to be creative in moments of chaos. We have to trust and listen to our people. We have to love them in action. We have to develop multi-tactical strategies with multiple entry points for folks. We need to train up a new generational cohort of freedom fighters with lots of different kinds of skills to build and sustain contemporary movement infrastructure. It's about knowing the intellectual laziness of reducing the enemy to poor, or rural, or poor and rural white folks, but not the rich white folks and policy makers that sustain systemic oppression with great power and access to resources. It looks like doing the every day grind to build bases, which might not look like getting every person to every meeting or action, but they'll big up our work at their church and at their dinner tables every day.
It looks like having a leadership development pipeline that moves those folks from evangelists to mobilizers and popular educators, from there to organizers and activists that can develop strategies for rapid response needs and long term visions. It feels like not being frozen by fear, exhausted by sacrifice, but finding great healing and joy in what has always sustained our people down here, art and culture, the land, faith and spirit, and fighting like hell for the living.
Support HuffPost
Every Voice Matters
Popular in the Community