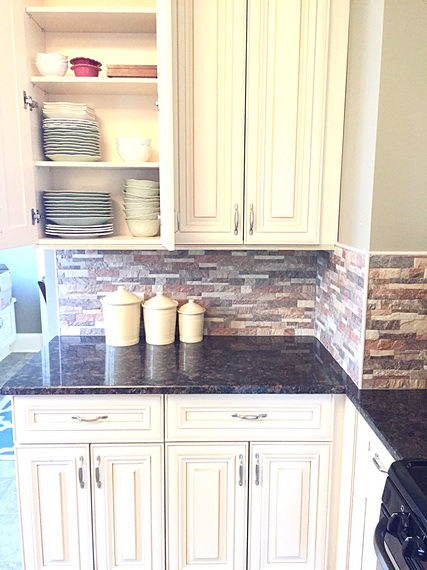 It happens to everyone; you move into your house with every intention on keeping things decluttered and perfectly organized. You plan to keep everything in its designated spot so it looks clean and orderly at all times. The years go by and you've adapted to your method of madness - the large square frying pan gets squeezed between the 10 round pans, which are artfully kept in their place by the pot's lids jammed between them. You've resolved to the fact that there are serving dishes you received from your wedding shower that you may never seen again because they're somewhere behind the large appliances which are somewhat overshadowed by the hundreds of jam-packed grocery bags stuffed beside them.
Or was this just me? I'm shamefully describing the state of my kitchen right before packing up to move. That's when I decided I would not bring that (dis)organized chaos into my new beautiful home, all nice, neat, clean, and pretty, its open shelves begging me for method and order. So I listened. Thanks to Organize It, I was able to organize my whole kitchen in one day. This was the first task I undertook in my new home, and to say I was elated and euphoric with the results is no exaggeration. If I could take on this seemingly overwhelming project 7 months pregnant and in extreme pain and exhaustion, anyone can do it.
1. Declutter: take a thoughtful audit of your kitchen appliances, food, cleaning products and towels. Start by tackling one area at a time - I started with appliances. I took every appliance out of each cabinet, one-by-one, so as not to overwhelm myself. At first, I decided there was no way I could part with any of our 15 round frying pans; I loved them all. But once I really considered their actual purpose, I made some serious cuts, minimizing my pots and pans almost by half. Ah, are you feeling refreshed already?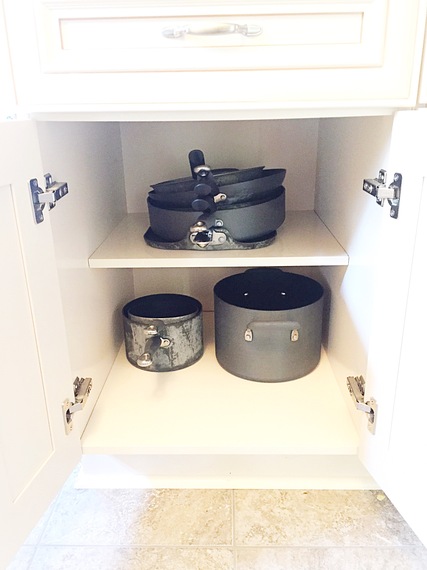 Do the same with your food, cleaning products, and towels. I opted to scrap by cleaning products and towels and start completely fresh with green products and a nice, new set of towels and rags.
2.Clean cabinets: after you empty each cabinet, one at a time, clean the interior. Depending on the state of it, start by vacuuming out dust and crumbs, then wipe it down for a clean start.
3. Placement planning: even if you've had the same items in the same cabinets for 10 years, come up with a plan on your items' new placement. Now that you have minimized your appliances, food, and towels, is there a different, more logical placement for your items?
4. Space savers: this is by far my favorite category. Let me share with you the BEST space savers for kitchens of any size - if you're tight on space or have an expansive kitchen, maximizing your space in an organized way is always a good idea.
a. Spice drawer: did I misspell spice rack, you're wondering? Who ever heard of a spice drawer? This is the best decision you could make when it comes to reorganizing your kitchen. I don't like keeping items on the counter, and even with a spice rack, you accumulate tons of other bottles of spices. I used to keep them in bins in a cabinet, but even so, spices would get pushed back and were annoyingly difficult to locate.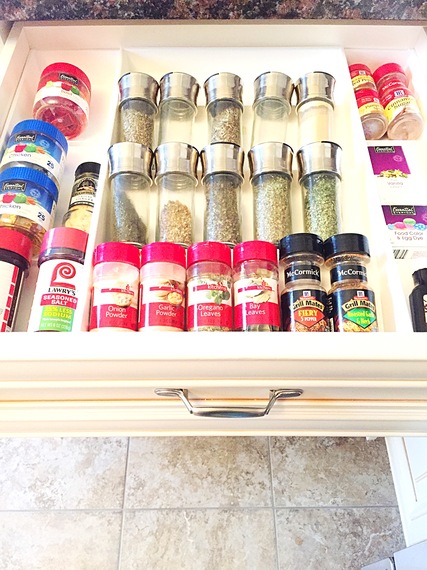 With the spice drawer, keep your spices organized in an easy to reach, easy to read manner. A huge game and life changer, if you ask me.
b. Lid organizer: no longer do your lids have to be a cluttered mess. Simply drill this behind the cabinet lid organizer to the inside of your cabinet to save space and make your lids easy to locate.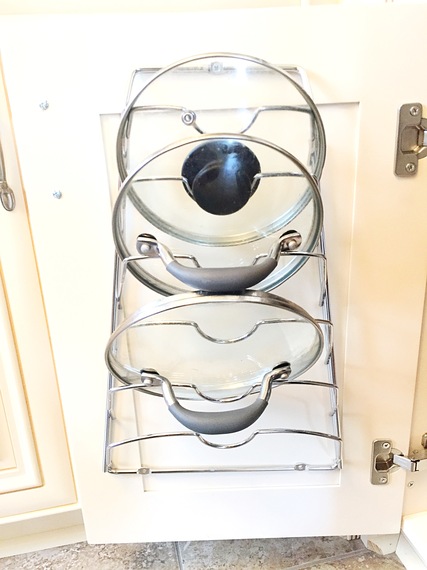 c. Kitchen wrap holder: instead of wasting precious drawer space with bulky kitchen wrap, store your aluminum foil parchment paper, and Ziplock baggies in a behind the cabinet organizer.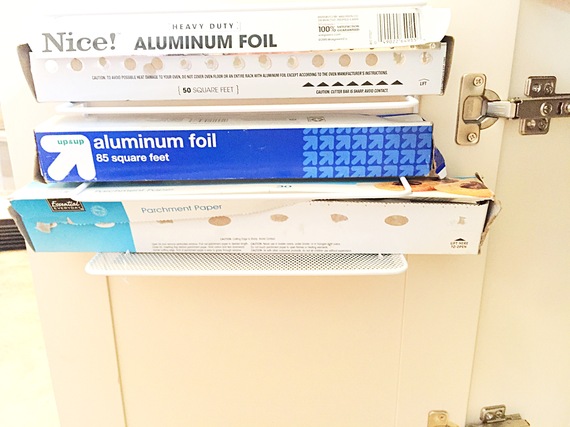 d. Under the sink organizer: this organizer is a great way to manage your under the sink items. It has two shelves, is customizable, and has two sliding drawers for easy access. Another way to organize under the sink is simply with an elongated cleaning bucket and bins, which you can purchase at the Dollar Store.
e. Bakeware organizer: keep your bakeware organized by putting cookie sheets and dishes in individual slots; I put mine above the oven for easy access that doesn't take up prime kitchen real estate space.
f. Lazy Susan: poor Susan, why did she get this reputation? No matter, the lazy Susan is a useful tool to use in a large cabinet or in the pantry. No longer will items be pushed to the back of the cabinet, never to be found again. A fun, practical organization tool.
g. Can dispenser: a simple, space-saving way to keep your cans organized in the fridge.
5. Everything has a place: from the pantry and fridge to your cabinets, you need an orderly way to keep your things. Use clear bins or wire baskets to you can easily see what's inside, and put like items in the bins - don't make them a free for all. Put salty snacks in one, sweet in the other, keep rice, noodles, and other side dishes together, etc. You can even label them to promote adhering to your system.
6. Scrap Tupperware: In a land far far away lives a graveyard of miscellaneous Tupperware containers and lost socks. Toss Tupperware that doesn't have a matching lid and start from scratch with a new set.

LASTING THOUGHTS
Don't let your kitchen organization project overwhelm you - just follow these simple steps to organize your kitchen in one day!
What are your organizational tips and tricks?
Related