WASHINGTON -- President Barack Obama may have run the last campaign of his career, but his political organization is not going away. In an unprecedented step for the campaign of a sitting president, Obama for America is relaunching itself ahead of the president's second inauguration as a social welfare nonprofit group called Organizing for Action.
First reported Thursday night by the Los Angeles Times and Politico, the new group will use the Obama campaign's extensive collection of data and manpower to push the president's agenda from outside the confines of the Democratic Party structure, while giving grassroots supporters a voice in deciding which issues the nonprofit will focus on.
Jim Messina, Obama's 2012 campaign manager and the chair of Organizing for Action, explained the relaunch in an e-mail to staffers and donors, "It will be a supporter-driven organization, as we've always been, staying true to our core principles: 'respect, empower, include.'"
"We'll work on the key battles of our generation, train the next generation of grassroots organizers and leaders, and organize around local issues in our own communities," Messina continued. "We'll continue to support the President in creating jobs and growing the economy from the middle out, and in fighting for issues like immigration reform, climate change, balanced deficit reduction, and reducing gun violence."
"In terms of the specifics of what this organization is going to look like, a lot of that will be up to you," she said. "It will be determined by your energy and ideas and feedback because, after all, this is your movement. And going forward, it can be whatever you want to give it."
Messina will be joined at Organizing for Action by White House Director of the Office of Public Engagement Jon Carson, who will serve as the group's executive director.
As a social welfare nonprofit, organized under the 501(c)(4) section of the tax code, Organizing for Action will be able to raise unlimited sums of money from any type of donor, whether that be an individual, a union or a corporation.
These types of groups came under scrutiny after the Supreme Court's 2010 Citizens United decision enabled them to spend freely on elections, since they are not required to disclose their donors. In fact, the Obama reelection campaign in fundraising appeals routinely attacked the secret money that was funding the 501(c)(4) groups founded by Karl Rove and the billionaire Koch brothers.
According to multiple press reports, Organizing for Action has stated that it will disclose all of its donors, although it has not decided whether to disclose on a monthly or quarterly basis.
This brought praise from Public Campaign, a campaign finance watchdog that has criticized the activity of political nonprofits not disclosing their donors.
"Obviously there should be extra scrutiny for an organization like this because of its ties to a sitting president and that's why we welcome that they will disclose their donors," said Adam Smith, communications director at Public Campaign.
There is no precedent for the continuation of a sitting president's political operation after the campaign is done. After the 2008 election, Obama for America's operations were housed inside of the Democratic National Committee (DNC) as Organizing for America, but the effort was barely noticeable during the push to pass health care reform or any other piece of the first term Obama agenda.
Former Vermont Gov. Howard Dean (D) transformed his failed 2004 presidential campaign into a political action committee (PAC) to help progressive candidates across the country. That organization, Democracy for America, still continues to raise money and organize with other progressive groups to elect like-minded candidates to the House and Senate.
The way that Organizing for Action is being introduced makes it look less like a political organization that will support or oppose candidates, like Democracy for America or the secret money nonprofits from Rove's Crossroads GPS and the Kochs' Americans for Prosperity, and more like a traditional, issue-based social welfare group.
"It's important to note that there's a difference between creating a 501(c)(4) to advance a legislative agenda versus one like Crossroads that was created just to elect people," Smith said.
That difference appeared to be confirmed by DNC communications director Brad Woodhouse in a tweet about the relaunch announcement, "Organizing for Action is great news for progressive movement and Dem. Party allowing DNC to focus on elections, C4 on issues."
Support HuffPost
The Stakes Have Never Been Higher
Before You Go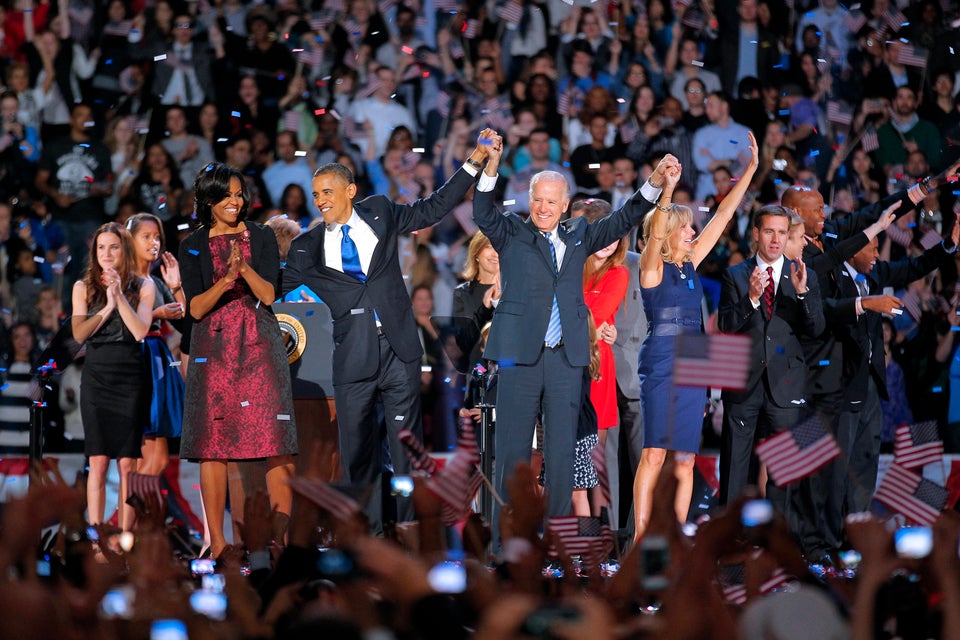 The Ultimate Election Night Gallery
Popular in the Community