Zillow Porchlight presents DorothyTheOrganizer and "The Beauty of Organizing Your Cosmetics and Toiletries"
Are there multiple hairspray bottles on your bathroom counter? Do you have old half-used bottles of lotions stacking up under the bathroom sink? Are hoards of brushes, combs, and hair clips floating around your house? If the answer is yes, it may be time to call a "toiletries truce."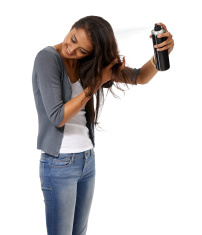 Most of us find that we have an over-abundance of cosmetics, cleansers, curling irons, and creams because we are simply living in a world of abundant products, constant choices, and beauty promises. If you feel your cosmetic cache is in need of an overhaul, consider using my four-step method.
1. Get it out in the open
Pull everything out of your bathroom cabinets and off the shelves and counter, and place it all on a large, flat surface like the dining room table.
Sort like with like, creating groups or categories, such as nail polishes and tools, toothcare products, medications, and hair potions and accessories.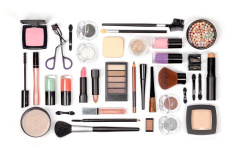 If you have multiple jars, tubes and bottles of the same item, get rid of those items that have a quarter or less of the product left in the container.
Where possible, check for expiration dates. Most people who handle cosmetics responsibly will clean them out once a year for sanitary reasons. Cleansers and moisturizers tend to have fatty acids in them, so they can go rancid in about six months, and mascara is just a breeding ground for bacteria, so it usually has a three-month turnaround.
Here's a cheat sheet on how long to keep cosmetics: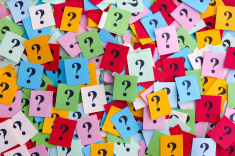 Lipstick, lip liner and gloss -- 2 years
Blusher, eye shadow and bronzer powders -- 2 years
Liquid eyeliner -- 3-6 months
Pencil eyeliner -- 2 years
Mascara -- 3 months
Nail polish -- 1 year
Concealer and cream eye shadows -- 12-18 months
Foundation or blusher -- 18 months
Finally, only hold on to what you know you will use -- and what's right for your hair or skin type.
4. Reload what you're keeping
Once you've eliminated the unused and expired products, look around your home for quick and convenient containers to keep your toiletries and cosmetics organized.

Here are some great cosmetic and toiletry storage tips:
For the budget-minded and to "upcycle" items from your own home, use decorative boxes in drawers and cabinets, or beautiful dishes from your own collection, such as pottery and Depression glass. Place nail polishes, cotton balls, nail files, and clippers in the boxes, and perhaps eye pencils, cotton swabs, or hair brushes in the fancy containers.
With any eye toward repurposing items from the kitchen, create your own hairbrush and comb divided storage tray in your bathroom drawer by using the plastic organizer meant for spoons, forks and knives. You may just get better use out of one of these in your bathroom drawer than in your kitchen. Also from the kitchen, consider an inexpensive "Lazy Susan" for those under-the-sink items. Rather than using it for spices and baking supplies in the pantry, load up the Lazy Susan with tall hairsprays and large shampoo containers.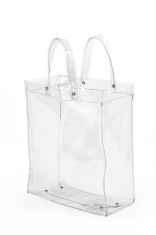 Storing items in a clear toiletry bag accomplishes several things: Items stay sorted and secure -- like products are together, and nothing spills or falls over. Using a clear bag also allows you to immediately see what items are in the bag. Finally, the bags are easy to put out on the counter when in use or to stash when you're tidying up.
Try a hanging shoe bag for over-the-bathroom-door storage. It adds color and loads of extra storage space. This idea provides a great home for larger items like hairsprays, curling irons, hairbrushes, kids' bath toys and washcloths.
If you like items stored by category, using a plastic drawer caddy is super effective. Each drawer can hold its own group of items: for example, the top drawer can be hair accessories, the second drawer nail-related products and tools, and the bottom drawer can be all about your teeth -- toothpaste, dental floss, replacement heads for toothbrushes, whitening strips, and retainers. When you want to retrieve something from a certain category, just pull out the removable drawer and place it on the counter for easy viewing -- no bending or squatting necessary.
For immediate access to your cosmetics, purchase a magnetic strip with miniature magnets, and afix the magnetic strip directly to the mirror where you typically put on your makeup. Just like you might hang knives on a magnet strip in the kitchen near the stove or cutting board, you can store your frequently used cosmetics where they'll be at your fingertips.
If you want to truly feel beautiful on the inside, take a chance on reducing all that stuff we think makes us look beautiful on the outside. It can feel so refreshing. Good luck!
Related