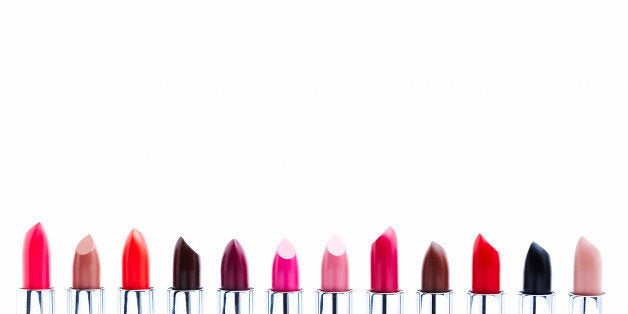 Organizing those beauty products is the perfect time to let your personal style shine. Have fun with it!
But first, keep in mind there are two main basics. The first is to organize products that you use often in the most accessible place in your medicine cabinet, bathroom drawers or other dressing area.
The second way to organize beauty products is by type. This works particularly well for items you use on a weekly or monthly basis, instead of products you use daily. This also works well for items that you have in excess like body lotions and makeup.
Consider these ten creative ways to get your beauty products organized.
1. Makeup packaging is so pretty that I like to use it as décor -- as long as it's organized. Keep similar items together, and then arrange the most regularly used items on decorative trays and bowls.
2. Store excess make-up in one bin so that you can replenish as needed and keep surfaces from looking cluttered.
3. Organize makeup brushes in pretty small vases or pencil cups to add a bit of style to your dressing area. This works whether you're storing them in a medicine cabinet or on a countertop.
4. Skincare products like moisturizers, serums, and other creams should first be organized by what you use daily, then by type. Items you use daily should be kept front and center. These products also fit perfectly on medicine cabinet shelves because the bottles tend to be compact.
5. If you don't have a medicine cabinet, organize skincare products in clear, stackable, plastic bins that can be stored under your bathroom sink.
6. Corral those bulky styling tools like hairdryers, curling irons, and straighteners with hooks. Command Hooks are perfect because they won't damage any surface. Stick the hook to the back of a cabinet door, wrap the cord, and you're done.
7. When organizing beauty products, use bins that can be easily wiped down or even put in the dishwasher, as a leaky bottle of lotion can be a pain to clean.
8. Recycle small gift boxes or even shot glasses to organize smaller items like tweezers, nail clippers, bobby pins, and safety pins in a narrow medicine cabinet.
9. Use the back of the cabinet doors as an extra storage area. Add magnetic strips from Three by Three Seattle, MagnaPods from The Container Store, or simple Command Hooks to keep items you need at hand, including travel size toiletries, extra three-ounce containers, Ziploc bags, and toiletry bags.