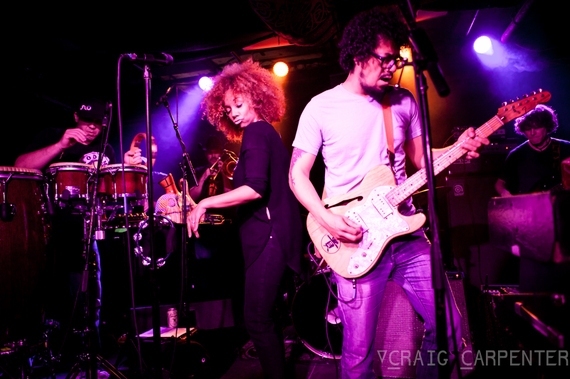 Philadelphia - The room was called "The Black Box", which was self explanatory, save for the red velvet curtain separating the stage area from a lounging space, complete with giant Oriental rug and deep sectional sofas. It reminded me of the so-called venues I'd frequented as a college student, but in only the good ways. Three days prior was the first time I'd even heard of Orgone, a jazzy, funky, soul outfit hailing from Los Angeles, and I literally only took notice because their promotional poster featured a great photo, with the lead singer's resplendant afro bouncing while frozen in mid-jump. A sucker for an afro-ed woman, I made my way to the venue, Underground Arts, having done a cursory amount of research and listening to the band's Soundcloud page in advance. I even donned a black t-shirt emblazoned with an image of Fela Kuti because I thought that would be apropos for the night. If I ever meet the photographer who made the photo used for that promotional poster, I owe them a hearty thanks, because my instincts were proven correct.
Prepared as I was, I knew this would be a dance filled night. The crowd, which slowly filtered in and tentatively received the excellent opening act, Sophistafunk, had to be cajoled forward through their self-imposed semi-circle force field keeping them from the stage. The warming up didn't take long, though. The quartet's infectious and groovy songs, with their MC/vocalist's pattering rhymes made for a welcoming party starter. The talent buyers made a wise choice with Sophistafunk. Having toured with Orgone for the prior two weeks, it wasn't necessary to remove their instruments from the stage between sets. A five minute, smile filled break preceded the headliners, who bounded onto the stage as if answering a challenge. This is when my decision to attend the show was instantly rewarded. They opened their set with a burning instrumental called Meat Machine", which falls midpoint into their new album, Beyond The Sun. It's a fitting announcement, and full of confidence. Having yet to see the band live, this introduction was funky from the gate - driving percussion, stabbing synths, searing guitar, et al., the tone was set for what was to come. Let me slow down first.
One of the most enduring memories of my childhood is of the famous painting by Ernie Barnes called "Sugar Shack". It's the one that appears during the opening and closing credits of the now classic television show, Good Times. Elongated bodies snaked and contorted around each other as they danced mesmerized by whatever music the painting captured, and the viewer simply wishes to be there. The scene conveys a comfort within the confines of a very crowded room - a comfort in the closeness of companionship and communal enjoyment of the moment. It's hot. It's funky. it's sensual. Enter Adryon De Leon. Tall, golden haired, and broadly smiling, the room was hers in that instant. As the crowd is already an hour plus into their cardio program, they may have missed the nod to the Philadelphian duo, Zhane, as she belted into a funkier, meatier rendition of "Hey Mr. DJ", their stalwart hit from the early nineties. But that's easily excused as this wasn't an excercise in music academia (though it was a treat for those paying attention). Apparently, an Orgone show is a funk party, plain and simple, and the band's sole ambition to get down, by getting the crowd off. I looked around the room and the best, yet most blunt way I can describe the dynamic is that the whole crowd, the band (and maybe the bartenders, too) had their faces fixed in the expressions of good lovemaking. I think that is also how one defines the funk, too (at least some of us do). The groove is so hard it looks like it smells bad. Afterwards I explained that idea to the boyish looking bass player, Dale Jennings, who concurred that the band members feel the same thing on stage. He related that the sounds and energies emanating from all of the players on a tight crowded stage feel as if being hugged the whole time - almost as if in that famous Ernie Barnes painting.
My conversation with Dale did turn to music academia, though, of course. I mentioned to him that I noticed the band's nod to the obscure Larry Levan edit of The Clash song, "The Magnificent Dance", which they'd snuck into a cover of "It's Serious" by Cameo. Being the bass player, I'd assumed he was responsible, since the bassline is most prominent and recognizeable. He was, in part. The original Orgon bassist, Tim Glum had played it on the studio recording, but as a fan of The Clash's bass player, Paul Simonon, Dale opted to play the live version using a Fender P Bass and Ampeg SVT, as he had seen Simonon play. The whole outfit is made up of music nerds, as it turned out, and that explained their deep knowledge and proficiency. Each player was also afforded opportunities to solo, as if necessary to convince the crowd this band had chops. By this point, it wasn't. It had been made abundantly clear. Listening the night before, I believed that much of what I'd heard would have been right at home on Larry Levan's mid to late eighties Paradise Garage playlist. I mentioned to Dale and their keyboardist, Dan Hastie, one song in particular, "Keep The Fire Burnin'", which sounded like a proto-typical dance song. It turned out to be a cover of a song originally recorded by Gwen McCrae - another Levan favorite. I mention all of this because, as a DJ, Levan was hugely influential in New York, and beyond, and many of the songs and styles we listen and dance to today were fostered on his turntables. The closing song, "Love Maker", which turned into a call and response jam, sounded like a reworking of a Betty Davis song which I can't put a name to, but it, too, was funk hewn from the earth. The music nerd in me recognized those influences in Orgone, and those sounds, those grooves are as elemental to partying as anything in my life experience.
It's important to note that, while the band slips in some covers and nods in their set, there are plenty of original compositions - all equally accessible and fun, and the players are all stacked with charisma. The afro-ed Adryon sang and left, leaving the stage to burn up some more under the feet of the instrumentalists, nearly charring the floor in front of them, then returning to encore with "I Get Lifted" by KC and The Sunshine Band, which is a guaranteed crowd rouser, no matter where they are. I can't say enough about how fortuitous it was for me seeing that poster and following my gut. Everyone should be so lucky.

Beyond The Sun was released two weeks ago. Orgone will continue to tour, making dates throughout the west coast this summer.
Calling all HuffPost superfans!
Sign up for membership to become a founding member and help shape HuffPost's next chapter