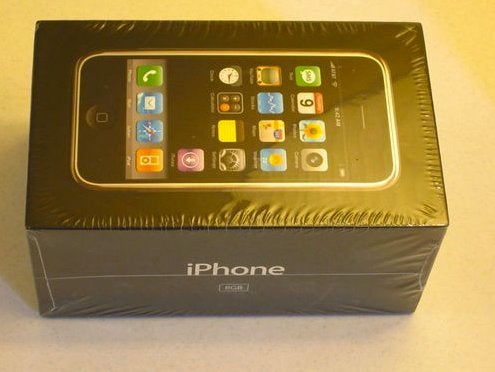 Director Judd Apatow wanted us to cringe when we saw the collection of unopened actions figures owned by Steve Carell's character in The 40-Year-Old Virgin. What grown man collects toys just to keep them in their original packaging? A grown man who's never had sex, that's who.
Which brings us to another type of toy, the iPhone. Not one, but two factory-sealed, mint-condition versions of the first-generation smartphone are being sold on eBay now, the iDownloadBlog points out.
These two phones aren't just your run-of-the-mill, out-of-date electronic trash. They come from the very first line of iPhone, unleashed on the world by Steve Jobs in 2007. And now one can be yours, for the sky-high price of $10,000.
That's right: The asking price in each listing is a cool 10 grand, only a 1,669 percent markup from its 2007 price of $599. (One you can buy directly, sans auction, for $10,000; the other is up for auction, starting at $2,000, but it also has a "Buy It Now" price of $10,000 for impatient bidders.) The sellers, samsonbible and Phsledge, seem legit: Both have received positive seller ratings from other eBay users. It's just hard to fathom any 5-year-old consumer electronic fetching a five-figure price. But of course, this is the revolutionary iPhone we're talking about.
YOU ARE SEEING A PIECE OF HISTORY..!!!! THIS IS AN INCREDIBLE COLLECTORS SHOW PIECE..!!!! THIS WOULD BE A CROWN JEWEL FOR ANY COLLECTION..!!!! AMAZING FACTORY SEALED BOX..!!! UNOPENED AND THE COLLECTORS DREAM APPLE iPHONE..!!!!!!THIS IS OFFERED FOR A LIMITED TIME..... !!!!!!! HAPPY BIDDING...!!!!
As TechCrunch's Jordan Crook writes of the listing, "I would usually say that most electronics shouldn't be seen as collectors items, as they only lose value over time and aren't pivotal enough during their lifespan to warrant a resurgence in value. Yet, the original iPhone is a different story."
Well, we aren't buying. A $10,000 asking price for a gadget you can never use is just another way to fetishize the iPhone. Yes, the iPhone 1 was an incredible piece of technology and design. But it feels a bit much to categorize it as a museum piece, the way it has been at the San Francisco Museum of Modern Art and the Smithsonian Cooper-Hewitt, National Design Museum. It's a sanctification that Apple (which voids warranties on devices with jailbroken operating software or hardware tweaks performed by non-Apple employees) wholeheartedly encourages.
Anyway, we're not art critics, so who are we to judge art? What we can say is that we'd never pay $10,000 for an old iPhone, no matter how pristine the packaging is. eBayers seem to agree too. As of this writing, no one has placed a bid on either listing. Though given the number of Apple fanboys out there, maybe we just need to give it time.
Remember what Steve Carell's character did at the end of The 40-Year-Old Virgin? He sold nearly all his figurines -- on eBay. And whichever off-camera characters bought them, we have to wonder if they ever felt foolish for laying down thousands on collectors' items that can never be enjoyed.
REAL LIFE. REAL NEWS. REAL VOICES.
Help us tell more of the stories that matter from voices that too often remain unheard.
BEFORE YOU GO
PHOTO GALLERY
The Most Unnecessary iPhone Accessories Ever Made