Remember sitting down to watch Pixar's "Up" with so much innocence? Remember the backstory between Carl and Ellie established in that opening montage? Remember how sweet it was to see a young couple's marriage bloom over the course of so many small, sepia-toned adventures, wordlessly expressing their shared love through triumph and tribulation until Ellie's eventual death leaves a childless Carl to face his twilight years alone, crushing your soul with a miserable hammer of reality?
It wasn't supposed to be like that. Originally, Carl and Ellie had a decades-long punching contest between the two of them to playfully demonstrate their compatibility. A punching contest. To make us laugh. Not cry.
We unearthed a video on Pixar's website that explains that first concept. Expository details were always extra-important to "Up," production director Ricky Nierva explained, because if you don't fall in love with the characters, "then you're not along for the ride." Initially, we were to see a young Carl trying to capture a bird with a crude trap until an angry Ellie comes out of nowhere to slug him in the name of animal rights.
"Birds are nice! Boys are dumb!" she yells, sprinting off. Thus begins a lifelong sneak-attack punching game, lending the script some heart in a "non-sappy" way.
"So instead of seeing them sweetly become old, they basically punch themselves old," co-director Bob Peterson says in the video, "and we thought that was the funniest thing." Even when Carl visits her sickbed, Ellie musters up a feeble slap.
But a test audience didn't get it.
"We showed it, and there was silence. I guess they thought it was too violent or something," director Pete Docter said. And so we were doomed to a sorrowful Carl-Ellie introduction from then on.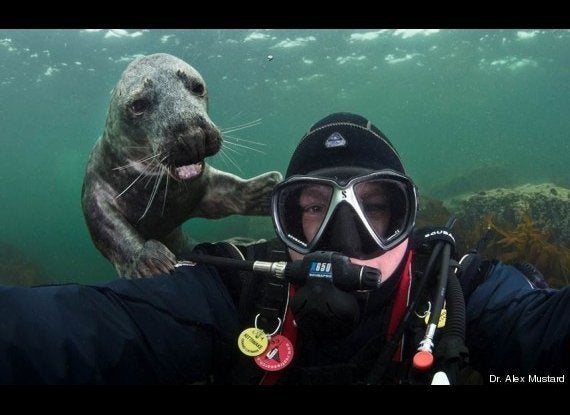 109 Animal Photobombs
To subscribe to our HuffPost Entertainment WhatsApp account:
1. Download WhatsApp on your phone.
2. Save this number, 347-334-1794, in your phone's contacts.
3. Text "POP" to that number via your WhatsApp account.
You can unsubscribe at any time by texting "STOP" to the same number.
Popular in the Community