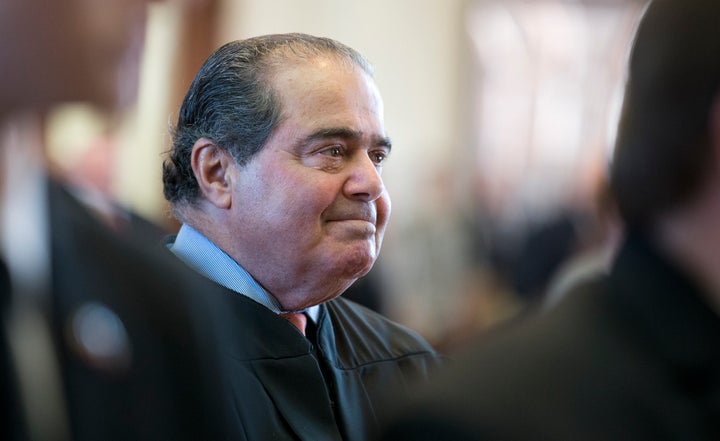 A group of notable scholars and lawyers who subscribe to "originalism," the late Justice Antonin Scalia's preferred method of interpreting the Constitution, are denouncing Donald Trump. They don't want him anywhere near the White House or playing any role in shaping the Supreme Court.
Originalists Against Trump seeks to dispel the notion that voting for the GOP nominee is somehow supportive of constitutional values, as the founding fathers envisioned them.
"Our Constitution vests in a single person the executive power of the United States. In light of his character, judgment, and temperament, we would not vest that power in Donald Trump," the group wrote in an open letter.
Originalists Against Trump thinks that's a terrible mistake.
"Trump's long record of statements and conduct, in his campaign and in his business career, have shown him indifferent or hostile to the Constitution's basic features — including a government of limited powers, an independent judiciary, religious liberty, freedom of speech, and due process of law," the group wrote.
"More importantly, we do not trust him to respect constitutional limits in the rest of his conduct in office, of which judicial nominations are only one part," the lawyers and academics wrote.
Nor do they share the fear among many Trump supporters that Hillary Clinton poses a bigger threat to the Constitution. "Originalism has faced setbacks before; it has recovered. Whoever wins in November, it will do so again," they wrote.
Among the collective's more recognizable names are New York University law professor Richard Epstein, retired Temple law professor David Post and Washington Post columnist George Will. The open letter includes an email address for any self-avowed originalist who might want to sign it, too. 
"The Constitution that I interpret and apply is not living but dead ― or as I prefer to call it, enduring. It means today not what current society, much less the court, thinks it ought to mean, but what it meant when it was adopted."
Does that mean Scalia might be appalled at Republican senators' unprecedented blockade of Merrick Garland ― the individual nominated by the sitting president to replace him, as the Constitution lays out? Maybe, especially if you consider what he wrote in 2004 about how the loss of one member hamstrings the Supreme Court.
In one of his more memorable opinions, Scalia explained why he would not recuse himself from a case: When the Supreme Court is forced to operate with only eight justices, he wrote, that "rais[es] the possibility that, by reason of a tie vote, it will find itself unable to resolve the significant legal issue presented by the case." And he could not "in good conscience" let that happen. 
HUFFPOST READERS: What's happening in your state or district? The Huffington Post wants to know about all the campaign ads, mailers, robocalls, candidate appearances and other interesting campaign news happening by you. Email any tips, videos, audio files or photos to scoops@huffingtonpost.com.
Calling all HuffPost superfans!
Sign up for membership to become a founding member and help shape HuffPost's next chapter