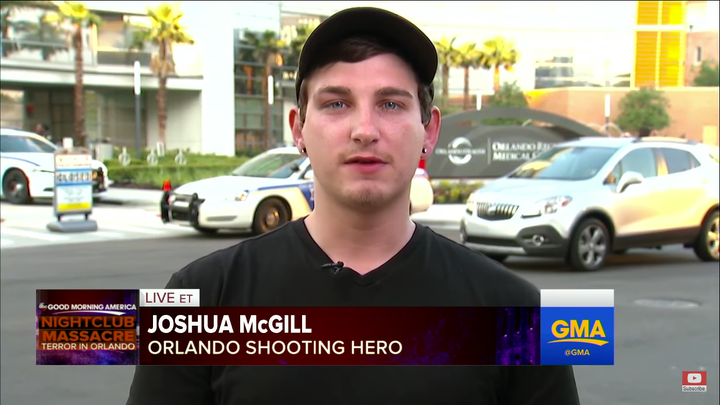 An Orlando shooting survivor is being heralded as a hero.
When Joshua McGill heard gunshots from the patio of Pulse nightclub in Orlando around 2 a.m. on Sunday morning, he fled the scene, jumped a fence and hid under a car — escapingthe mass shooting that left 50 dead, including the gunman, and injuring 53 others inside the club.
While the 26-year-old was hiding, he noticed a man nearby who was "limping around" and "mumbling" according to an interview he gave to "Good Morning America." McGill would later learn that the man was Rodney Sumter, a 27-year-old bartender at Pulse.
"I went and grabbed him, brought him behind the car where I was," McGill said on "GMA."
That's when McGill noticed that Sumter had been shot in both his arms. McGill, who is a nursing student, sprung into action, taking off his and Sumter's shirts and using them as tourniquets to stop the bleeding on both of Sumter's wounds.
Knowing that Sumter would need medical attention, McGill began to lead him through the parking lot in search of help when he discovered that Sumter had a third wound on his back. McGill applied as much pressure as he could until the two stumbled upon police.
The officers offered to drive the men to the emergency room and instructed McGill to lie down in the patrol car with Sumter on top of him. McGill was then told to squeeze Sumter's back in order to constrict the blood.
"I can hear the police officers in the front seat saying, 'Keep him conscious, talk to him,'" McGill told "GMA." "That's when I learned his name."
Sumter also told McGill his age, that he was from Jacksonville, Florida, and that he had a little brother.
McGill asked Sumter to pray with him and then offered him words of support, telling CNN that he told Sumter that he promised him that he'd be OK.
After dropping Sumter off at the hospital, a traumatized McGill came home and posted about the incident on Facebook hoping to connect with someone who knew Sumter and could offer information on his condition.
"I felt God put me at the club and made me stay behind to help a complete stranger," he wrote on the post that got over 3,000 shares. "For whatever reason that may be. I don't know, but I do know it was hopefully to save his life."
On Monday, McGill learned that Sumter, a father of two, was having surgery and was in stable condition.
According to a Facebook video McGill posted on Monday, he is still very shocked and overwhelmed by the experience.
"I'm just really upset," he said on the brink of tears in the video. "I mean, I'm happy to be alive … I'm happy people got out safely, I'm happy for Rodney."
He adds: "I just did what I had to do at the time."
Before You Go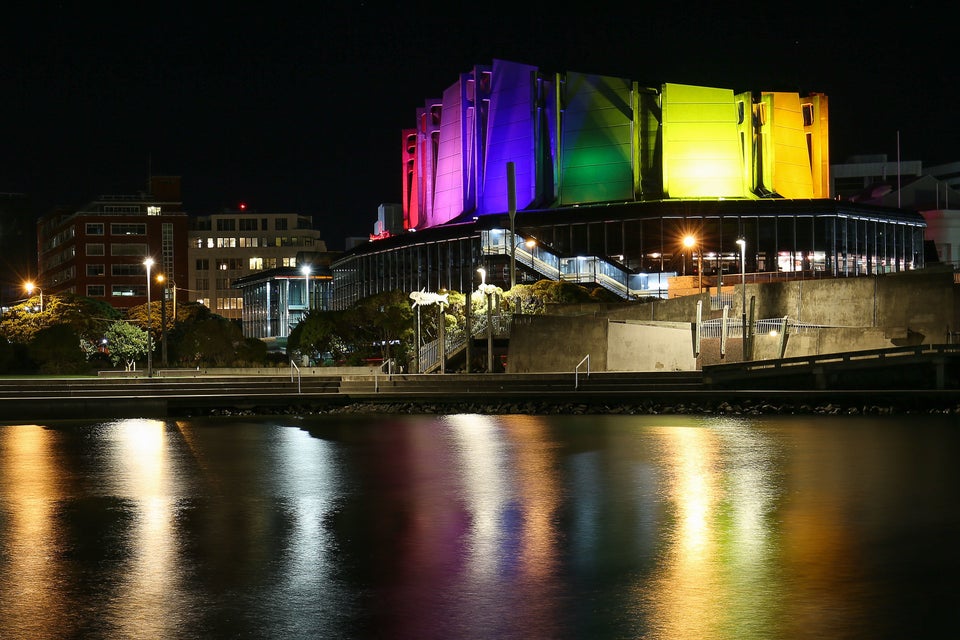 Monuments For Orlando
Popular in the Community