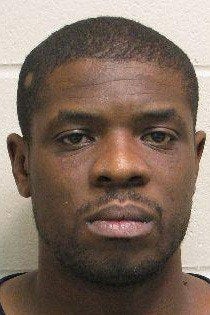 A ménage à trois turned into a bordel monstre when a North Dakota man was stabbed after refusing to change positions.
Orlando DeWitt was allegedly stabbed in the arm by Fargo resident Ashley Hunter, whom he had previously met in prison, reports The Smoking Gun. The tryst went down Feb. 8, after the two men left a Fargo bar and went back to Hunter's house for a party.
According to The Smoking Gun, DeWitt told police that he and a female partier began kissing on a couch, when Hunter joined in. The woman "began to perform oral sex on Hunter" while DeWitt had intercourse with her, but when Hunter asked to switch positions DeWitt refused. That is when the threesome took a turn for the worse. Hunter reportedly threatened to "f**k him up" and "kill him," then pulled a 12-inch butcher knife from his couch and stabbed DeWitt twice as he attempted to run away.
Hunter, 33, was later arrested on charges of aggravated assault and an unrelated warrant.
The victim was hospitalized with non-life-threatening injuries, according to The Forum of Fargo-Moorhead. "We're still investigating what exactly happened inside," Lt. Joel Vettel said.
Hunter has a criminal history, reports The Forum. He has multiple theft convictions, a robbery conviction and a 2010 aggravated assault conviction. The unrelated warrant stems from unpaid child support. The current charge is punishable by up to five years in prison, a $5,000 fine or both.
Related
Popular in the Community