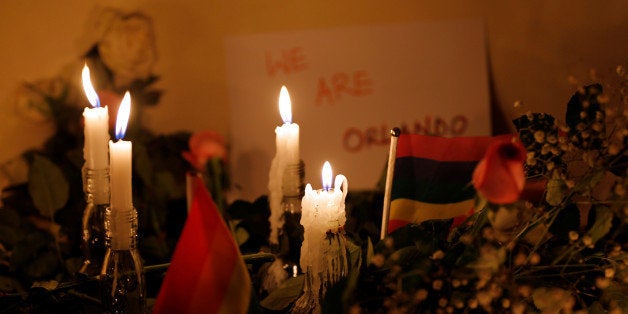 The day after the shooting at Pulse I was scheduled to teach a section on terrorism and mass murder in my Introductory Sociology class at Valencia College. Valencia, like Pulse, is located in Orlando, Florida. As I went over my notes before class, I considered not covering the material. My first concern was the topic, it was obviously close to home. The second was my own ability to make it through the lecture. When I discuss terrorism and mass murder I share my story of being a graduate student at Virginia Tech in 2007 when my campus became the site of the worst school shooting in U.S. history.
This is the second time a city I live in has been labeled the "worst" shooting site. It is the second time I have watched as images from my community are splashed across national news outlets. The second time I have had to wonder if my husband, a respiratory therapist, will have to treat victims and take care of their families. It is the second time I have had to call my parents to tell them I am fine and to please turn off the T.V.
For the second time, I have watched as my phone lit up with calls from people wondering if I am safe. This is the second time I have watched a body count rise in a familiar area of town and have seen the shocked faces of people in my community who have little to say to each other except "Are you ok?"
I have already written op-eds, blogs and been interviewed by various news media about my experience as a community member during a time of tragedy. I have done the vigils, signed memorial walls, donated money and my time to help people heal. I wrote my dissertation on music as a healing mechanism after experiencing tragedy.
As the events have unfolded over the last few days, it is clear that what happened at Pulse was motivated by hate. The shooter sought out a group of people whose oppression has been rooted in hate and ignorance. It's amazing to see our nation gathering around the LGBT community and supporting them. But, as I watch this unfold for the second time, I am reminded of the work of friends of mine.
So many scholars and community leaders have dedicated their lives and careers to studying the roots of hate, inequality, violence and terrorism. We all stress that each does not exist in a vacuum. Yet we are shouted down as too liberal, not liberal enough, too educated, not educated enough, too political, not political enough. The only way these events will cease from repeating is if we look at these problems from as many angles as possible and pay attention to the questions raised by people whose knowledge and experience make them experts. Violence and terrorism thrive on our continued inability to find common solutions.
Watching my community attempt to rise up after violence, for the second time, reminds me that our national challenge lies in filtering out the noise manufactured by those who revel in distraction. Instead, let's focus on the people who are trying to bring about change. Let's support those who study these issues or work with people who have survived tragedy. The people who break down hate, inequality, violence and terrorism to their core and try to solve the problem from the inside out. Let's listen to them.
I did teach the terrorism section in my class. I stopped outside the classroom door and said out loud to myself "I can do this" before walking in. The students needed to talk about what happened and I needed to let them know that I am here for them. Because I have been through this for the second, and hopefully last, time.
Calling all HuffPost superfans!
Sign up for membership to become a founding member and help shape HuffPost's next chapter