The weekend's atrocity in Orlando, Florida might affect public opinion and the election. According to a recent poll, Americans prefer Donald Trump slightly over Hillary Clinton on issues of terrorism and gun policy. And this year's primaries drew out record-high numbers of Republicans. This is HuffPollster for Monday, June 13, 2016.
ORLANDO SHOOTING WAS THE DEADLIEST IN US HISTORY - Christopher Ingraham: "Americans [woke up on Sunday] morning to horrific news out of Orlando, where a gunman opened fire at the Pulse nightclub, killing 50 people and injuring 53 more in what authorities are calling an act of domestic terrorism. Those figures would make this by far the deadliest mass shooting in U.S. history, according to a comprehensive database of these incidents compiled by Mother Jones magazine….The 50 fatalities at Pulse are considerably more than the 33 victims killed during the Virginia Tech massacre in 2007, or the 28 fatalities in the Newtown, Conn., school shooting in 2012. The 53 people wounded are also more than the number wounded in any other shooting, with the exception of the Aurora theater shooting in 2012, in which 58 were injured." [WashPost]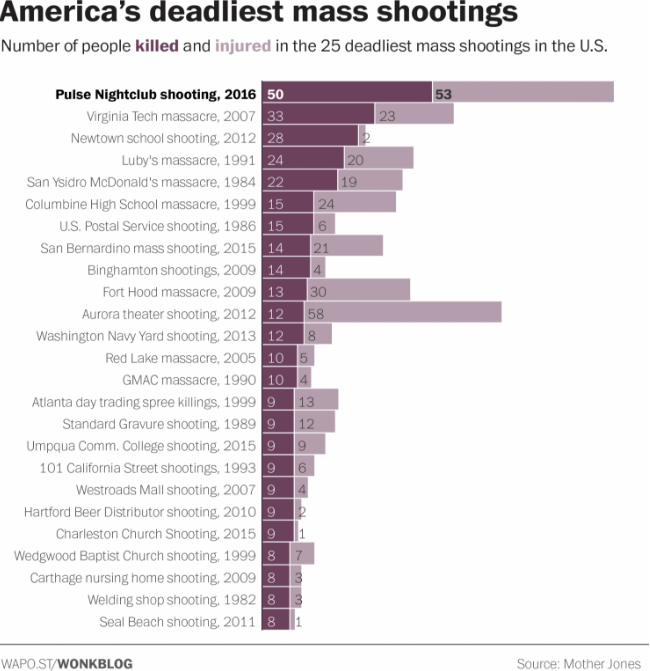 But will people change their minds about gun control? - Max Ehrenfreund: "As America grapples with another mass shooting, we're certain to face questions about the country's unique gun culture and the prevalence of gun violence. There are some perhaps surprising developments — gun ownership in the United States is declining overall, for instance. But while mass killings have occurred with increasing frequency in recent years, support for gun rights is still resolute in America….Gun control, in general, has not been politically popular -- and its popularity has been declining lately....While many Americans strongly support the right to bear arms, they also support specific restrictions, such as background checks, assault weapons bans and a federal database to track guns.... Shootings don't tend to substantially affect views on gun control." [WashPost]
This is also being classified as a terrorist attack, though, which could affect opinion more - Last November's attacks in Europe provide some indication of how terrorist events can move opinion. Jennifer Merolla and Elizabeth Zechmeister, from November: "For the past 10 years, we have researched the connection between terrorist threat and public opinion. In our book, 'Democracy at Risk,' and in our more recent work, we argue that public attitudes and evaluations shift in at least three politically relevant ways when terrorist threat is more prominent in the news….First, when terrorist threat is pronounced, individuals become less trusting of others, even their own neighbors. They express less favorable attitudes toward immigrants. In particular, they become less supportive of the rights of Arab and Muslim Americans….Second, terrorist threats help increase the public's support for certain political leaders….It projects leadership qualities onto political figures and then it weights leadership more heavily when voting on Election Day. But not all political leaders are affected in the same way. On average, leaders who are Republican, male, and have relevant national security experience tend to be viewed as more competent….A third way public opinion shifts in response to terrorism is toward support for more hawkish policies in foreign affairs and homeland security, even at the expense of civil liberties." [WashPost]  
Trump has a slight edge over Clinton on terrorism and gun policy - A recent Gallup poll indicates that Trump has a slight advantage on the issues of terrorism and gun violence. Half of Americans prefer Trump over Clinton when it comes to "terrorism and national security," compared to 46 percent who say Clinton would be better at handling the issue. Trump also has an edge when it comes to gun policy: 50 percent of Americans prefer him and 45 percent prefer Clinton. [Gallup]
DONALD TRUMP IS DROPPING IN THE POLLS, BUT IT'S EARLY - HuffPollster: "Just a couple of weeks ago the big news was Donald Trump creeping up on — and in a couple of surveys, leading — Hillary Clinton in national general election polls. That was the result of Trump securing the title of 'presumptive Republican nominee' and most Republican voters lining up behind him. Now we're at the beginning of the opposite trend. But as with the brief Trump bump, Clinton's upward trend could be temporary. So don't get carried away and declare Trump's candidacy dead….As with all polling bumps, only time will tell whether they indicate lasting movement or just brief upticks in response to specific events. But the media is likely to hype every minor movement in the polls all summer. Don't buy in. Public opinion will remain somewhat fluid until after the conventions in late July, and could even fluctuate wildly in the fall campaign. Stick with the averages, and remember that everything can (and likely will) change." [HuffPost]
Trump isn't winning enough white voters - Harry Enten: "[D]espite all the bluster, [Trump] isn't doing any better than Romney did among white voters. According to [Nate Cohn's estimate], based on pre-election surveys, Romney beat President Obama by 17 percentage points among white voters. To win, Trump would need to improve on Romney's margin by a minimum of 5 percentage points if the electorate looked exactly the same as it did in 2012 and every other racial group voted in the same manner as it did in 2012….Trump is winning white voters by an average of 17 percentage points, matching exactly Romney's margin from four years ago. That's not good enough, especially considering that the 2016 electorate will probably be more diverse than 2012's. Trump probably needs to do even better than a 22-point lead among white voters, or he will have to pull in more minority voters than Romney did in order to win. Trump could still improve his standing among white voters enough to take the election. There's plenty of time." [538]
PRIMARY TURNOUT NEARLY REACHED 2008 RECORD LEVELS - Drew DeSilver: "More than 57.6 million people, or 28.5% of estimated eligible voters, voted in the Republican and Democratic presidential primaries that all but wrapped up Tuesday – close to but not quite at the record participation level set in 2008. For a while it looked like this year's primaries, driven by high turnout on the Republican side, might eclipse the turnout record set in 2008, when 30.4% of voting-age citizens cast ballots. The GOP did indeed have the highest primary turnout since at least 1980, according to our analysis – 14.8%, compared with 11% in 2008 and 9.8% in 2012. But turnout fell off markedly after Donald Trump won the May 3 Indiana primary and his two main rivals dropped out of the race….The overall Democratic turnout of 14.4% was well below the record 19.5% in 2008, but it was still the second-highest since 1988's primary season." [Pew Research]
HUFFPOLLSTER VIA EMAIL! - You can receive this daily update every weekday morning via email! Just click here, enter your email address, and click "sign up." That's all there is to it (and you can unsubscribe anytime).
MONDAY'S 'OUTLIERS' - Links to the best of news at the intersection of polling, politics and political data:
-Pollsters Margie Omero (D) and Kellyanne Conway (R) debate whether America is ready for a female president. [NPR]
-Nate Cohn and Amanda Cox visualize how Americans voted in the 2012 election. [NYT]
-Amber Phillips highlights five House seats that could signal a Democratic majority in November. [WashPost]  
-Americans' confidence in U.S. institutions remains historically low. [Gallup]
-More Americans favor accepting refugees from Syria and the Middle East than turning them away. [CNN]
Calling all HuffPost superfans!
Sign up for membership to become a founding member and help shape HuffPost's next chapter