Patience Carter is one of the victims who survived the massacre at Pulse Nightclub in Orlando, Florida, on Sunday, which took the lives of 49, mostly people of color, and injured 53 more.
During a press conference yesterday in which victims talked about their horrific experience at the LBGTQ nightclub, Carter recited a poem, which she wrote from her hospital bed to cope the night before at Florida Hospital. Though she said she is grateful to be a survivor, Carter said this comes with a great weight.
"The guilt of feeling grateful to be alive is heavy," the 20-year-old said, hands trembling. "Wanting to smile about surviving, but not sure if the people around you are ready as the world mourns the victims killed and viciously slain. I feel guilty about screaming about my legs in pain because I could feel nothing like the other 49 who weren't so lucky to feel this pain of mine."
Carter, who was in Orlando on vacation from Philadelphia, said she fled to the bathroom when the shooter, Omar Mateen, began his onslaught. While Mateen was in the bathroom, Carter said she heard him pledge his allegiance to ISIS during a phone conversation with police negotiators.
She also said she heard him ask, "Are there any black people in here?"
After another black person replied yes, Mateen said, "I don't have a problem with black people," according to Carter. "This is about my country. You guys suffered enough."
Carter recalled the bloody scene in the bathroom. She said as she was lying on the floor looking at the "piles" of bodies, she "made peace with God and within myself."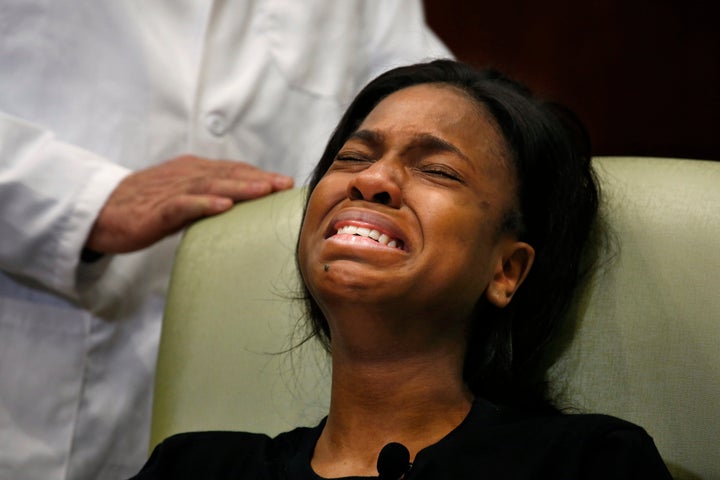 Before police breached a bathroom wall to enter the club, Mateen killed three more victims. One of those victims was shielding Carter from the gunfire.
"If it wasn't for that person shielding me it would've been me shot and I wouldn't be sitting here today," she said, adding that the shooter wouldn't stop until he was killed by police.
Carter, who had been shot in both legs, went to the club that night with two friends, Tiara Parker and Akyra Murray. Parker was injured but survived. Murray did not.
She said her poem was inspired by feeling at fault for Murray's death:
"The guilt of feeling lucky to be alive is heavy. It's like the weight of the ocean's walls crushing uncontrolled by levies. It's like being drug through the grass with a shattered leg and thrown on the back of a Chevy. It's like being rushed to the hospital and being told you're gonna make it when you're laid beside individuals whose lives were brutally taken. The guilt of being alive is heavy."
Her poem not only highlights how much she -- and likely others -- is struggling with being one of the survivors, but also that the people affected by the homophobic massacre, including the LGBTQ community, will be mourning for a long time.
Watch Carter recite her full poem in the video above.

Donate to Pulse Orlando Relief Fund here:
Before You Go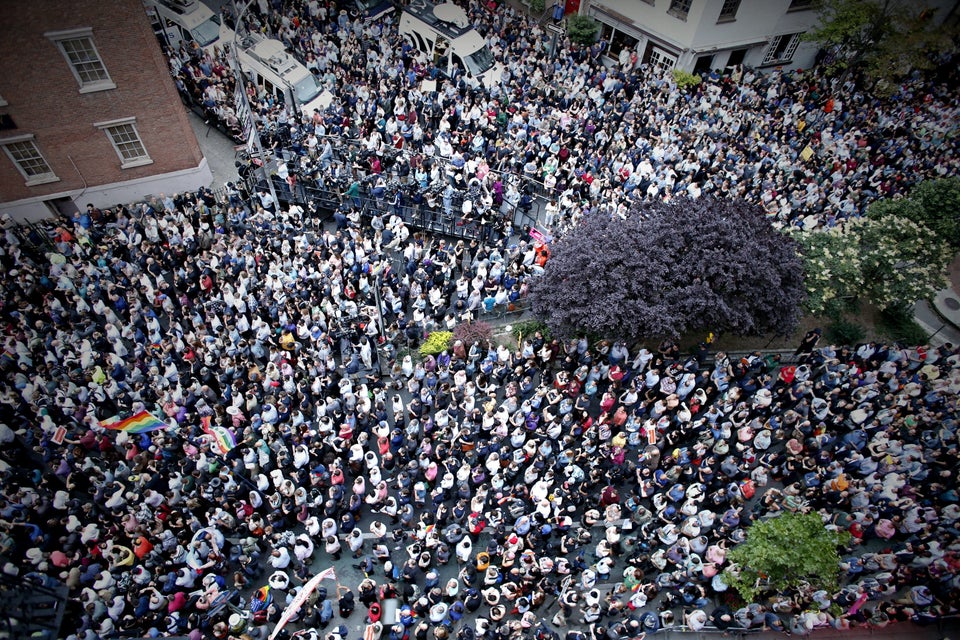 Vigils Held In Honor Of Victims Of Orlando Nightclub Shooting
Popular in the Community