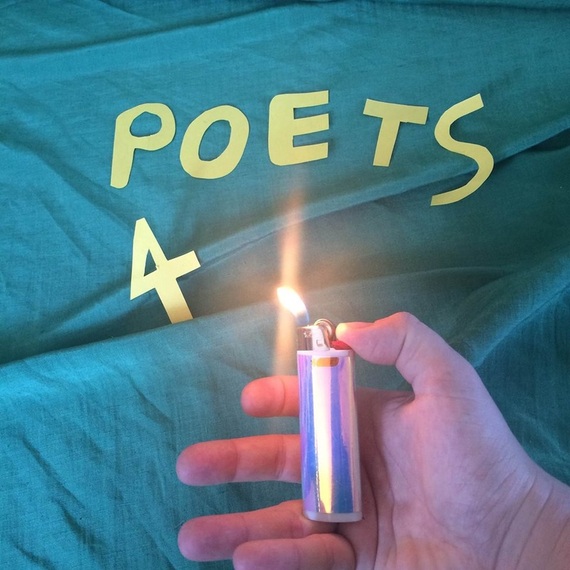 As we approach the two-month anniversary of the Pulse shooting in Orlando, I thought it would be appropriate to share a poem. Two days after the shooting, hundreds gathered in Central Park for a meditative night of poetry and interpretative dance. Poets 4 Orlando Imagine Central Park was a vigil for the Pulse victims, as well as anyone who felt victimized, lost, or otherwise distraught by the tragic event. What follows is the poem I wrote and read for a community -- a mix of LGBTQ, POC, and allies -- in mourning.
All the little saints prance in plaid
as the Blessed Mother bears testament
to their games.
Holy Mary, Mother of God,
the referee of the schoolyard,
locks eyes with me
as I look up from my phone.
The rainbows shimmer across my shirt,
illuminate my pupils,
glitter in my heart.
It is June 26, 2015.
​And I want to paint Mary in rainbows,
to have rainbows shimmer across her robes,
illuminate her pupils,
and glitter in her heart.
Holy Mary, Mother of God,
we are not sinners.
Do not pray for our grace.
Do not pray for our salvation.
Pray that butterflies will always grace the sky.
Pray for the salvation of our rivers and forests.
The man who embraces another man
is not Satan.
The woman who embraces another woman
will not languish in Hell.
May rainbows shine brighter than fire.
May every child in that schoolyard learn love,
know love, practice love, demand love,
pray for love and only love.
Mary, Holy Mother, teach them love.
​
Because if you don't, we will--
underneath the luster of rainbows
​and far, far above Hellfire,
to the song of butterflies flapping high,
watching the St. Thomas schoolyard
in the distance below.
REAL LIFE. REAL NEWS. REAL VOICES.
Help us tell more of the stories that matter from voices that too often remain unheard.