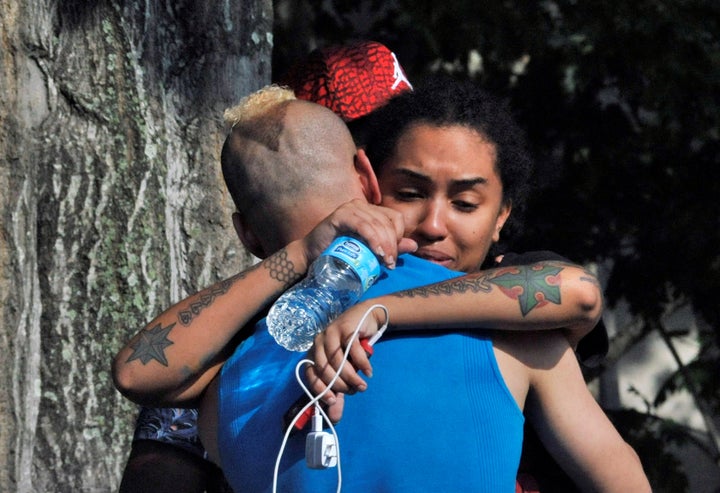 A Pride month night of celebration and fun -- the weekly Latin Night at the popular Orlando club, Pulse, focused on Latin music, performances and dancing -- turned into a morning of mass death and devastation. But the brutal reality that jarred Orlando's LGBT community, and the entire nation, is something that LGBT people have always experienced, as gay and lesbian bars and clubs have been targeted consistently by those who harbor hate toward LGBT people.
And it's a reminder of the animus against LGBT people that still exists, and the ever present danger with which we still live.
There have been scores of attacks on LGBT spaces, some of which received more attention than others. Eric Rudolph, also known as the Olympic Park Bomber because of his terror attack on the Centennial Olympic Park in Atlanta in 1996, also targeted lesbian bars, in addition to abortion clinics. In 1997, he targeted the Otherside Lounge, a lesbian bar in Atlanta, with two bombs, one of which detonated in the bar and injured five people. (The second bomb, found in a parking lot of the bar, was detonated by police without injury.) Rudolph, associated with the extremist Army of God, later pleaded guilty and said he was targeting homosexuality.
In 2014, Musab Masmari was convicted and sentenced to 10 years in prison for setting fire to a Seattle gay nightclub on New Year's Eve in 2013. The assistant U.S. attorney reported that one of Masmari's friends said Masmari confided in him that he "'burned a gay club' and that he did it because 'what these people are doing is wrong.'" Another person close to Masmari reportedly said he had a "general hostility towards homosexuality." Just last fall, there were a series of unsolved attacks against gay men exiting gay bars and venues in Dallas. One man was dragged into a van, beaten with a baseball bat while being called a "fag," and dropped off a few blocks away. During the same time period three gay bars in Dallas were vandalized as well.
And hours after the Orlando mass-shooting, it was reported that police in Santa Monica found a cache of weapons and chemicals in the car of James Wesley Howell, an Indiana man whom they said was headed to LA Pride. It was apparently unrelated to the Orlando shooting, and details were still coming in.
Hatred against LGBT people is clearly something we've lived with for decades, and even in these days of big victories we see a ferocious backlash playing out which is also motivated by bigotry. Many of us often take for granted the freedoms we've won, and certainly we don't think twice about going out for a good time, dancing and enjoying ourselves -- and we might not want to think about the dangers that still face LGBT people. And the American media, too, seems complacent; early on major news organizations reporting on this mass shooting, like The New York Times and CNN, weren't reporting the fact that Pulse is a gay club, or were downplaying that fact -- a relevant fact, especially as this increasingly looks like a terror attack or hate crime.
Hate crimes against LGBT people haven't dissipated since the arrival of marriage equality and have in fact been on the rise in recent years. What we've learned from his father about the Orlando shooter, Omar Mateen, is that he was recently repulsed -- became "very angry" -- upon seeing two gay men kissing in Miami. Whatever his other beliefs or allegiances, that bedrock of homophobia is part of what drove him to carry out a brutal mass-shooting.
This terrible tragedy is a reminder of the threat of violence against LGBT every day, and why we must always remain vigilant.
Popular in the Community