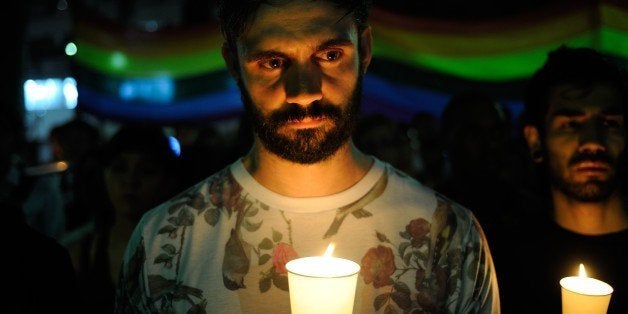 My initial reaction to the Orlando shootings was numbness. Like many Americans, I could not go beyond the shock that one individual can kill so many people with legally purchased weapons in the most powerful nation in the world.

Death on the scale of that in Orlando-49 killed by one lone gunman and about 50 people injured-some seriously, inevitably renders one silent. At least I know I did not have the language to express what has transpired. How does one understand the death of so many, the maiming of so many others, not in a war zone where my family escaped from violence, but in Florida, where I took my children for vacation last year and where we had planned to return to next year.

My numbness was accompanied by a struggle arising from my identity-Somali of origin, but also an academic who writes about issues pertinent to the Muslim world. I live and work in Minneapolis, Minnesota, which has been the epicenter of a crisis with young Somali men who joined or were accused of planning to join terrorist groups around the globe.
My struggle with this massacre also included my recognition that I am not a spokesperson for any one group, for Muslims, for Islam, or for immigrants and that I have a right to mourn this deadly shooting as a personal attack like any other American without feeling that I have to explain or apologize for it.

My reaction of shock and loss was no different than that of all other citizens; my incomprehension of such senseless massacre and the fact that a man, Omar Mateen, who was under the FBI radar could still so easily acquire military-grade weapons and wreak havoc was very much the same as that of everyone else shell-shocked by this shooting. My reaction of the fact that Mateen targeted a minority group that is still struggling for so many basic rights was also no different than that of millions of other Americans.
But then, why should I be expected to understand his motivations any better than mainstream non-Muslim Americans? Why should I be expected to apologize for Mateen's actions when I find his violence abhorrent and contrary to who and what I stand for?
With the wisdom of a few days since the massacre, I cannot help but tie the Orlando massacre to the attack on the church in Charleston where Dylann Roof, a 21 year old white man killed 9 African American worshipers. I cannot help but tie this Orlando massacre to Sandy Hook Elementary school slaughter of 26 victims committed by a 20-year-old white man, Adam Lanza. We can list dozens of other massacres over the last decade, all committed by lone White gunmen filled with hate and convinced that they have the right to inflict terror on their own communities. Fortunately, not all white Americans wake up to the news of mass shootings committed by white citizens and worry about how they will have to show remorse when one of their own commits such violence.
Muslim Americans do not have that luxury. The act of one lone hate filled man becomes the responsibility of millions. We are expected to explain and apologize for something that is beyond comprehension for us as it is for our fellow countrymen. The media and politicians and indeed, the public assumes a collective guilt the moment a Muslim name is mentioned in connection with an act of violence. This goes against all that is American and it needs to stop.
Therefore, I am not going to write here that 'this is not Islam'. Nor am I going to state that 'he does not represent Muslims'. I know that to be true and I dream of the day when no one will expect all Muslims to explain or apologize for the acts of individual Muslims. Just as we do not expect all Christians to account for the massive sexual abuses of children in churches, the massacres committed by young Christian men in our cities from Charleston to Newton to Columbine to the Oklahoma bombing.

What I can and will do and hope that every Muslim will strive to do, however, is to combat homophobic attitudes that are pervasive in our own families and communities; I hope we can combat and speak out of the anti-Semitism expressions that we hear within our families and communities. I hope we hold ourselves accountable, not because the larger society asks us to do so, but because we know that this is the right thing to do. I hope we can flag any of our own family or community members who might express hateful and violent threats against a specific group. I hope we can flag any individual who might be going through a mental/religious/existential crisis so that an intervention might be made before it is too late.

Our struggle to combat Islamaphobia should be aligned with the struggle for equality and justice for all, be it the LGBT, Black Lives Matter, Anti-Semitism, drug addicts, the poor, persons with disabilities and all those whose lives are affected by hate, violence, and marginalization.
All Americans are collectively responsible to fight hate and bigotry in all its forms whenever and wherever we encounter it. The horrendous crimes that Omar Mateen's ilk commit stand against everything we stand for and my hope is that such crimes serve to unite us, not divide us.
REAL LIFE. REAL NEWS. REAL VOICES.
Help us tell more of the stories that matter from voices that too often remain unheard.