"I'm so glad you're alive."
Those were the words uttered by police officer Omar Delgado as he embraced the man he rescued from the heart of the shooting rampage at Pulse nightclub in Orlando early Sunday morning.
Angel Colon was critically injured and lying on the floor of the club when Delgado came to his aid. The 26-year-old had been shot multiple times, and said he felt certain that he wouldn't leave the club alive.
"I hear [the gunman] come back and he's shooting everyone that's already dead on the floor, making sure they're dead," Colon told reporters at Orlando Regional Medical Center on Tuesday. "I look over and he shoots the girl next to me. And I'm just there lying down thinking, 'I'm next. I'm dead.'"
But when the gunman attempted to shoot him again, Colon said he missed vital organs.
"By the glory of God, he shoots towards my head, but it hits my hand. And he shoots me again and it hits this side of my hip," Colon said. "I had no reaction, I was just prepared to just stay there, laying down, so he won't know that I'm alive."
Moments later, police entered the venue.
"I said, 'Help me, please help me,'" recalled Colon.
Officer Delgado rushed to Colon's side.
"The only way I can get you out of here the quickest is if I just grab your hand and I run," Delgado was quoted as saying.
So Colon took his hand and allowed himself to be dragged outside, across ground that was strewn with broken glass.
"I'm grateful for [the officer], but the floor [was] just covered in glass. So he's dragging me out while I'm just getting cut," Colon said. "I don't feel pain, but I just feel all this blood on me from myself, from other people. And he just drops me off across the street and I look over and there's just bodies everywhere."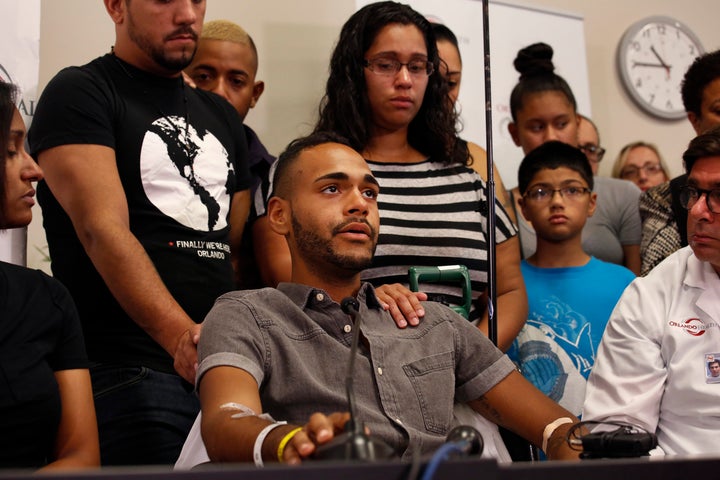 Recovering in the hospital and still unable to walk, Colon said he desperately wanted to meet the officer who saved his life.
"I wish that I could meet him so I could hug him," he told ABC News.
On Thursday, Colon got the chance when Delgado paid him a visit.
"My name is Officer Omar Delgado. I'm one of the ones that helped you get out of harm's way," Delgado said in a video of the emotional reunion. "I need a big hug."
The pair embraced and later chatted about Colon's recovery.
"I was so happy," Colon said after meeting Delgado. "I've been wanting to see the man that took me out of that horrible place."
Before You Go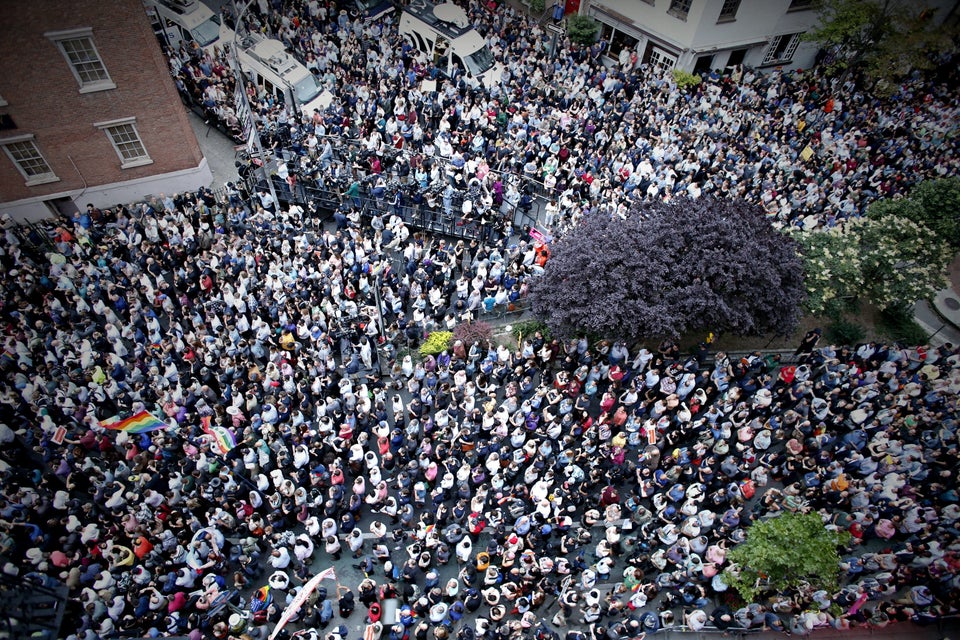 Vigils Held In Honor Of Victims Of Orlando Nightclub Shooting