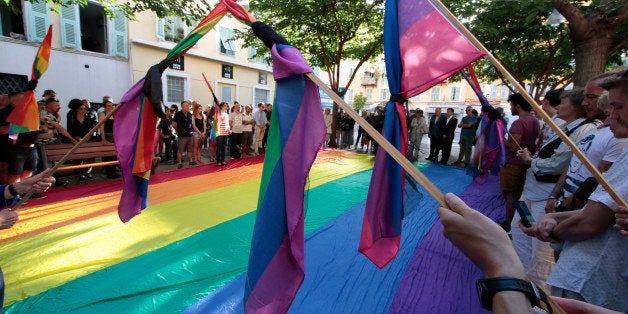 Somehow, the massacre in Orlando struggles to be recognized as a homophobic act. Although the laws of some Western countries have evolved, hatred of gays, lesbians, bi and transgender people remains a widespread and poisonous phenomenon in the three monotheistic religions and beyond.
At the Nuremberg trials, no mention was made of the mass murder of "pink triangles" (a badge gay prisoners were forced to wear in Nazi concentration camps). And for good reason. The victors who put the Nazis on trial were still pushing highly homophobic policies and politics in their own countries. The gay victims of the Third Reich were ignored and appeared on no monument or memorial. The surviving deportees would get neither recognition nor compensation.
On the evening after the Orlando massacre, France 2 reported the crime as if it were at the hands of a killer whose motive was "not known." The same report specified that the attack was carried out in a gay nightclub by a man who, according to his father, had expressed disgust over having seen two men kissing.
Unfortunately, it's not surprising that a religious fundamentalist perpetrated the Orlando attacks. Jews, Christians and Muslims all have propagandists of radical homophobic hatred in their ranks. Recently in France, the Grand Rabbi Sitruk said: "The Torah considers homosexuality an abomination and a failure of humanity" and that he considered the Gay Pride parade in Tel Aviv to be an "attempt at moral extermination" of Jews. Inviting his listeners to act out, he concluded in a way eerily similar to ISIS: "I hope the listeners will react in a radical manner to this abomination."
In regards to Islam, most Muslim-majority countries continue to condemn homosexuality (sometimes to death) in their criminal codes. As for the church, it remains caught up in violent homophobic currents and extreme opposition to same-sex marriage. Remember what Cardinal Philippe Barbarin, the Archbishop of Lyon, said on the topic: "Soon they will want to make marriage with three or four people, and perhaps, one day, the prohibition against incest will fall."
In the three monotheistic religions, voices have long since risen up: the Muslim Association of Homosexuals France (HM2F created in 2010), David & Jonathan, a Christian homosexual movement (since 1972), and Beit Haverim, a Jewish group of homosexuals in France (since 1977).
Intellectuals of all these faiths have signed appeals against homophobia and transphobia, including Protestant philosopher Olivier Abel, Catholic essayist Jean-Claude Guillebaud, the Muslim theologian Tariq Oubrou and Rabbi Krygier Rivon, who said he is "worried about discrimination, violence and humiliation that continues to befall homosexuals and transsexuals." They explained: "We have the feeling that every religious family has members who call for the refusal of violence and other who encourage it."
The fact that ISIS capitalizes on this hatred should not surprise us. But it would be tragic if the terrorist organization became the tree that hides the homophobic forest. In Mississippi, a new law will soon allow an officer or businessperson to refuse to serve gay people if his or her religion forbids. In North Carolina, transgender people have been denied the right to use the restroom according to their gender identity, and other states are following.
In the very Catholic country of Poland, many consider it a bad thing to be gay, and representatives of the church do not hesitate to segregate gay people. In Russia, President Putin passed a law prohibiting 'homosexual propaganda' and continued reports of violence against gay people make clear that it is extremely dangerous to publicly display any sign of homosexuality there.
It should also be noted that among the heads of state who declared themselves "Je suis Charlie" last year, half are unable to offer the same gesture to Orlando because their laws or national customs prohibit the expression of homosexuality.
We don't even need to go outside our borders, or our religions, to observe homophobic culture. Obviously, not all discrimination or hatred occurs on the same scale of the massacre in Orlando. And yet LGBT people under the age of 25 are four times more likely to commit suicide than their heterosexual peers. Many of these young adults who were rejected by their own parents do not come from fundamentalist families.
The silence at the Nuremberg trials concerning the killing of gay people was only the prelude to the current hypocrisy that pervades our country. Because of the shame imposed on them by a patriarchal, heteronormative and androcentric culture, homosexual, transsexual and bisexual individuals are left to the margins. How many remain in hiding because their family or social and professional environment does not allow them to come out?
Our society needs a cultural detox against the hatred of lesbians, gays, transsexual and bisexual people.
For those of us who are hetero or cis, Orlando should be a warning.
This post first appeared on HuffPost France. It has been translated into English and edited for clarity.
Calling all HuffPost superfans!
Sign up for membership to become a founding member and help shape HuffPost's next chapter