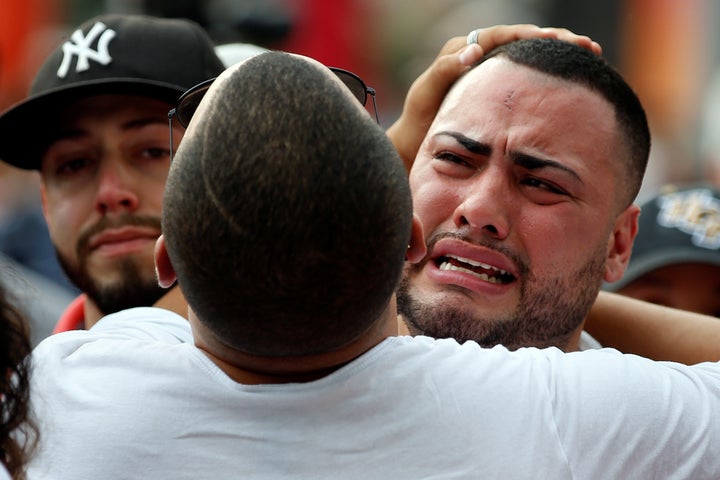 ORLANDO, Fla. -- Thousands gathered Monday evening in downtown Orlando to pay respects to the victims of Sunday's massacre -- the deadliest mass shooting in U.S. history -- and spread the hopeful message that love will prevail in the face of hatred.
Outside the Dr. Phillips Center for the Performing Arts, a little more than a mile from the gay club where 49 people were killed and 53 were injured by an American-born gunman who had pledged allegiance to ISIS, people from all backgrounds and walks of life -- black, white, Hispanic, gay, straight, transexual, Christian and Muslim -- stood side by side, united against the violence that shocked the world a day earlier.
Carlos Guillermo Smith, of Equality Florida, told the crowd there's no mistake the shooting was intended to "send a message of hate against the Latino and LGBT people, which in turn is an attack on all humanity."
"We are heartbroken, but our community is strong," Smith said. "We are resilient. And we know that love trumps hate."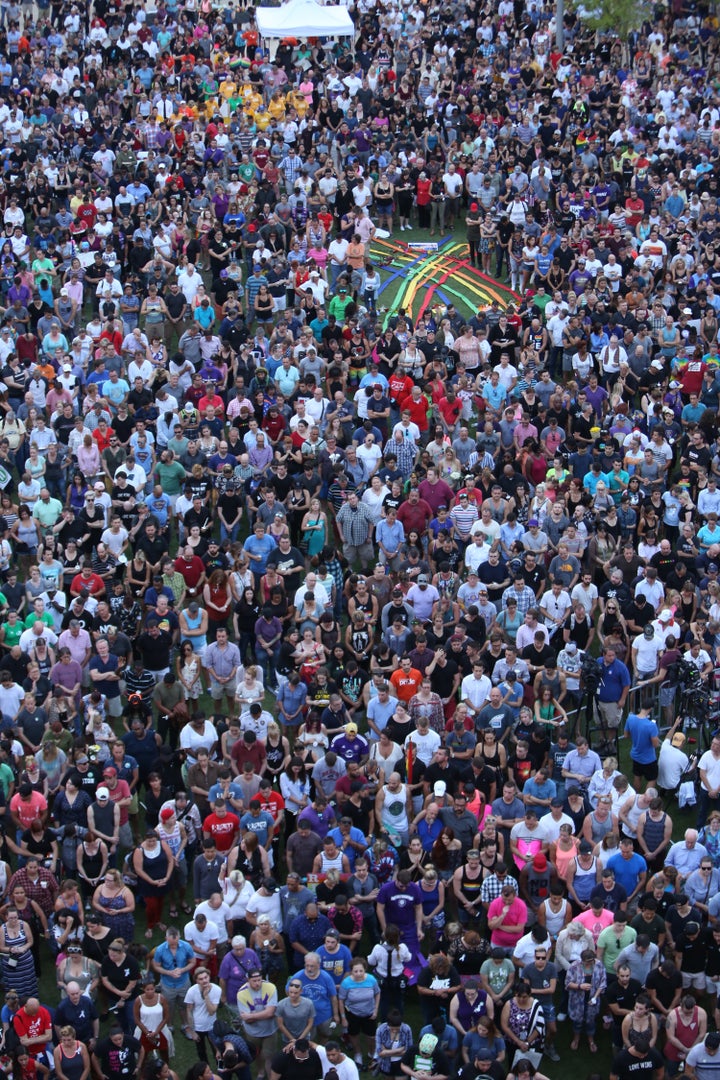 People waved LGBT pride and American flags. Countless hugs were exchanged. At one point, many joined in chanting, "Peace. Love. Pulse."
Before the vigil, Charles Schaeffer, 27, could be found piecing together a massive ribbon with the gay pride colors and a series of signs he'd painted, which read, "One city/one family/one love/one heart/one pulse."
"I knew a lot of staff, managers, patrons" of Pulse, Schaeffer told The Huffington Post. "Some made it out. Some didn't."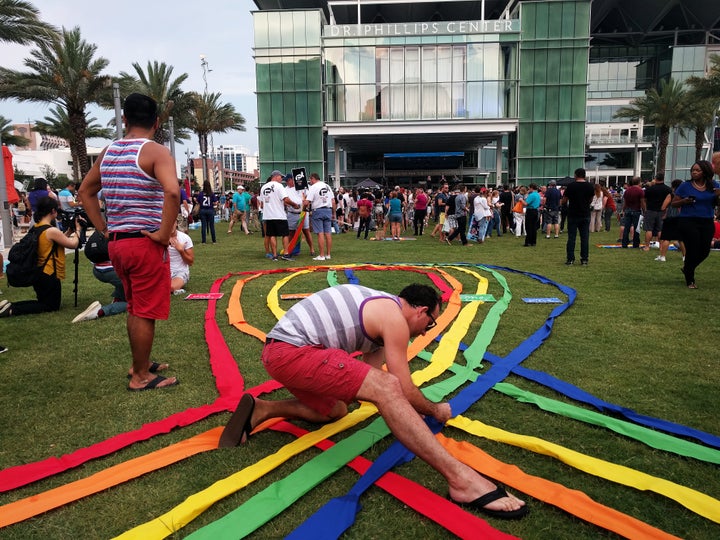 Among those in attendance were Francesca Garcia and Kimberly Mas, production assistants at the Telemundo show "La Voz." They held a poster board covered with photos of their friend and co-worker Jonathan Camuy, 24, who died inside the club. Both remembered Camuy as a joyful young man who had a way of infecting others with his optimism and loved to dance.
"That's what he was doing there that night," Mas said.
"It's such a loss," Garcia added.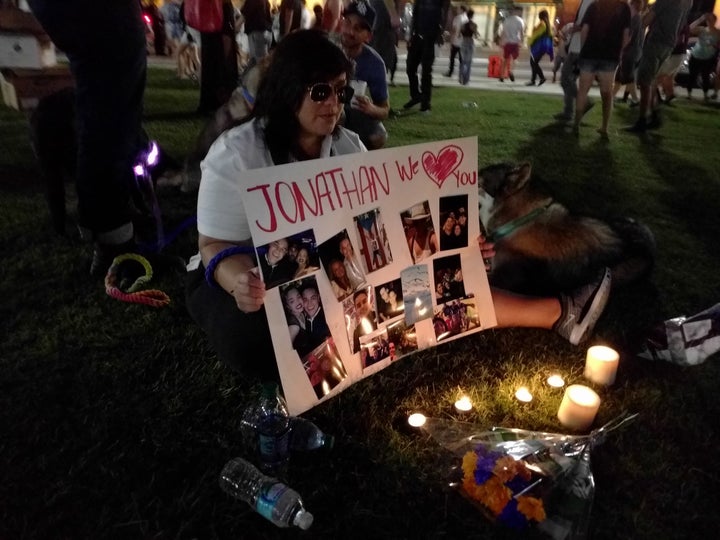 Alex Carella, 34, who was born and raised in Orlando, told HuffPost he's never felt such sadness and so much love all at once.
"This community is beautiful," Carella said. "Look at all the people who came here to support. Love is real."
In a powerful and moving tribute, each of the victim's names was read aloud. Later, people held flickering candles and stood in absolute silence as the ringing of a bell echoed through the plaza 49 times -- once for each victim. The front of the performance center shined in colors of the rainbow.
Teri Sautner, 22, said she came to Miami to be there with family and friends.
"I had to come because we can't let hate win," she told HuffPost.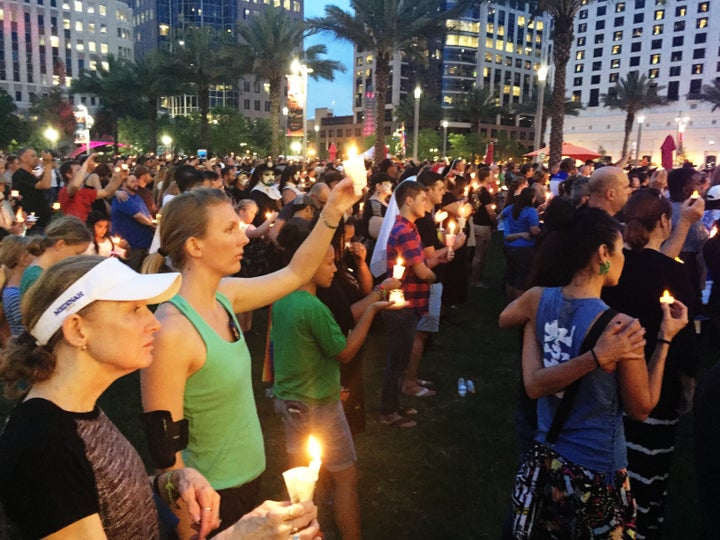 Muhammad Musri, an imam at the Islamic Society of Central Florida, told the crowd it was a tragedy that anyone who professed to believe in "our peaceful faith" would carry out such a horrific act.
"We are deeply hurt. Our lives are broken," Musri said. "We condemn the ideology of hate."
Orange County Mayor Teresa Jacobs said that she was proud of those who showed up Monday and that the Orlando community has come too far in its fight for equality to give in to fear and hatred.
"This is no longer your fight, this is our fight," Jacobs said. "This is America's fight. And in the end, love will defeat. Love will defeat hate."
Speakers at the vigil also called on elected leaders to take action on guns. Smith said it's time to "form a plan of action to keep our community safe from gun violence, which is destroying everything we hold dear."
As the vigil came to a close, attendees joined in singing The Beatles' "Let It Be."
"And when the night is cloudy, there is still a light that shines on me," they sang. "Shine on until tomorrow, let it be."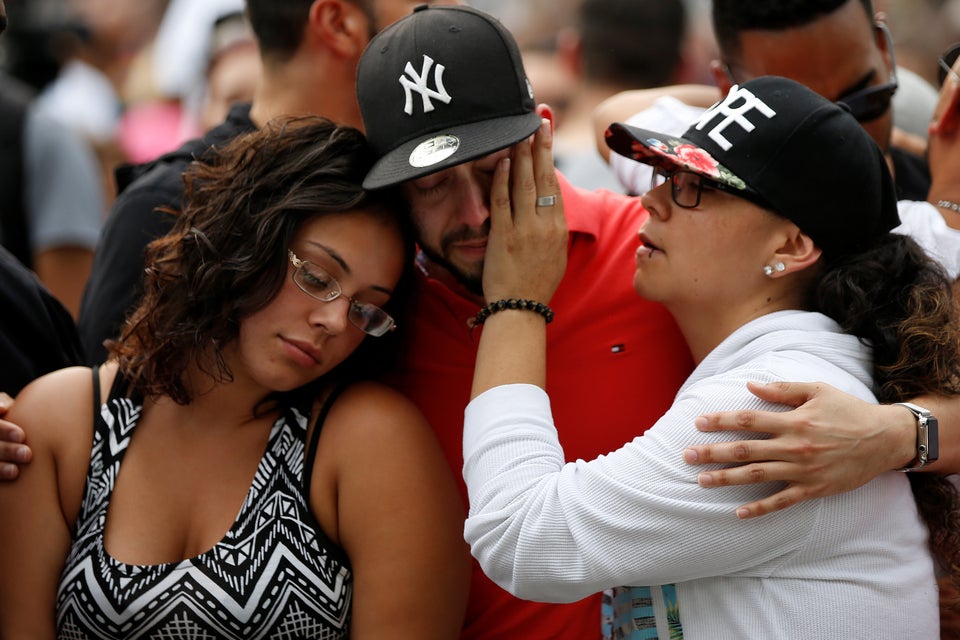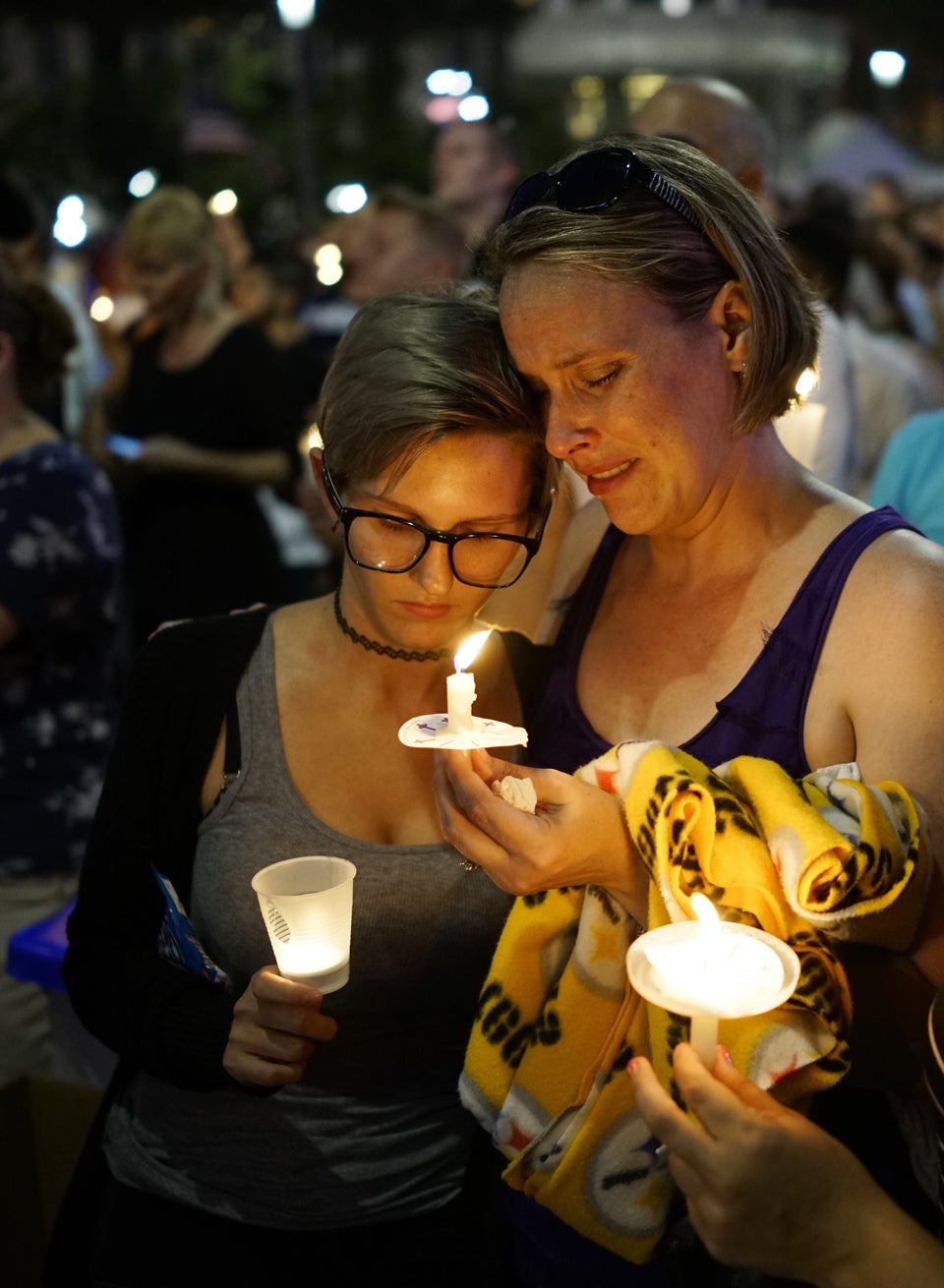 MANDEL NGAN/AFP/Getty Images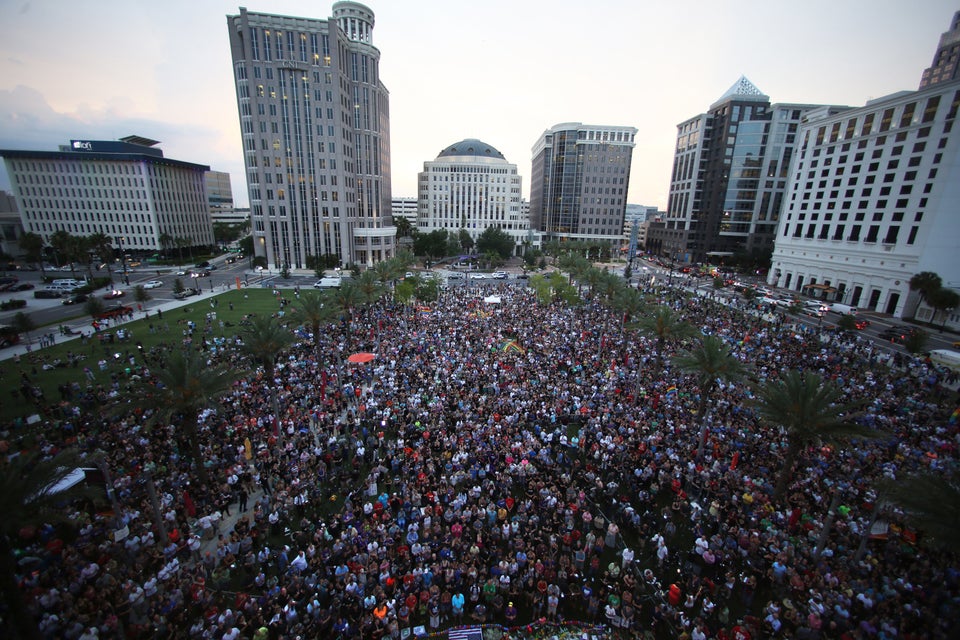 Charles King/Orlando Sentinel/TNS/Getty Images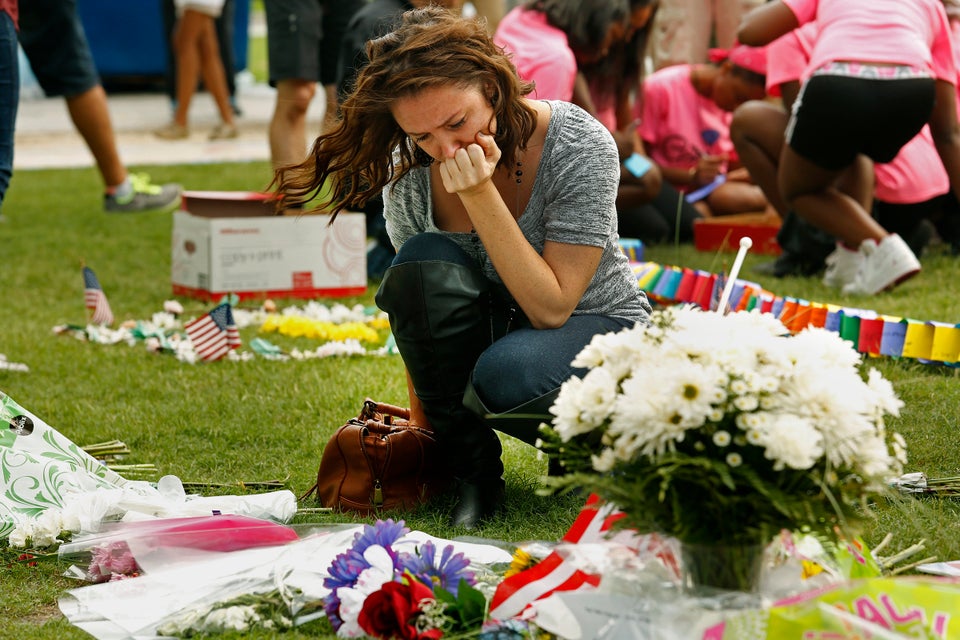 Carolyn Cole/Los Angeles Times/Getty Images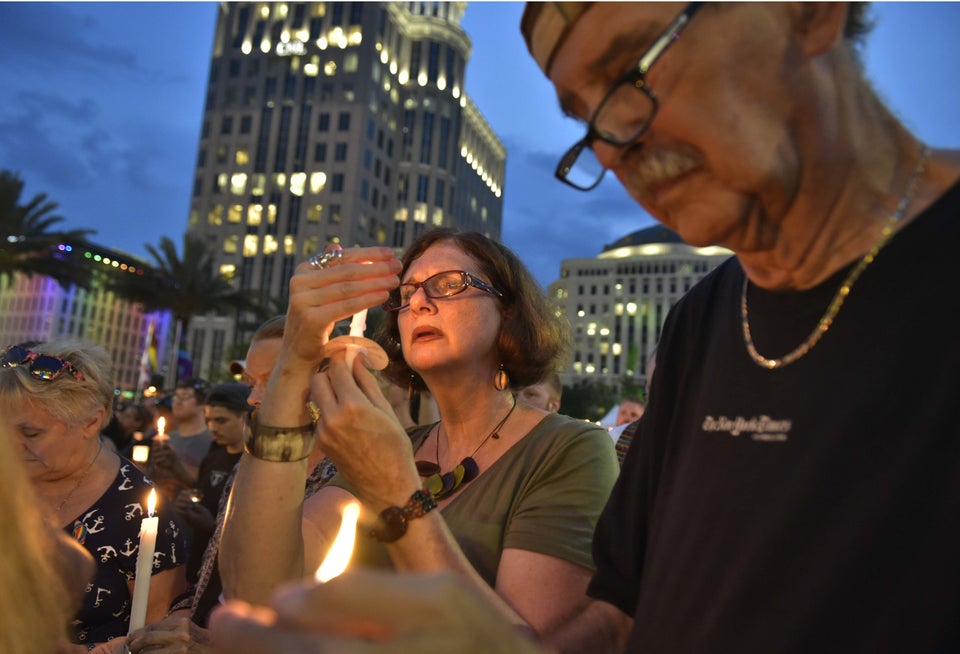 MANDEL NGAN/AFP/Getty Images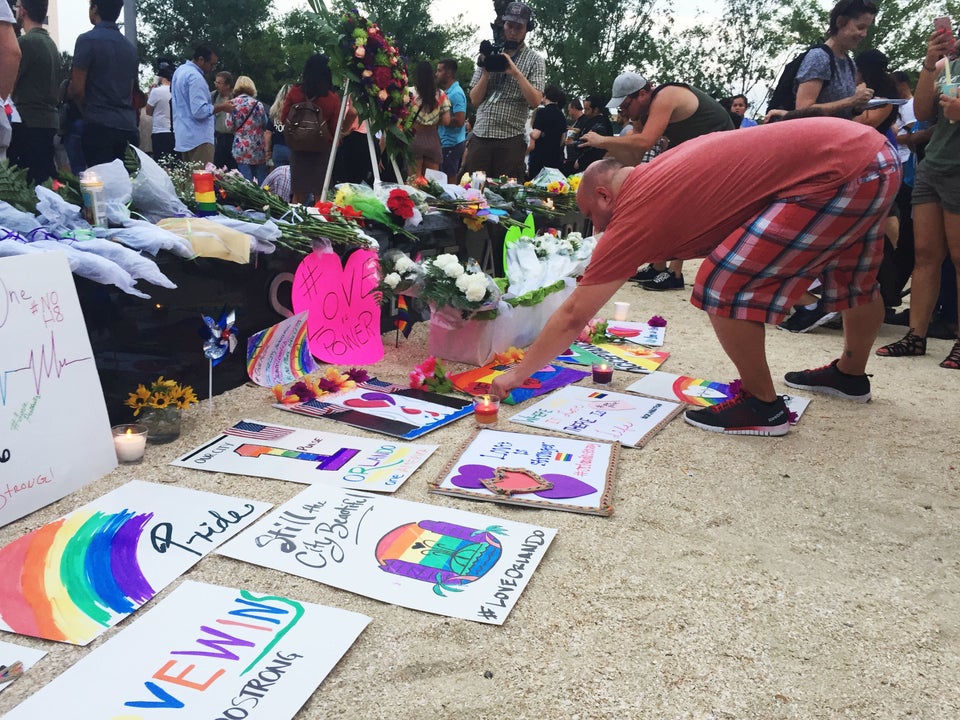 Andy Campbell/Huffington Post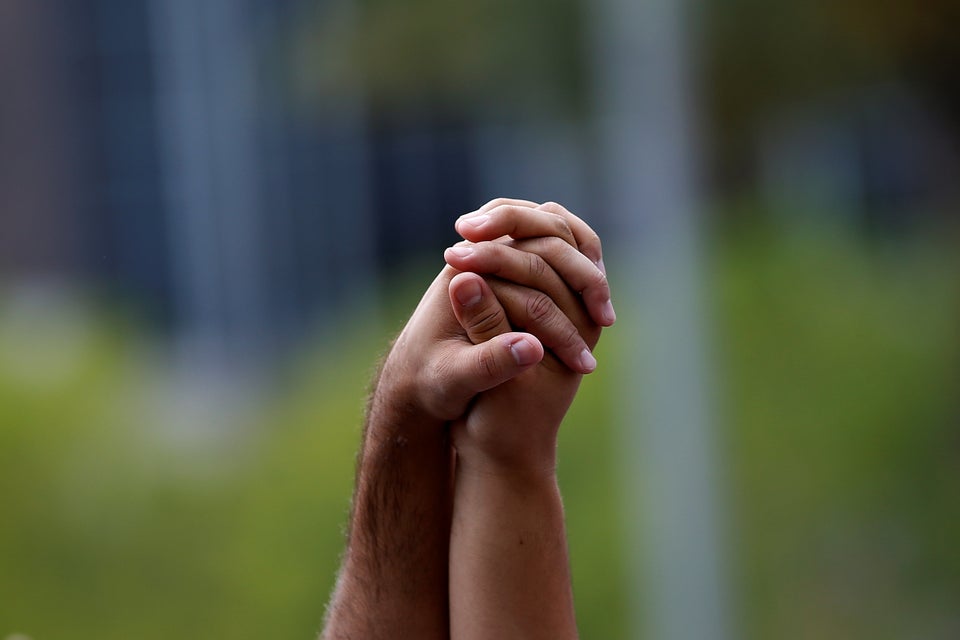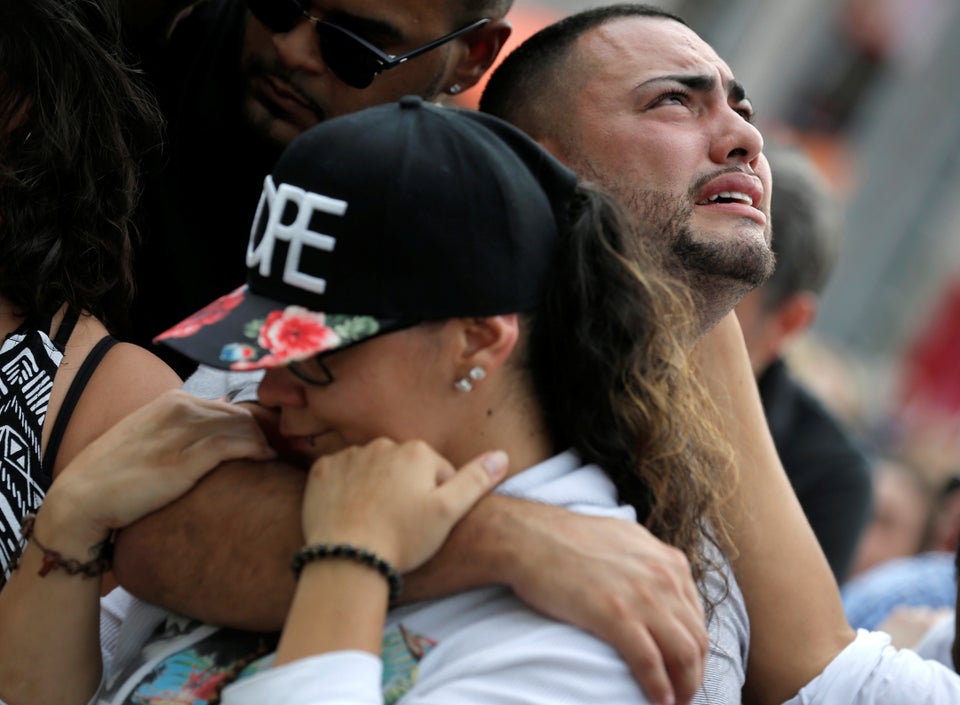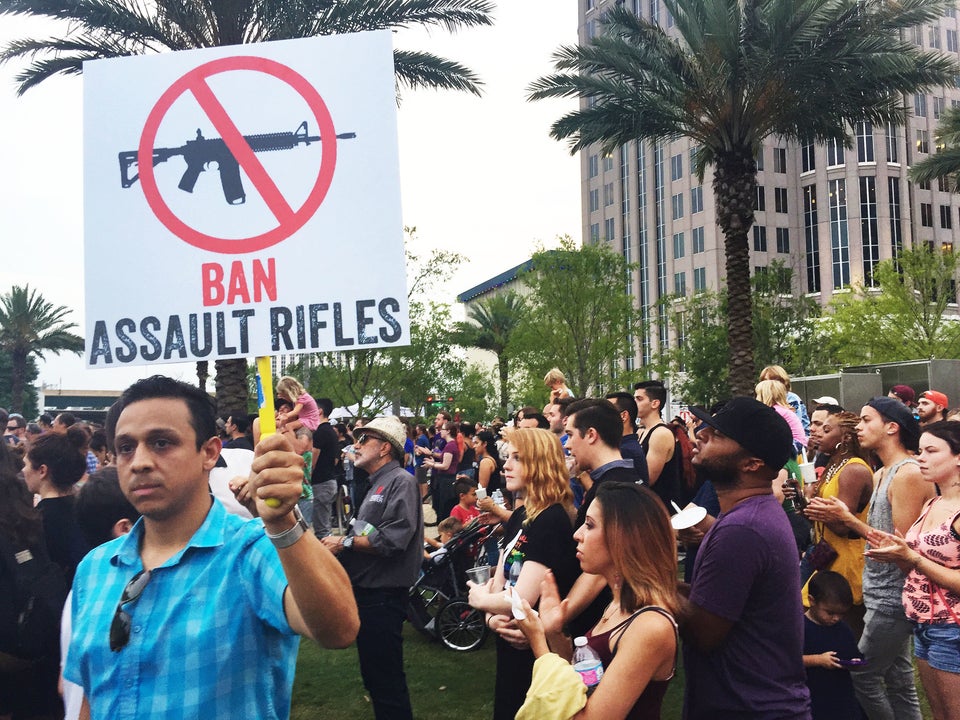 Andy Campbell/Huffington Post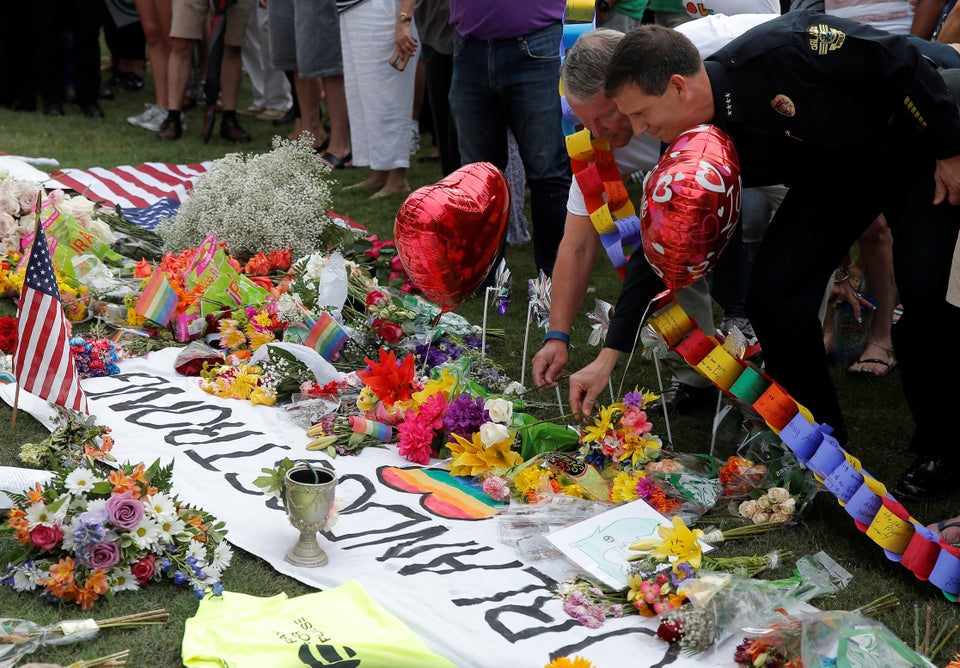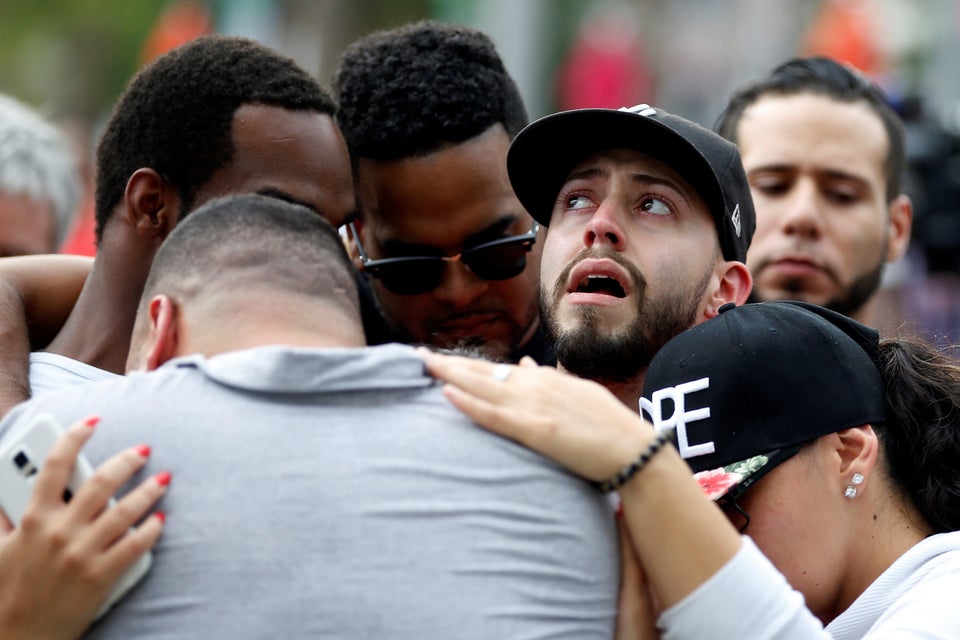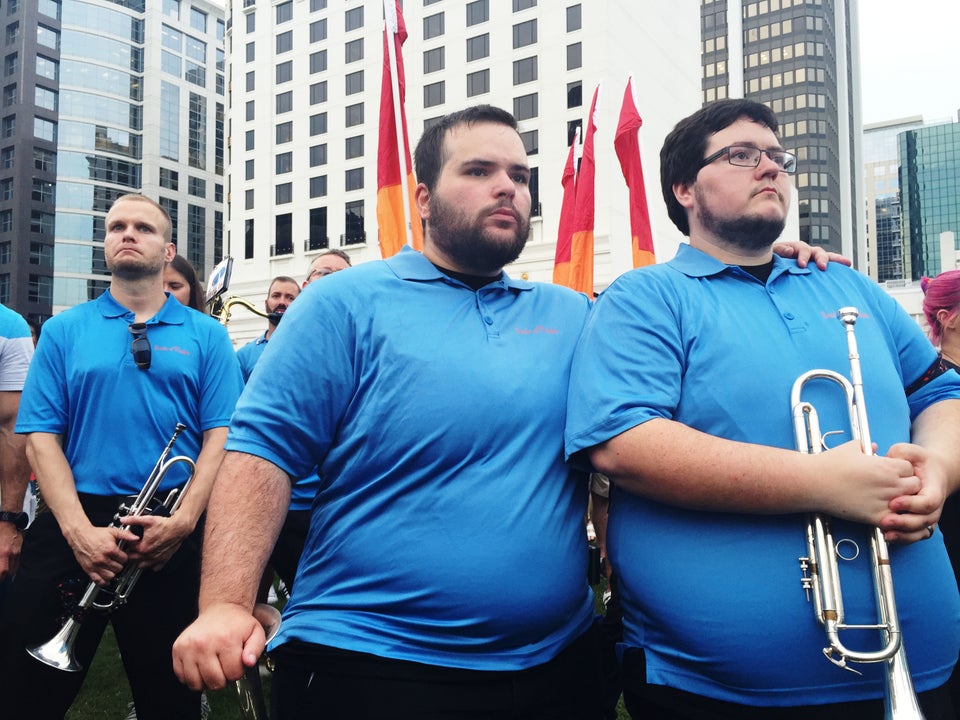 Andy Campbell/Huffington Post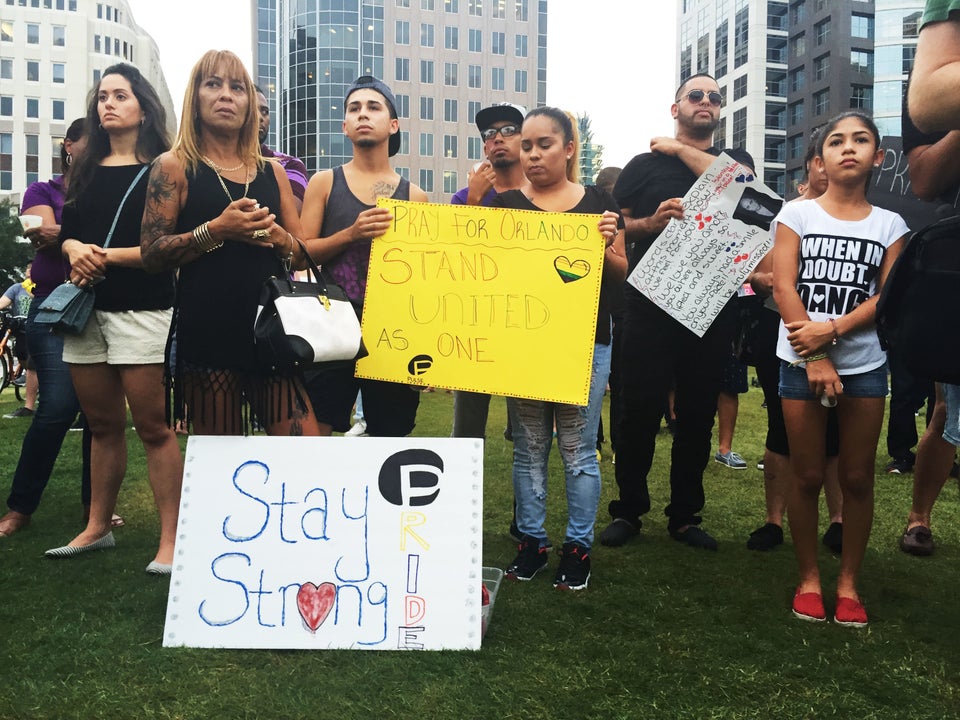 Andy Campbell/Huffington Post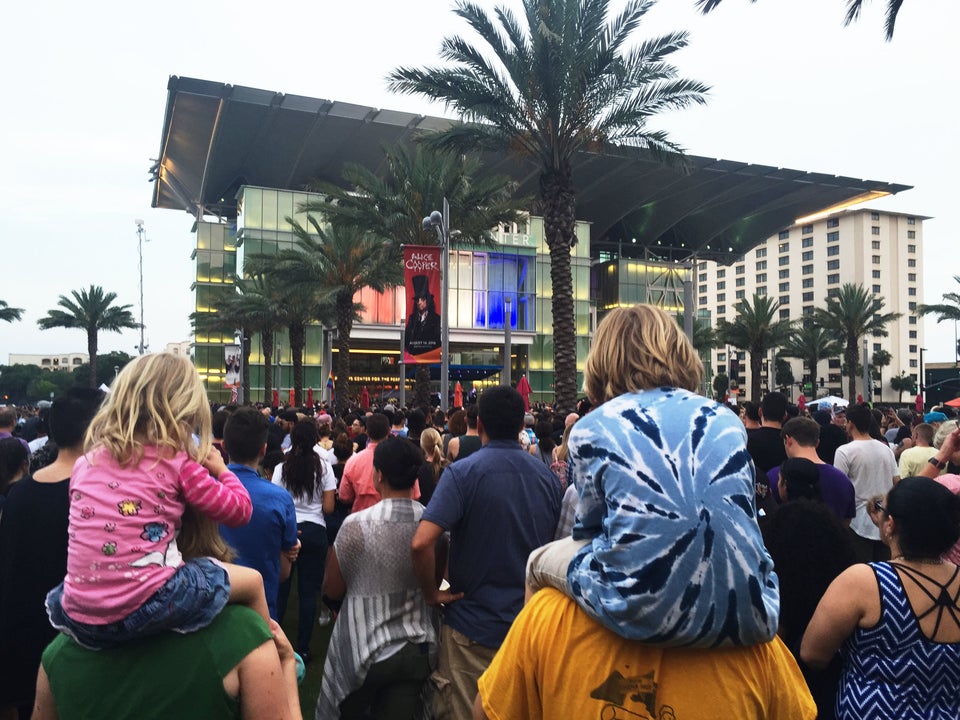 Andy Campbell/Huffington Post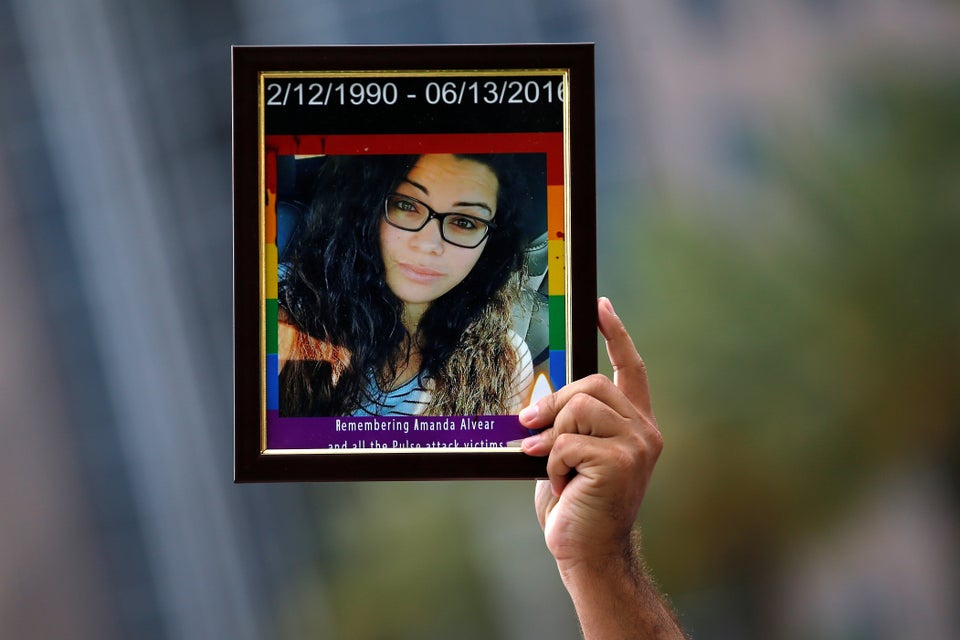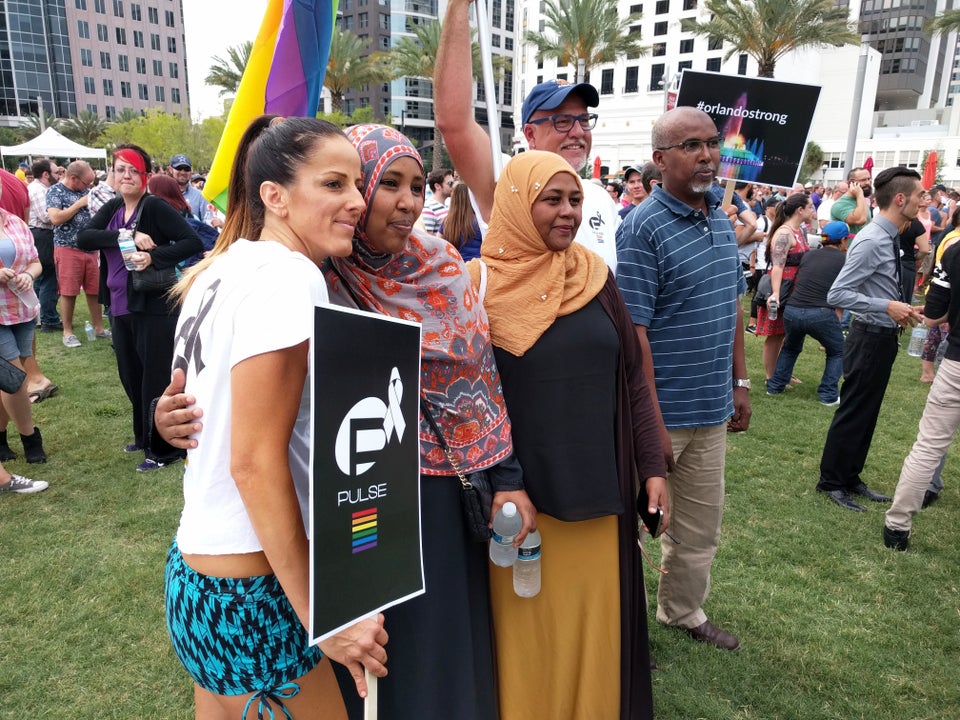 Roque Planas/Huffington Post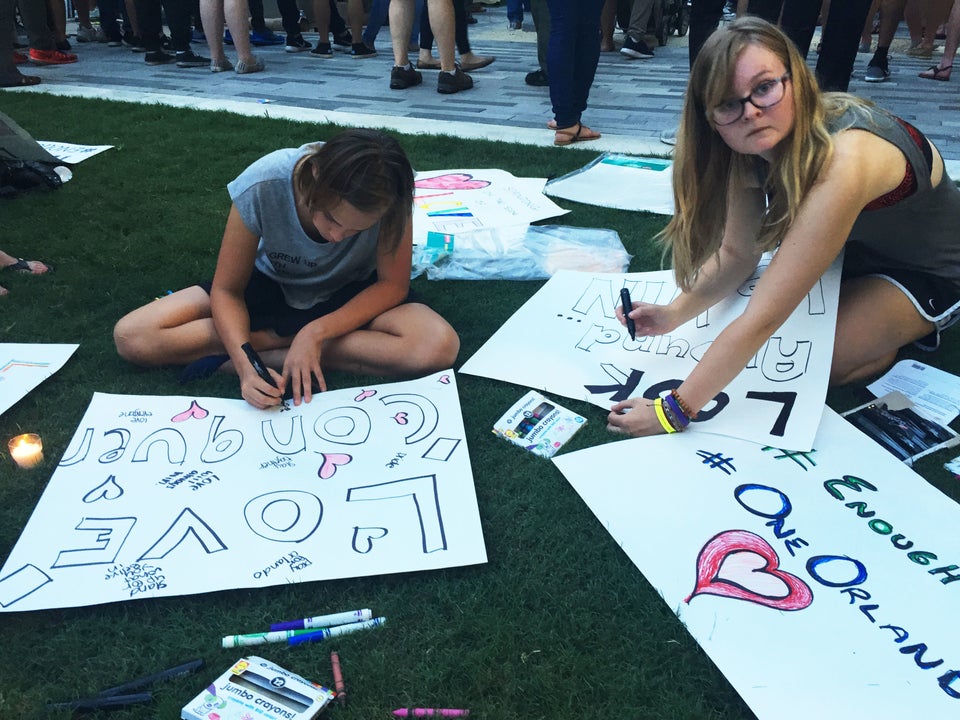 Andy Campbell/Huffington Post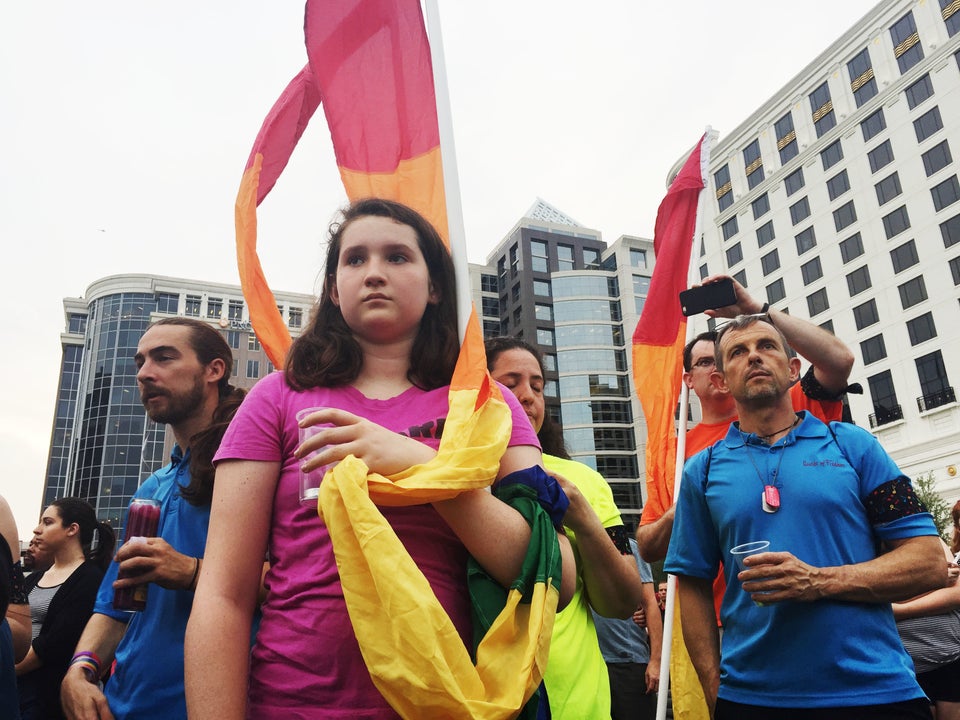 Andy Campbell/Huffington Post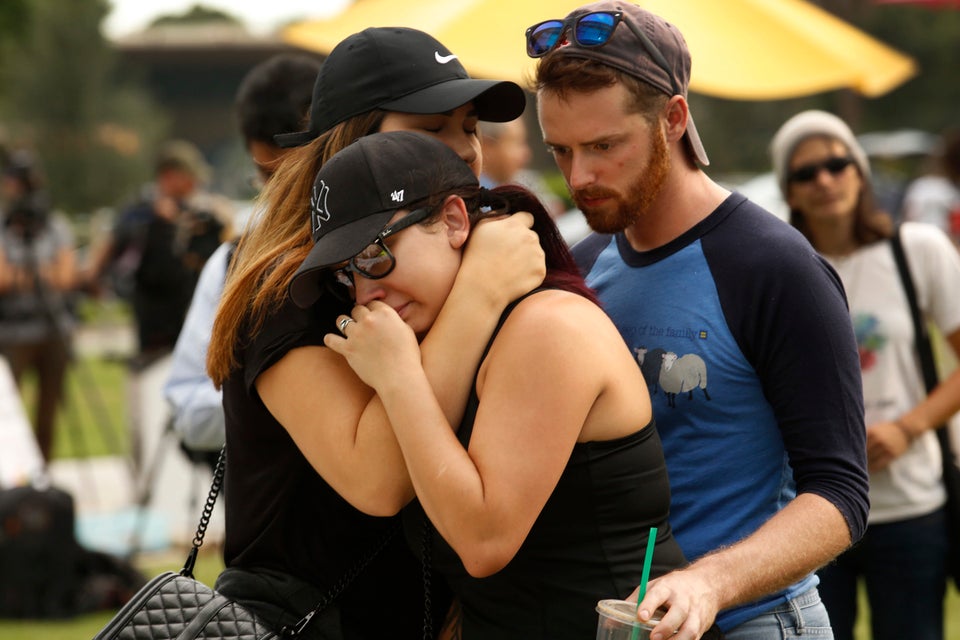 Carolyn Cole/Los Angeles Times/Getty Images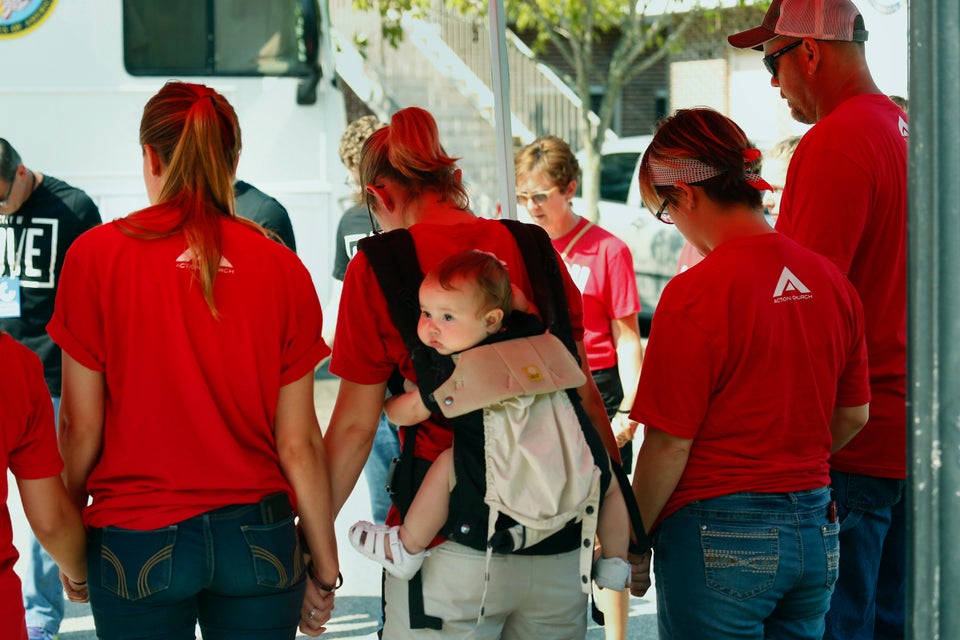 Carolyn Cole/Los Angeles Times/Getty Images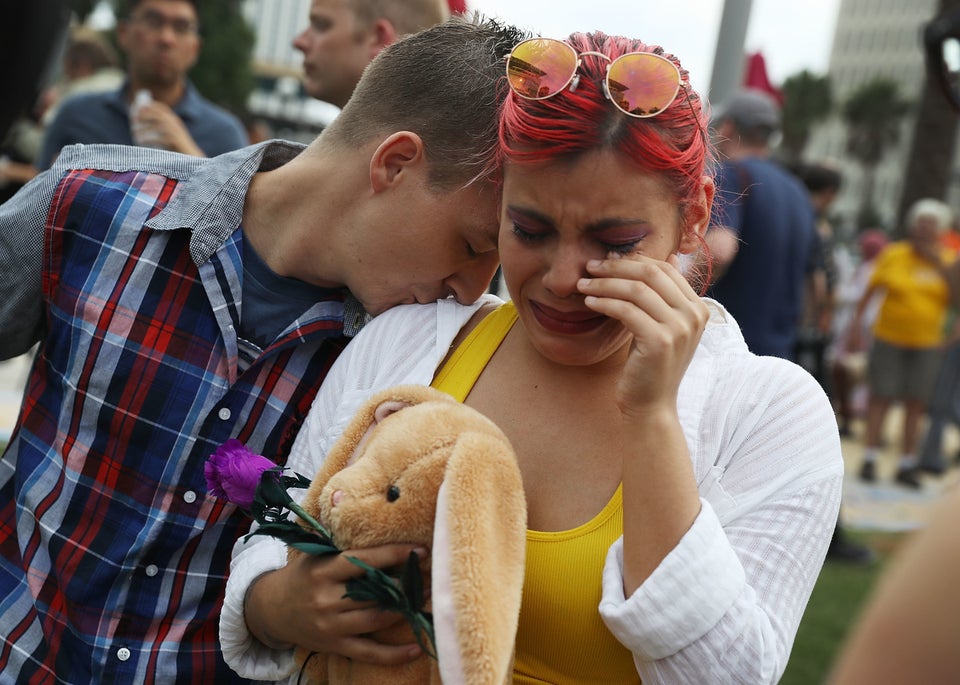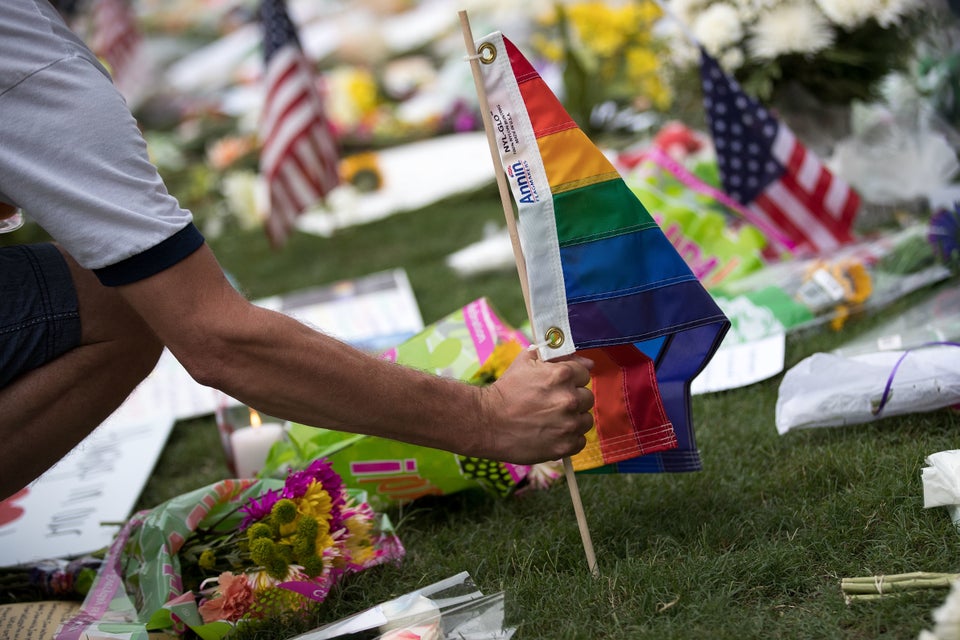 Drew Angerer/Getty Images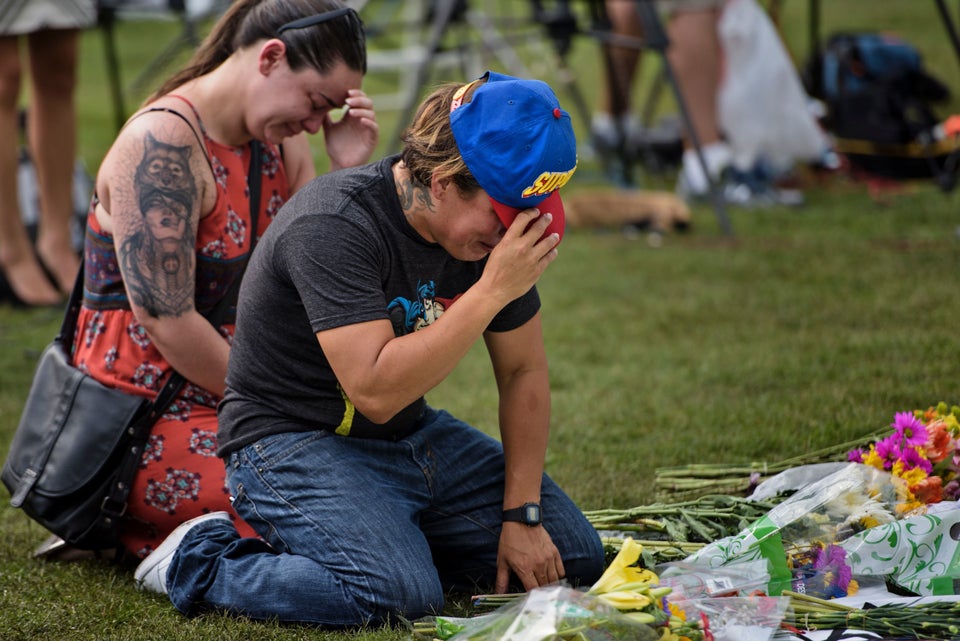 BRENDAN SMIALOWSKI via Getty Images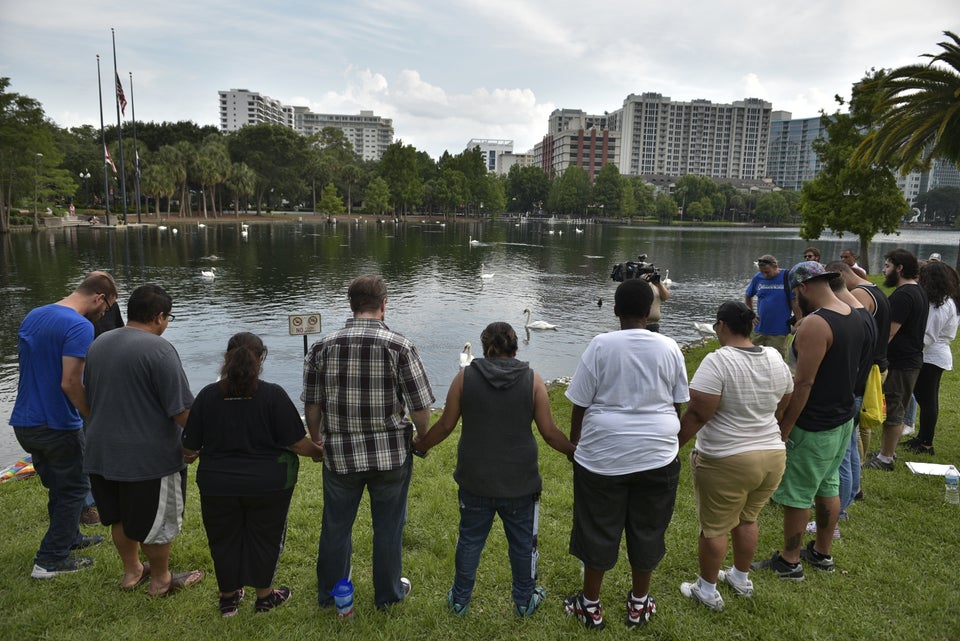 MANDEL NGAN/AFP/Getty Images
Other vigils (see below) were held Monday across the globe, from Boston to Los Angeles, London to Sydney, as the world stood in solidarity with Orlando.
Before You Go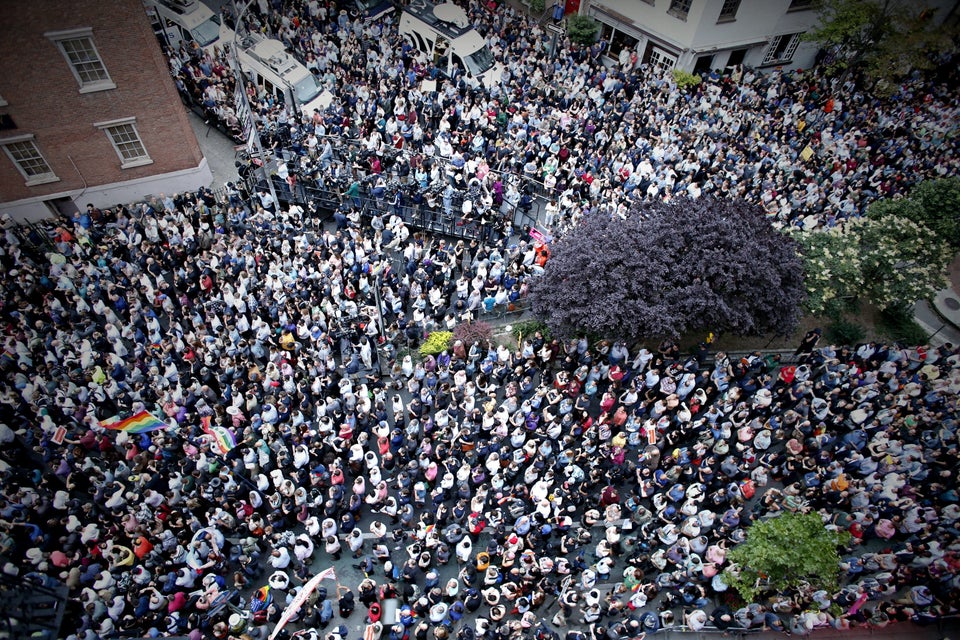 Vigils Held In Honor Of Victims Of Orlando Nightclub Shooting
Popular in the Community