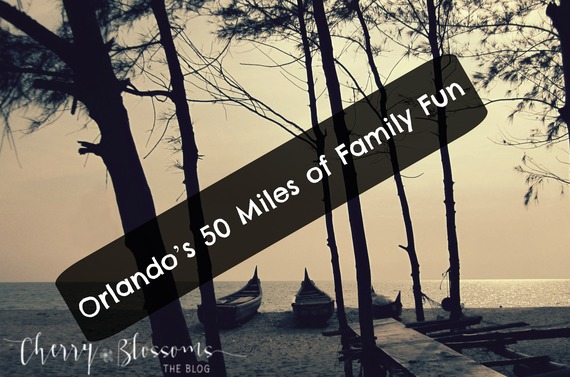 A Guide to Orlando Theme Parks, and the Fastest Way to get To and Through Them

If you're looking for a vacation spot in the midst of all the action, few are better than Orlando, Florida. With 15+ amusement parks in the Greater Orlando area, it's not only easy to spend an entire vacation traversing the many varieties of shows, roller coasters, attractions, and more, but expected! Unfortunately, with so many attractions and only a limited time on your vacation, it's key to pick a location that puts you in the center of the action. Luckily for you, in the dead center of these five big theme parks lies the International Drive Resort area, an accommodation hub perfect for those looking for easy access to all the fantastic Orlando attractions. Welcome to Orlando's 50 miles of family fun, and welcome to amusement park central!
Disney World - Distance from International Drive Resort Area: 10 Minutes
First, the obvious. Walt Disney World is one of the world's most famous amusement parks, and for good reason too! This giant fantastical metropolis boasts an impressive internal transportation system composed of boats, buses, and monorails, so once you have arrived in the park you won't have to worry about missing out on any of the parks' action. To get there initially, simply hop on the Bus 50 of the Lynx public transit, which travels from International Drive to Disney daily, up until midnight.
As far as tickets go, Disney provides joint-access tickets that allow visitors to experience any of the four parks within the same day. Depending on the age and interests of your traveling companions, you can plan out your visit to focus on the specific parks of maximum appeal. To save time dining, priority seating is available for reservation online, as Disney's eateries tend to fill up rather quickly.
Another timesaving investment is Disney's Fast Passes. The passes are essential place markers you can acquire at the front of a particular ride to reserve your spot for a specific time later in the day. Each ride can only accommodate so many fast passes, so it's important to pick them up at your rides of choice as soon as the Disney gates open. And don't forget! This 40 square mile amusement world is comprised of four separate but interconnected amusement parks known as: Magic Kingdom, Disney Hollywood Studios, Epcot, and Disney's Animal Kingdom.

Universal Studios - Distance from International Drive Resort Area: 4 Minutes
Just a few minutes north of International Drive via the Lynx 8 or 42 you'll find Universal Studios. While not as breathtakingly massive as Disney World this is no amusement park to snub your nose at. In fact, once you've entered the park, you're sure to be so overwhelmed with the theatrics that you won't know what to do first, so how can you make sure you get the most out of your Universal Studios experience?
Well, for starters we suggest you opt for the VIP tour. While significantly more expensive than both general admission tickets and Express Passes, a VIP Tour is undoubtedly worth it. Express Passes may allow you to skip the lines of the general admissioners, but you will still have to wait in the long lines of all those who have also paid for the privilege - making the expense only moderately worth it.
VIP Tours, on the other hand, provide you front of the line access to every ride and attraction. Also included is an exclusive personal guide, valet parking, reserved show seating, continental breakfast, and behind the scene tours. While roughly 7 times the price per person, if you truly want to get the most out of your experience, this is probably your best bet.

Legoland - Distance from International Drive Resort Area: 49 Minutes
While the farthest from the International Drive Resort Area, LEGOLAND is an amazing experience you're not going to want to miss. If this is one park that truly sparks your interest you may want to invest in a vacation rental slightly southwest of the area. This will put you a little closer to the park, while not taking you to far from the other attractions you're interested in.
Additionally renting a vacation house or condo is a good way to make sure your whole family is well fed before and after your days at the park. Nearby grocery stores can be found, and nothing quite says relaxation after a long day at LEGOLAND like lying on the beach and decompressing to the Orlando sunset.
To save time and see it all, there are a couple things you can do. First, don't arrive as soon as the doors open. Arriving even thirty minutes after the park's opening is a surefire way to avoid the lengthy entrance lines. Often you'll still be able to find upfront parking, but with out the premium pricing - saving you money in exchange for a minimally longer walking distance. Furthermore, if you plan on seeing the "Lego Movie Experience", mid-afternoon is a great time to avoid the lines - the exhibit's so popular the majority of people flock to it as early as possible. While you won't find any Fastpass opportunities at the LEGOLAND resort, you can avoid lines by thrill-seeking during lunch and naptimes, when the park dies down momentarily.
SeaWorld - Distance from International Resort Drive Area: 11 Minutes
Of all five attractions, SeaWorld is the second closest to the International Drive area. Residing a few miles due south, it's but a few minutes on the LYNX Bus 8, which arrives roughly every 15-30 minutes. The key to saving time at this sea life wonder world is advanced reservations. SeaWorld employs a Quick Queue Unlimited System that allows you pick any of the seven offered attractions you wish to see and reserve front line access for them ahead of time.
Also available at SeaWorld is Signature Show seating. This online feature allows you to reserve seats for upcoming shows, effectively reducing the hassle and waiting times associated with attaining conjoined family show seating.
Another way you can beat the crowds is by planning to eat during the show performances you will not be attending. This way while everyone else is busy you'll be getting refueled, and as soon as they clear out, you'll be right back in the action. SeaWorld also recommends that you reserve priority seating for their restaurants in advance as these venues tend to be rather popular among visitors, and they only accept priority seating obtained online. However, this is no feat for the true go-getter - you can start booking as soon as the clock strikes 10 a.m.
Wet 'N Wild - Distance from International Drive Resort Area: 3 Minutes

Wet 'N Wild is an off-site Universal waterpark separate from the Islands of Adventure housed in conjunction with Universal Studios. This park is actually located directly on International Drive, and just a few minutes south of Universal Studios itself. If you've never been to this attraction, this is the time to go, as Universal Studios has announced its closure scheduled at the end of 2016.
Guests who choose to stay in the International Drive area will have no problem reaching this park, as the I-Ride Trolley which runs up and down the drive daily will take you there for the budget price of a single dollar.
Just as any other park in the Orlando area, throughout the day you'll experience fluctuations in crowd density. However, according to experienced Wet 'N Wild goers the mornings and lunchtimes are the best time to check out the attractions with minimal wait times.

Endless Fun, Just Moments Away
Trust us; if you're looking for a place to stay, with theme parks just moments away, International Drive Resort Area is a great place for you. With most of the theme parks in the area just a 10-minute drive from the area, you'll never be closer to the action. Better yet, if you want the comforts of your own home, checkout vacation rentals from Tropical Escape Vacation Homes, so you don't have to be limited to just resorts (regardless of what the name might entail). So what are you waiting for? Visit today and see why Orlando is the amusement park capital of the world; you'll be glad you did!