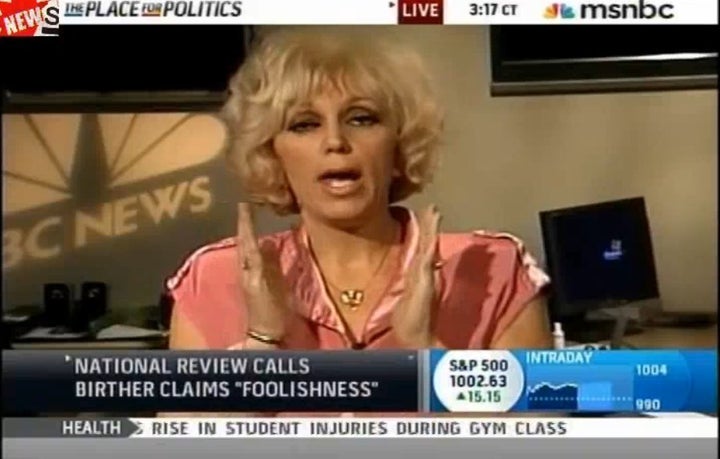 Birther queen Orly Taitz isn't backing down in her fight against being forced to pay a $20,000 fine slapped down by a federal judge last year for filing "frivolous" litigation aiming to challenge President Obama's citizenship.
Earlier this week, the U.S. Supreme Court denied a motion filed by Taitz to block her from being hit with the penalty.
Talking Points Memo reports that the Israeli dentist-lawyer -- whose claim to fame has stemmed from mounting repeated legal assaults against the president's eligibility -- is seeking to appeal the high court's decision:
Taitz has filed a "motion for reconsideration" with the court, according to documents posted on her web site, claiming that she has new evidence that President Obama is not an American citizen.
The new evidence for Taitz comes in the form of a video posted to the White House website last week. The clip features the president pointing to his passport, highlighting the stamps within its pages from countries to which he's traveled.
Taitz says the footage tells her that the government-issued documentation was falsified, calling it "newly discovered evidence of fraud."
The appeal filed by Taitz against the Supreme Court's ruling states:
Federal Rules of Civil Procedure allow a motion for reconsideration to be granted, when new evidence was discovered, a mistake of law or fact occurred or if it is warranted in the interest of justice. This Honorable court is requested to reconsider this Application for emergency stay and/or injunction 10A56 as to the sanctions due to newly discovered evidence of fraud on this honorable court, forgery of passport records, uttering, obstruction of justice, committed by Barack Hussein Obama, aka Barry Soetoro, aka Barry Soebarkah, President of the United States (hereinafter Obama) in order to improperly influence this Honorable court in it's August 16, 2010 decision on application for stay and reversal of $20,000 sanctions against a political dissident attorney Dr. Orly Taitz, as a punishment for her representation of members of the US military, questioning legitimacy of Barack Obama for the position of the President and Commander-in-Chief.
"I know that sooner or later the truth will be out and my legal efforts will be vindicated and probably will be part of history books," said Taitz earlier this summer. "I know that the moment one judge order discovery or reverses prior ruling, the hounded will end and many will have an egg on their faces."
Here's the full text of the appeal filed by Taitz:
Popular in the Community