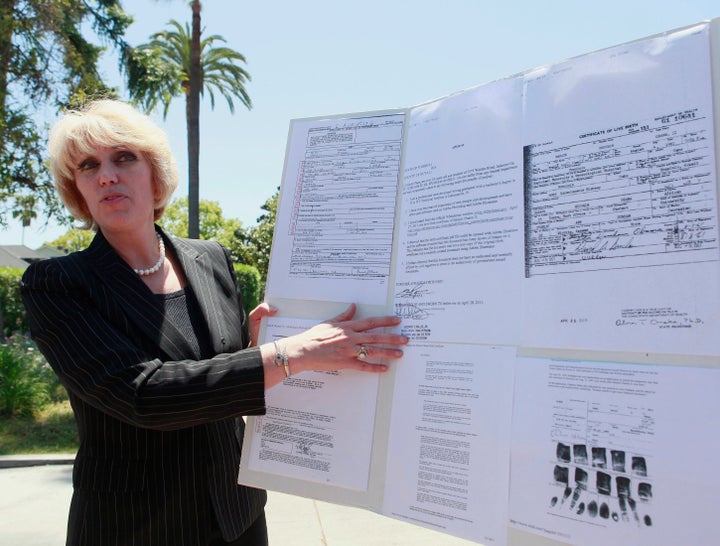 Orly Taitz, a California attorney and queen of the birthers, won a small victory this week when a judge in Georgia denied a motion by the Obama administration to have one her many challenges to the president's ballot eligibility dismissed.
"THANK YOU GOD!!! I AM READY TO CRY! AFTER 3 YEARS OF BATTLE FOR THE FIRST TIME A JUDGE RULED THAT OBAMA'S MOTION TO DISMISS IS DENIED. I CAN NOW DEPOSE OBAMA AND EVERYBODY ELSE INVOLVED WITHOUT ANY IMPEDIMENT," she wrote on her website.
Following the decision by Deputy Chief Judge Michael Malihi in the Office of State Administrative Hearings, the hearing on Taitz's complaint has been set for Jan. 26 in Fulton County, Ga. Obama will not be required to attend.
Taitz has hit Georgia hard on the birther issue -- as have other complainants -- but this is her first success of this nature there, or anywhere, for that matter. A previous attempt in Georgia resulted in her being fined.
The Columbus Ledger-Enquirer reports:
Taitz represented two soldiers in U.S. District Court in Columbus who sought to avoid deployment by arguing Obama wasn't the commander-in-chief because he wasn't eligible to be president. Federal Judge Clay Land warned Taitz against filing a frivolous suit, then fined her $20,000 after he denied the second claim.
On her website, she notes the significance of the decision being passed down in the same state where she was so heartily rejected, calling it "particularly sweet."
It's a rare turn of events for the birther die-hard, who has been among the most vocal and most active members of the anti-Obama movement. She was rejected unanimously by a New Hampshire panel last year, after testifying that Obama's birth certificate was a forgery.
Popular in the Community