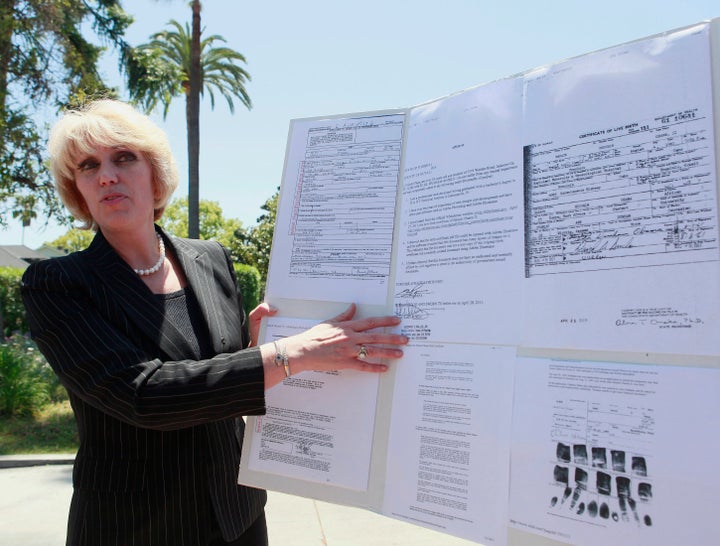 Orly Taitz, a dentist and lawyer who has built her political profile on promoting conspiracy theories about President Barack Obama's alleged ineligibility to serve as commander in chief, failed to finish in the top two in California's Senate primary on Tuesday, denying her a chance to run against Sen. Dianne Feinstein (D-Calif.).
Running amid a crush of 23 candidates, including 14 Republicans and an Islamophobic "surfing rabbi," Taitz had initially seemed to fit in among a class of longshot candidates. More recent, albeit imprecise, polls showed, however, that Taitz might actually have a hope of qualifying, thanks in part to a change in California's primary rules.
Golden State voters recently amended their election process to grant the top two finishing candidates in each primary race a spot on the general ballot. It was a move meant to provide an electoral avenue for more moderate candidates. But with concerns already circulating about the new format's potential to instead incite intra-party skirmishes, some spectators had begun to worry that the reform could backfire even more bizarrely in this contest.
As the self-professed "queen of the birthers," Taitz has filed numerous unsuccessful lawsuits in an attempt to gain traction for the movement, which, for various reasons, believes that President Barack Obama is not a natural-born American citizen, and therefore not eligible to serve as president.
Although her campaign platform included a birther plank, it was listed last, placed beneath various Tea Party-tinged offerings to fight taxes, spending and debt. In the past, she's also claimed to oppose controversial legislation such as SOPA and PIPA, which dealt with internet freedom, as well as the NDAA, which authorized indefinite detention, though those views appeared to escape her official platform.
In an interview in the lead-up to Tuesday's election, Taitz even said her candidacy was not focused on her birther crusade. Hours before polls opened in California, however, she appeared to take a step away from that contention, posting a 4-minute video to the front page of her campaign website explaining her theory that Obama's long form birth certificate, released by the White House last year, is a forgery.
Taitz's disappointing finish gives rise to Republican Elizabeth Emken, an autism awareness advocate and former congressional candidate who looked poised to finish the primary in second place. With less than 20 percent of the vote reporting and the results not yet official, Taitz was already out with a blog post accusing "corrupt" California GOP board members of partaking in a "sham endorsement process" in favor of Emken. She also went back to listing "remove the usurper with forged papers from the office" -- presumably Obama -- as her primary goal.
Emken will face off against Feinstein, who won the primary as anticipated, this fall.
REAL LIFE. REAL NEWS. REAL VOICES.
Help us tell more of the stories that matter from voices that too often remain unheard.
BEFORE YOU GO