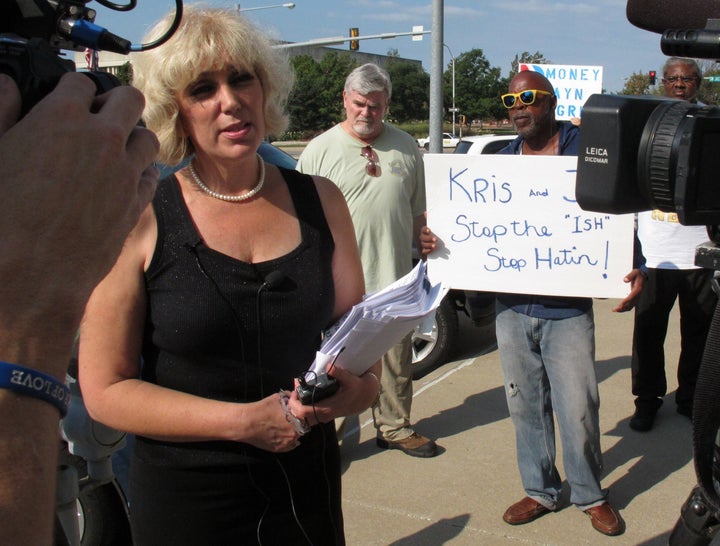 Birther queen Orly Taitz issued a plea Wednesday on her website for help finding a court reporter who transcribed a California hearing and for money so she can hire an assistant.
Taitz, a California dentist and attorney best known for challenging President Barack Obama's birthplace, claimed in two posts that she was told by California court officials that a transcript was not available from Oct. 29 and Nov. 1 court hearings during her attempt to get Obama disqualified. She wanted help finding the court reporter, noting that it would help her prove that Obama was ineligible for reelection and that 1.5 million California voters are fraudulently registered.
I remember seeing a court reporter in Judge Marginis's courtroom. I remember he is a male reporter, not tall, partially bald. I remember seeing him at least at one of these hearings on October 29th or November 1st, but I can't say now if he was at both hearings. When I asked [for] a transcript, I was told by the clerk that there was a reporte [sic] on October 25th, but not on October 29th and not on November 1st. So much is going on, it is hard to remember and say 100%. Can someone find this court reporter? So, I need my supporters, who were in the courtroom to state, if they remember seeing him on October 29th and November 1st. How could it happen that in a case, where plaintiffs bring evidence of one and a half million invalid voter registrations, forgeries in IDs of the sitting president, there is no court reporter? Something is very wrong with [the] absence of [a] court reporter, absense [sic] of transcripts and absence of audio tapes and the judges [sic] trying one bogus excuse, it did not work, so he came up with another bogus excuse to dismiss the case and cover up Obama's forged IDs.

Taitz also challenged the judge's questioning of her voter registration claims. Taitz wrote that the judge said claims about fraudulent voter registration were only Internet rumors, but Taitz said she obtained the material from a CD sent to her by California Secretary of State Debra Bowen (D). She said two experts reviewed the material provided by Bowen.
Taitz has regularly used her website in recent weeks to call for help. Last month, she issued a plea for volunteers to help her find the names and addresses of the nation's secretaries of state and state attorneys general in order to remove Obama from the ballot following the election.
In September, Taitz asked supporters to send her money to finance trips to Kansas as she protested Obama's name being on the ballot in his mother's home state.
Calling all HuffPost superfans!
Sign up for membership to become a founding member and help shape HuffPost's next chapter
BEFORE YOU GO
PHOTO GALLERY
11 Paranoid Obama Conspiracy Theories