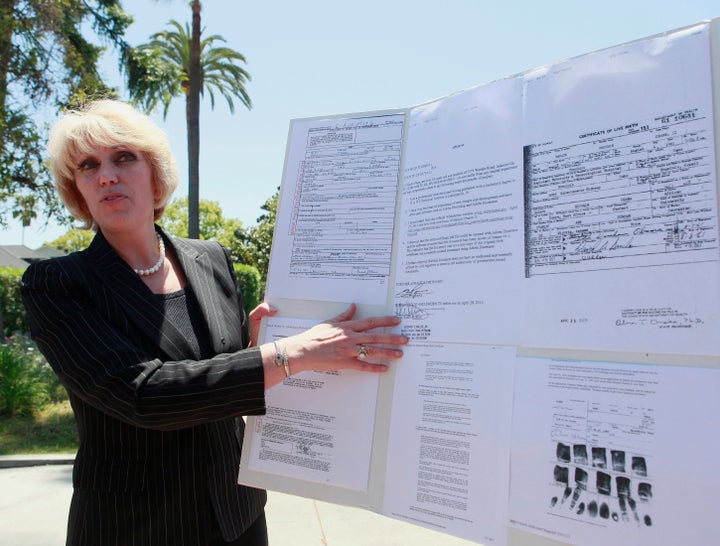 Orly Taitz is running for U.S. Senate. Taitz, who made a name for herself questioning the veracity of President Obama's birth certificate, will run as a GOP candidate in an effort to unseat Senator Dianne Feinstein (D-Calif.).
Taitz, sometimes referred to as the "Birther Queen," told The Daily Caller, "I'm very confident that I'll be able to get the Republican nomination and I will be able to win the general election." She continued, "I'm best known of the candidates who have announced that they are running." The Caller reports that Taitz's campaign "is, perhaps surprisingly, almost entirely focused on economic issues."
She also perceives herself as a victim of the mainstream media because, in her words, "I dare to be the only person who brought to court not only the issue of lack of the original birth certificate for Obama (not that piece of garbage he posted on the Internet without the name of the doctor and the name of the hospital), but also the issue of his use of multiple social security numbers, none of which was issued in HI." Taitz elaborates, "I know that sooner or later the truth will be out and my legal efforts will be vindicated and probably will be part of history books."
Soon after the release of the long form birth certificate, Taitz appeared on MSNBC's "The Last Word with Lawrence O'Donnell" and got into a shouting match with O'Donnell. The host, frustrated that Taitz would not address the release of the document, cut off the interview halfway into the conversation.
Taitz appeared at an Arizona Tea Party meeting in late October with Maricopa County Sheriff Joe Arpaio. Arpaio is investigating Obama's birth certificate and explained to the group, "there could be a shock there somewhere that my guys came up with. I can't talk too much about it. It's in the process." Taitz also spoke and received applause from the crowd after talking about her belief that Obama was not born in the U.S.
Calling all HuffPost superfans!
Sign up for membership to become a founding member and help shape HuffPost's next chapter
BEFORE YOU GO
PHOTO GALLERY
GOP candidates on birther issue