In October 2011, Orly Wahba posted a video called "Kindness Boomerang". Masterfully shot all in one take, it shows a chain reaction of random kindness, as strangers are helped. Each scene was based on Orly's real life experiences after her family faced a number of challenges when she was a young child.
"A promise to be there for people the way I wished someone would have been there for me; to see people the way I wished someone would have seen me. Who would have thought that years later it would develop into an organization, a movement, a revolution of kindness; reminding the dreamer within each of us that we can change the world through simple yet powerful acts of love and kindness." - Orly Wahba
This video has currently reached over a staggering 100 million views to date. In the same year, she set up her non-profit organisation, Life Vest Inside, with the goal to empower and unite through the power of kindness.
"I want to have a conversation with the world" - Orly Wahba
I first met Orly back in 2012 and was instantly struck by her unwavering passion and enthusiasm. We recently reconnected to talk about where it all started, her new book, Dance for Kindness, an upcoming cross country tour and her new position as CEO of Kindness USA the financial system to enable you to buy a dream future for a kinder USA. For one person to tirelessly commit and persevere to all of this and more, I do wonder how she fits it all in! Click on the video below to listen to the full interview:
Orly shares how she grew up in a very close-knit family, inspired by her father who taught her from a very early age that everything was possible if you believed in it enough. Her family was no stranger to challenges and hardships from an early age, having lost her home to a house fire and a continuous cycle of events that catalysed a significant period of bad luck. Orly shares with me how her journey of losing herself to depression and loneliness were the golden nuggets towards digging deep and finding the self-love and belief within herself. She generated the courage to use her voice and speak about how small acts of kindness changed her life since her teenage years. She has since gone on to share how this universal tool has the ability to change the world and continues to prove it one act at a time.
The book is made up of 365 pages of daily inspirations, ideas and tools to reflect and act upon, one for every day of the year, 100% of the profits goes straight back into Life Vest Inside to continue its efforts for a kinder world. Orly shares with me how she is continually amazed every time she hears how a company, school or individual has benefited from this magic little handbook. Just click here to get your hands on a copy, I guarantee you will not be disappointed.
The book was penned and inspired by the memory of her grandfather who was the very essence of what 'KINDNESS' stands for, his actions spoke louder than any of his words and is fondly remembered as 'Captain!'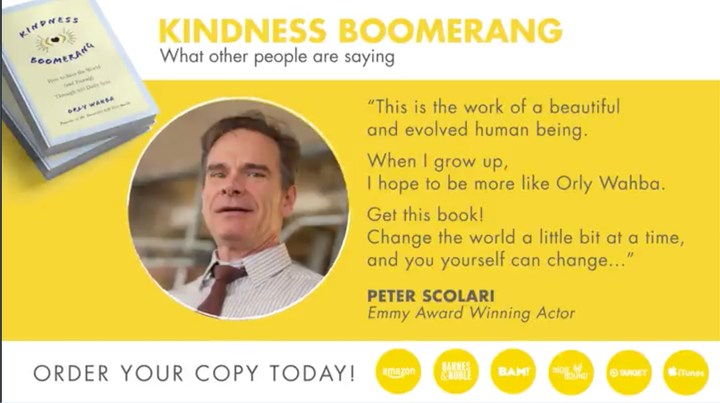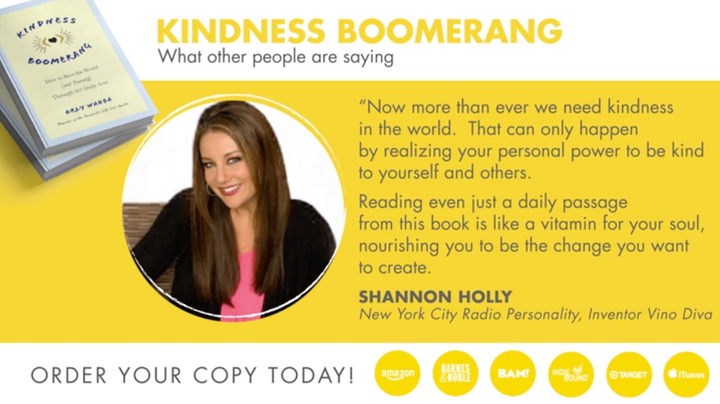 Upcoming Cross Country Tour
Taking her vision to the next level, Orly is heading on a six week cross country tour later this year. She will be speaking in schools, companies, community centers and engaging with other thought leaders and kindness doers as well as activating communities to begin making a change in their own way. An extension of Orly's initial journey into the wonderful world of kindness, this listening and sharing tour will not only serve to continue spreading awareness about the power of kindness, but it will also bring to light ways in which she aims to increase kindness perception within the US over the course of the next ten years. The goal of the tour is to spark conversation and dialogue with people of all backgrounds around the importance of kindness and how together we can make the US a kinder place to live and from there the world at large. By utilising her new book, Kindness Boomerang, Orly aims to inspire, empower and equip those she meets along the journey with tools to make a change in their own life and within their community. You can help Orly travel across the US by joining in on one of her adventures in your own city, booking her for a talk in your school or place of work. You can track Orly as she moves from city to city by tuning into the live streams she will be holding each week through her YouTube channel . To get involved or learn more visit here.
Orly has recently accepted the post of CEO at Kindness USA. This genius platform is hosted by dreamstore.me that was founded by Alex Schecter and Guillermo MacLean both with a combined 40 years experience in the financial industry.
An extensive survey conducted identified how individuals perceived kindness from themselves and of the society around them. The stats were shocking whereby on 25% of the USA perceived that they lived in a kind society yet 75% of the population believe they were kind themselves. There is a huge gap and the aim of Kindness USA is to raised the perceived kindness of society up to 80% by the year 2027. So how does it work?
Financing future dreams of a kinder society as a commodity is something that has never been done before yet has huge potential. In order for investors to stump up the cash to finance all the good work that is being done by the 'doers' in the USA. The only way investors will risk their money is if Kindness USA generate $1 billion in pledges. Anyone who believes that creating commodities out of social action for good can pledge money and does not have to pay anything unless the perceived kindness rate has reached 80% by 2027. What have you got to loose? If I was an American citizen I would not hesitate to pledge how about you?
I am so excited about how this platform has the potential to revolutionise the financial system, can you imagine? A way to by a dream of a kinder future and have it financed? Wow... this does give me hope and I am certainly watching this space. Looking forward to the day this expands across the water into the UK don't you agree?
There is something to be said about believing in your dreams whole-heartedly, Orly proves that as she lives, breaths and acts with kindness in everything she focuses on. Here is to hope to a kinder world for all!
Popular in the Community