 In the living room of Macaulay Culkin's New York City apartment, canvases occupy the space like so many peculiar yet irresistibly magnetic house guests. The room -- converted into an art studio -- is congested with the vestiges of creativity at work: bottles of paint huddle together in bunches, and paintbrushes spring up like wild vegetation.
What began in earnest in February 2012 as collaborative art-making between Culkin and two artist-musician friends Adam Green and Toby Goodshank -- both formerly of the anti-folk band The Moldy Peaches -- has coalesced into an art collective affectionately dubbed Three Men and a Baby, or 3MB. The collective's first art show, a group of frenetic, eclectic and irreverent paintings entitled Leisure Inferno, opens at Le Poisson Rouge (LPR) in New York's Greenwich Village on Thursday, September 13.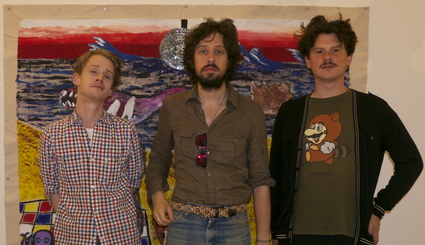 The 3MB Collective: Macaulay Culkin, Adam Green, and Toby Goodshank; photo by Dima Dubson.
As the title of the exhibition suggests, the prevailing motivation behind the making of the paintings was fun. That motivation naturally lent itself to a work environment rooted in playful camaraderie. Culkin -- who goes by the name "Mack" -- explains the open-ended process of beginning a painting:
"We would take two or three words--'disco'...'luau'...'Hellraiser' -- and we'd all just kind of giggle about that. 'Alright, let's do it.' We have no idea really what it's going to look like, or what our grand vision is, but we would have a good old laugh and just go for it. And I think the results speak for themselves in a certain kind of way."
Hellraiser Disco Luau; 5' 6 1/2" X 5' 5 1/2"; acrylic, mixed media on canvas. Photo by Dima Dubson.
The collaborative dynamic at work, while much more common in music, is rare in visual art. "Certainly we all have different techniques, but we found it fun to paint together at the same time, explains Green. "Just literally three people standing in front of the canvas with paintbrushes and painting at the same time." Perhaps this distinctive process can be linked to the brotherly bond between the artists. "The connection I feel with them is pretty extraordinary," says Goodshank. "It's lovely to get together with them all the time."
The show is populated with canvases wrought with wild colors ranging from bright quasi-fluorescents to darker, muddier hues; the style of shapes and brushstrokes vary with each new figure in the painting. Most of the works either incorporate multimedia collage or strongly hint at it. In "Hellraiser Disco Luau," the cartoon-inspired pig and mouse do the hula near a grass-skirt-wearing Pinhead and a highly abstract , serpentine version of Garfield -- all underneath a glittering disco ball, ocean-side. While this hyperactive melange of pop culture references and visual eye candy can be dizzying at first glance, a cohesiveness emerges amidst the seeming nonsensical and disparate elements. "I think we took a slant with it where there were really no mistakes," says Mack. "There was nothing wrong with a piece. I might have painted that corner differently than him, but it looks right. There are no mistakes in a show like this."
Even with all the thematic non sequiturs and "low brow" imagery -- and perhaps because of it -- Three Men and a Baby seem acutely aware of their distinct interplay with highbrow art and the implications of that relationship. Mack elaborates:
You go to the Met or something like that, and you see some of the paintings from the Renaissance era. A lot of those were probably the most technically proficient paintings in the entire museum. However, when you go to the Modern wing, they might not be as technically proficient, might not have as much skill--but those are the kind of things you want on your wall. Well, what do we want to put on our wall? It's not necessarily about technique, it's more about the ideas. It's more about just what you want to look at.
Green has a decidedly more tongue-in-cheek perspective. "We didn't have a lot to compare it to," he says of 3MB. "We didn't feel like we were competing with other three-men collaborative painting groups."
The ideas in Leisure Inferno are zany, sometimes edgy, but brimming with satirical affection. "RBI" portrays a baseball game in which Luigi pitches a fireball to former New York Yankee Don Mattingly. Elsewhere, Mario wanders through a gloomy expressionist landscape as Jean-Michel Basquiat and JonBenét Ramsay look on from distant perches in "Jean Benet Basquiat."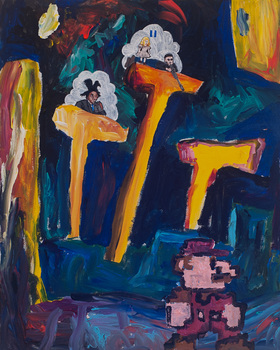 Jean Benet Basquiat; 24" X 30"; Oil stick, acrylic on canvas. Photo by Lippe.
In "Cast of Seinfeld," Jerry and Kramer stand on the set of "Wheel of Fortune" as they serve as nude models for the artists He-Man and Orko (Masters of the Universe). While these fabricated scenes are undoubtedly bizarre, there was an intriguing layer of reality that only added to the surreality. "There was some awareness that even Mack could be in a Leisure Inferno painting, you know?" says Green. "I think that is interesting."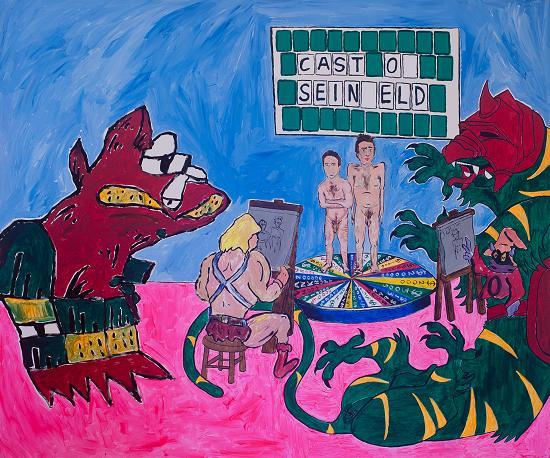 Cast of Seinfeld; Oil stick, acrylic on canvas; 6' X 5'. Photo by Lippe.
The first manifestation of what would become the 3MB Collective goes back to 2010, during the making of Green's independently made feature-length film The Wrong Ferrari. Shot entire on an iPhone, the movie starred both Green and Culkin, with Goodshank shooting much of the film; all three collaborated on the set designs. Featuring ample amounts of provocation and pop culture, thoughtfulness and blistering self-awareness, the film was later made available for free online. "[Leisure Inferno] was more of a holdover from making the film... And it was just like, 'Why don't we try to focus that into a group art show?'" Culkin explains. "'Why don't we keep this momentum up, [this] creativity?' Next thing you know we're doing Leisure Inferno."
For Culkin, Goodshank, and Green alike, this art collective debut marks several milestones in their respective careers. Goodshank, a skilled draughtsman who had previously worked primarily with pen and ink, was new to the medium of painting prior to the collaboration. "I find that working with Mack and Adam, they're constantly inspiring me and encouraging me," says Goodshank of his foray into painting. For Green -- a voracious painter who has had two solo shows this year alone -- Leisure Inferno represents his first official group exhibition. The exhibition at Le Poisson Rouge will be Culkin's public debut as a visual artist. Green seems to sense an adventurous, risk-taking spirit inherent in the collective's work. "I do think that that attitude of just doing something for fun benefited the show a lot," says Green. "It allowed us to be prolific and to work without fear."
The Leisure Inferno exhibition at LPR continues through December 15, 2012.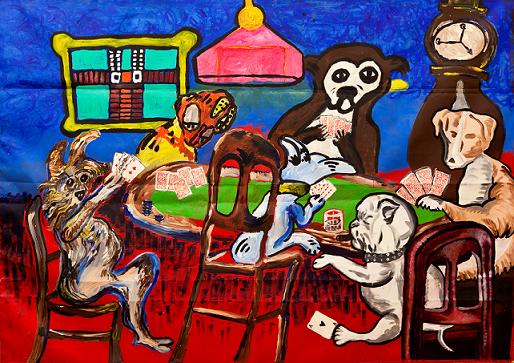 Dogs Playing Poker; Vinyl paint, mixed media on vinyl; 5' ½" 7' ¼". Photo by Guy Eppel.
Related
Popular in the Community