Co-authored by Ellen Dobbyn-Blackmore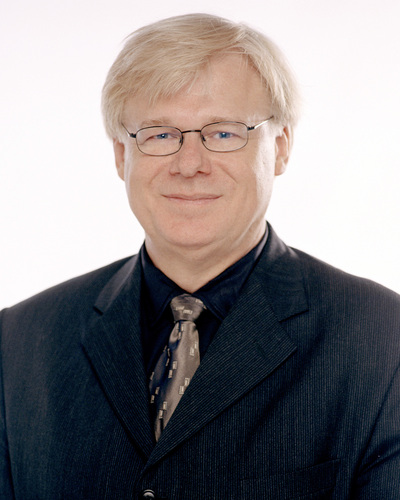 Ormsby Wilkins, Music Director, American Ballet Theatre
Photo by John Lauener/National Ballet of Canada
Ormsby Wilkins, Music Director at American Ballet Theatre, is preparing the orchestra for the debut of Alexei Ratmansky's much anticipated new ballet of Shakespeare's The Tempest which is being set to music composed by Finnish composer, Jean Sibelius. In this interview, edited from our conversation, Maestro Wilkins shared his thoughts about the music and the story of how he came to conduct ballet.
Andrew Blackmore-Dobbyn: I was wondering how you ended up conducting for ballet? What was that transition like for you?
Ormsby Wilkins: I trained as a pianist and it was my ambition to be a concert pianist. I'm from Australia originally and that's where I was trained. Conducting fascinated me from a very young age. One great influence for me was that I used to go to concerts very regularly with the Sydney Symphony Orchestra with a friend of mine. They had subscription concerts but of course we couldn't afford very good seats so we ended up sitting behind the orchestra and so I had this view of the conductor and this just fascinated me.
ABD: Watching what he was doing?
OW: Well, that and the relationship between the musicians and him. It gave me a lot of ideas. That said, I was concentrating for many years on being a pianist. At one point, just after finishing my conservatorium years I just wanted a job so I thought well, I'll just take anything and a friend of mine who had been the principal pianist at the Australian Ballet was leaving and suggested that I try it for a few years so I did. I got the job and then several things happened. I seemed to show an aptitude or understanding of dance. It certainly appealed to me and I learned everything there was to know about dance. The musical director at the time was John Lanchberry who was a great conductor of ballet. It was incredibly fortunate for me. He became my mentor and he was the one who got me asking about conducting. He said, if you want to, I can facilitate that and help you within the company and that's how it came about. When you're youthful you think you can do anything and I looked at everyone and thought I can do better than that. That's just the way you think when you're young. I was very fortunate that I got to conduct a lot because right at the time that I started to conduct, some conductors left the company and they weren't filling those positions straight away. I was a lowly assistant conductor but I got to perform a lot and the Australian Ballet performs a lot. By that time we were at the Sydney Opera House in a small theater and they did each program for about twenty performances so I did a lot of performances. That's important from a conductor's point of view. I got trained as a conductor through that and that's where I am. I love being in the pit. I've conducted concerts from time to time but I feel comfortable in the pit and there's this collaboration that I enjoy very much.
ABD: I considered myself something of a Sibelius fan and when I heard about this new production I said to myself, there's Sibelius music for The Tempest and I don't know about it?
OW: I think, in the back of my head, that I knew there was but I'd never been to a concert where the suites had been performed. Strangely enough, I've seen that the New Jersey Symphony Orchestra recently played one of the suites last season. It's amazing how these things suddenly become popular but you don't see it very much. You know, the suites are sort of odd because he took the music and he put what I guess he thought was needed musically, what he liked, and he sort of threw out the dramatic scenario completely so in the first suite, the storm comes at the end of the suite which doesn't seem to make sense to me. He combined things, re-orchestrated, he took out all the vocal parts. In fact, there's a number that I think is much more atmospheric and it's a piece that is when Miranda is put to sleep and in the suite, he re-orchestrated that for strings and harp and in the original it's just harp and harmonium which is much more magical. It's not that it isn't lovely but it seems to me that this is much more in keeping with the fantastical-magical feeling that he was trying to evoke and of course that is so much a part of Prospero and the story. Of course we're going to use the original orchestration. We have gone to the suites for a couple of things. We've cut it down to between forty and forty-five minutes. It's a good two thirds to three quarters of the score.
ABD: One of the things I think about with Sibelius is that it's so huge. He wrote for big orchestras with heavy brass and timpani... how is that when you translate that into the orchestra pit?
OW: You know, even though you might get the impression that he wrote for a big orchestra, he actually wrote for fairly standard orchestras. Which does mean that you might have two or three trumpets and three or four trombones but he wrote with wonderful coloration. His sense of the orchestra and his writing for the orchestra is so unique and so clever. He understands brass and brass chordal writing and how to get the best color out of brass. In The Tempest, apart from the storm, there are moments but I would say that brass plays a slightly smaller role in this ballet than it does in the symphonies. It's a standard size orchestra.
ABD: It was one of his last works, wasn't it?
OW: It was near that. They call Tapiola his last work. Tapiola, they say, was maybe a little bit influenced by Tempest because it was written about the same time. There's that sort of stormy sound that is in Tapiola. It's a stark, elemental quality that is so part of his music, I think. You get that in Tempest. You're never too far away from something that is isolated... the water, the forests, the wind... and the quality of barrenness, almost, I guess, and the remoteness of it. Perhaps that's a better word... the remoteness... It's not explained where this island is. It's in the imagination, I guess, but it just so happens that all these characters happen to be on the island at the same time. Another quality that you hear in the music is... there's a lot of really intimate music.
ABD: When I was listening to the music again this morning I was thinking, this doesn't sound like the music of a composer who is running out of ideas or about to wind up his composing career.
OW: They say that this music flowed out of him easily. It didn't always, apparently. The Sixth and Seventh Symphonies had been written just before this... but he had terrible trouble writing the Fifth Symphony. He altered it quite a bit over time. Someone (Osmo Vänskä with the Lahto Symphony Orchestra) has recorded the original version of the Fifth Symphony which is quite different.
I think Sibelius was fascinated by the theater and wrote theater music. This is as close to an opera as he gets for the dramatic quality of it and the description of characters. With the soloists and chorus, this is his most stagelike work that he ever wrote. And then he stopped writing. I don't know why he stopped writing. It's a shame he didn't go onto write more works because I think we missed out on some great works. Who knows what goes on in someone else's head? But we've been left with a lot of wonderful music.
ABD: You can't know, can you? He burned a lot of his music, didn't he?
OW: Yes. He destroyed quite a bit. He was very tough on himself, I think. He had a lot of illness too even though he lived to a great age. He was not always a happy person. He had a somewhat melancholy disposition which I guess is not uncommon where he's from.
ABD: With all of Sibelius's music there's a strong presence of nature to it which fits in perfectly with The Tempest.
OW: That might possibly have drawn him to it. He composed a lot of music that used themes of nature and you hear it in this music.
ABD: It's complicated to write to a narrative, especially with Shakespeare, I think.
OW: It's surprising how well all this music works even though it was written for certain sections. It's hard to know exactly because some of the music was written for interludes and you don't know. Some of it must be underscoring. When you think that there's over an hour's music it couldn't have been just the play and a bit of music in between. There were the songs of course with the vocalists but there must have been music going on underneath some of the words. What I think is remarkable is that when we put all these pieces together, how well they actually work. You know that they weren't necessarily meant to follow each other. Because of the unique nature of the music, it feels like it's all of a piece. We've done a little bit of re-ordering because there was a feeling that sometimes this piece of music felt right. He wrote this piece of music called The Rainbow. I can't remember what that is in the play -- there might be some reference to it in the play -- but it's very dark, dark music and Alexei sees it as Caliban's music for which it works very well. I think it must have been all the indigo end of the rainbow that he was thinking about.
ABD: I noticed that you have the full orchestra playing and then what sounds like a small chamber group playing.
OW: Yes, absolutely... I'm sure Sibelius heard some of Purcell's (Sir Henry Purcell) music. There are some places where he's definitely channeling a Renaissance or early Baroque sort of feel to the music. The music suggests this period, whenever it is... in Shakespeare's time anyway, sources vary. There's a lot of influences going on in the music. The storm is incredibly modern and has all these whole tones. I don't want to get too technical but it's sort of like Debussy in terms of the harmonic language although it doesn't actually sound Impressionistic. There's lots of lightning and thunder. It's deliberately frightening music. I think that will be very interesting because Alexei is choreographing it. He's not letting it go by. One thing about Alexei, he never lets any piece of music go by. He doesn't like overtures. He wants to get the curtain open and start dancing.
ABD: Why isn't Sibelius programmed for ballet more frequently?
OW: He's got all this great music like his symphonies, his violin concerto, the tone poems, I mean, he did write one great waltz which was the Valse Triste, of course. You know, it's surprising because there's some other incidental music he's composed that people could use but I guess that it's just never occurred. Some people might think that his music is not appropriate for dance. In fact, with this music, it's got a lot of dance music in it. But it's just music that people don't know very well. The incidental music was really not thought of for a long time, I think. I think people didn't know it and there weren't even any recordings of the complete music up until 1992.
ABD: For this production of The Tempest, you've been working with Alexei and you've been in the production meetings, what can we expect in terms of the theatrical experience from this ballet?
OW: It's going to be visually stunning. I've seen what Santo (Loquasto, the scenic and costume designer) has done... There are quite a lot of characters, a few of whom we won't see, but I think the poetry is so beautiful in Tempest, it's one of his most poetic plays. Even while there is a dramatic story being told, I think that this is also a poetic piece. The story is fairly simple. It think it's something very poetic and atmospheric in terms of the lighting design and the costumes. It's a dual purpose. There's a dramatic story but there are also the larger themes that come across.
Any time there is a new work based on one of Shakespeare's plays it reminds us how important he is to western theater, opera, film, and ballet. He is essential to our very understanding of story-telling. For his part, Ratmansky has been a powerful force for reinvigorating the narrative form in classical ballet and this new work will command a lot of attention. It combines the enduring allure of Shakespeare's ability to conjure theatrical magic with Ratmansky's innovative use of movement to tell stories and the soaring grandeur of Sibelius's music. His success so far suggests that Ratmansky's Tempest will be one of the most significant new works to appear on stage this fall.
Calling all HuffPost superfans!
Sign up for membership to become a founding member and help shape HuffPost's next chapter