Officials are working to repair a severely damaged spillway below the country's tallest dam. Heavy storms pushed its water levels to record highs, threatening to release uncontrolled flooding over a number of communities south of the dam. Another storm system is forecast to bring more rain to the area later this week.
"The situation is a textbook example of why we need to pursue a major infrastructure package in Congress," White House press secretary Sean Spicer said Tuesday during a press briefing.
"Dams, bridges, roads and all ports around the country have fallen into disrepair," he added. "In order to prevent the next disaster, we will pursue the president's vision for overhaul of our nation's crumbling infrastructure."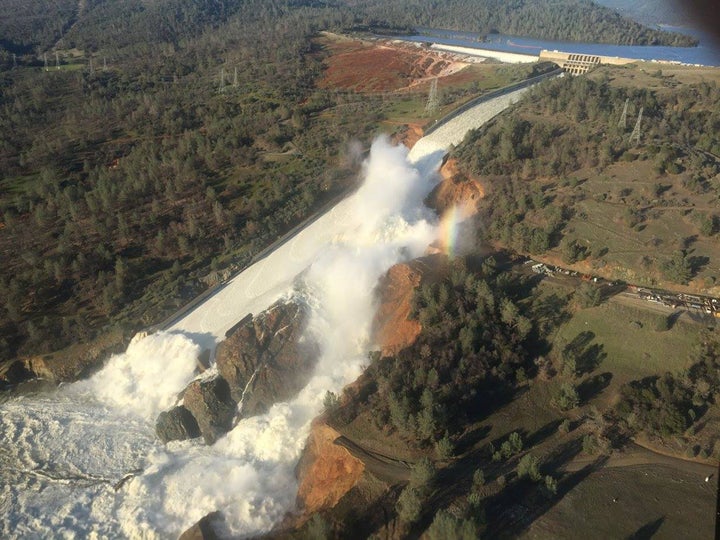 It's anyone's guess what the results of that vision will be. Trump promised during his campaign that he would deliver a $1 trillion infrastructure plan to Congress within his first 100 days in office. Deficit-averse Republicans are skeptical of that trillion-dollar figure, and are already chafing at the prospect of building a wall along the U.S.-Mexico border that would cost tens of billions of dollars.
Democrats have warned that Trump's plan would involve privatizing infrastructure development through the use of tax credits rather than funding infrastructure projects with hard taxpayer dollars. But as The Atlantic's City Lab noted, a project like the emergency spillway at the Oroville Dam "isn't the kind of investment likely to lure profit-minded private developers."
Spicer said the White House is working with Rep. Doug LaMalfa (R-Calif.), who represents the city of Oroville and surrounding communities, to help people who were evacuated due to the emergency.
"We hope everyone remains safe as the evacuations continue," he said.
CORRECTION: This article previously misstated that Oroville is California's largest reservoir.
Calling all HuffPost superfans!
Sign up for membership to become a founding member and help shape HuffPost's next chapter