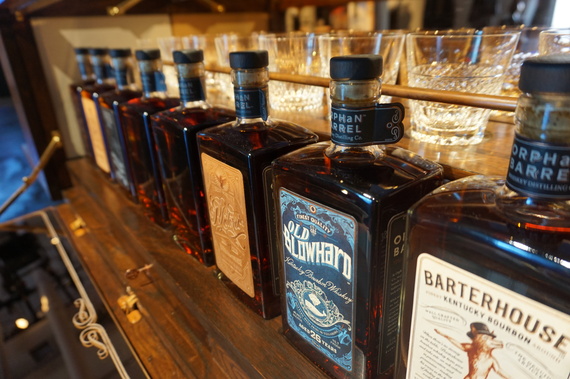 The Orphan Barrel whiskey lineup Photo courtesy Orphan Barrel Whiskey Distilling Company.
The Orphan Barrel Whiskey Distilling Company was organized in 2013, by Diageo, the world's largest spirits company, as a vehicle for commercializing a large stock of ultra-aged American whiskeys that it had maturing at the Stitzel-Weller distillery in Shively Kentucky. Although the company is relatively young, its whiskeys have deep roots in the storied and convoluted history of American whiskey.
In announcing the new company, Diageo described it as "an endeavor to rescue long forgotten barrels of rare and delicious whiskey and share them with others ... we like to think the project is founded in dark, quiet corners of rick houses around the world where artisanal whiskeys were forgotten, just waiting to be discovered." So far Orphan Barrel has only released American sourced whiskeys. According to Ewan Morgan, National Director, Diageo Masters of Whisky, it's possible that at some later date whiskies from Scotland and Ireland might also be offered.
The company is headquartered in Tullahoma, Tennessee, where Diageo owned, Tennessee whiskey producer George Dickel, is also headquartered. The whiskey is hand bottled at the Dickel bottling plant in the same town.
The project proved immediately controversial. Critics chastised the company for a lack of transparency about the origin of the whiskeys it was bottling and for overhyped marketing - in particular for playing up the connection to the Stitzel-Weller distillery. Noted American whiskey historian Chuck Cowdery even accused Diageo's management of "disrespecting American whiskey."
While the whiskeys had been maturing at Stitzel-Weller, none of the whiskeys released to date were actually distilled there. This iconic distillery has a unique role in the history of bourbon for, among other reasons, its close association with Julian Van Winkle and the bourbon that bears his name. Moreover, its critics pointed out, Orphan Barrel Whiskey Distilling Company doesn't actually own a distillery or distill anything.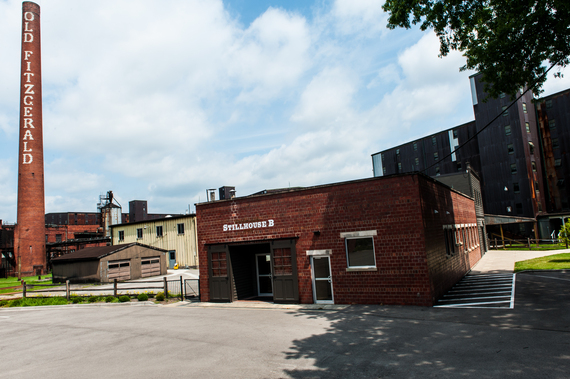 The Stitzel-Weller distillery complex Photo courtesy Orphan Barrel Whiskey Distilling Company.
Since then, Diageo, to its credit, has been much more transparent about the origins of the whiskeys it has maturing at Stitzel-Weller, releasing information with each bottling on where the whiskey was actually distilled, details of its mash bill, and background about its aging regime - although it has still been reticent about disclosing the scope and size of Orphan Barrel's whiskey stock.
Moreover, its critics notwithstanding, Orphan Barrel was hardly the first American whiskey offered by a company that did not actually distill it. At its pre-Prohibition peak, in the late 19th century, the bourbon industry boasted thousands of brands of whiskey, many of which were offered by companies that had not actually distilled them.
This practice never stopped. In 1957, for example, during an acute shortage of Jack Daniels Tennessee Whiskey, whiskey entrepreneur Frank Silverman created the Ezra Brooks whiskey brand ostensibly made by the Ezra Brooks Distilling Company, but in reality sourced from the Hoffmann Distilling Company in Lawrenceburg, Kentucky.
Even now, Kentucky's ten licensed distilleries sell bourbon under some 300 different labels - not all of which are owned by the company actually doing the distillation. Other famous bourbon brands from nonexistent distillers include, among others, A.H. Hirsch, Old St. Nick, Michter's, Jefferson Reserve, Redemption and Black Maple Hill.
The revered Pappy Van Winkle states on its labels, "bottled at the Old Rip Van Winkle distillery." There is no such place, however. The highly coveted bourbon is actually distilled and bottled at Buffalo Trace, although there is some question as to when the original Stitzel-Weller stocks were depleted, or if there are still any left, and the new production from Buffalo Trace kicked in.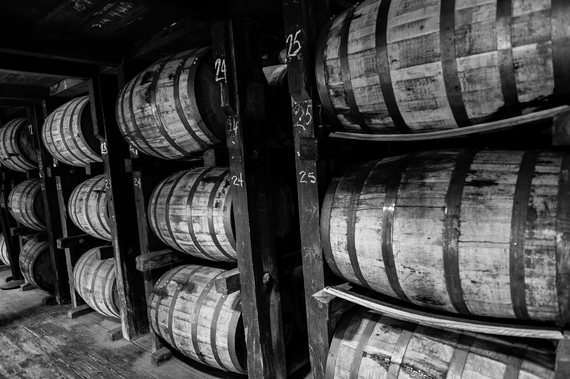 Barrels of whiskey aging at the Stitzel-Weller warehouse Photo courtesy Orphan Barrel Whiskey Distilling Company.
Moreover, being a distiller is no guarantee that the company actually produced the whiskey it sells. Kentucky Bourbon Distilleries, the owners of such well-known brands as Willet, Johnny Drum and Noah's Mill, among others, is a distillery but sources all of its whiskey from other producers until its own stocks are ready.
Rebel Yell, one of the original wheated bourbons from Stitzel-Weller, eventually ended up being owned by Luxco, but the whiskey is still produced by Heaven Hill at the former Bernheim distillery. Likewise, when Brown Foreman put Woodford Reserve back into operation it initially used stocks, described as "honey barrels" of Old Forrester, until Woodford Reserve's own stocks became available.
Rye whiskey is another particular case in point. Rye, which is a particularly difficult grain for distillers to work with because of its tendency to stick to the still walls and burn, is often produced on a contract basis. Half of the rye brands in the United States are produced at the MGP distillery, the former Seagram plant in Lawrenceburg, Indiana. It is only slight differences in aging and proof that differentiates them.
For diehard American whiskey enthusiasts, there is now a comprehensive database of distilleries and their brands that existed between colonial times and Prohibition. It is based on Treasury Department records, and lists around 3,000 historic distilleries in the United States. Kentucky and North Carolina, the historic epicenter of American whiskey, accounted for about 1,700 of them.
Moreover, while the whiskeys bottled by Orphan Whiskey were not distilled by the company, all of the whiskey released so far came from stocks produced at distilleries either originally owned or closely associated with predecessor companies to Diageo. All but two of the first nine whiskeys released came from the Bernheim distillery. The exceptions, the Lost Prophet bottling, came from the George T. Stagg distillery and Whoop & Holler from George Dickel.
Until 1983, both the Bernheim and Stagg distilleries were owned by Schenley Industries, then one of the larger spirits companies, along with Seagram, Hiram Walker, Brown-Forman and National Distillers, in North America. In 1983, according to Chuck Cowdery, Schenley sold the Stagg distillery to a newly organized company called Age International. In turn, a Japanese company named Takara Shuzo acquired Age International in 1992. That same year they sold the company to Sazerac. In 1999, Sazerac renamed the company Buffalo Trace, the name under which it is known today.
Guinness purchased Schenley in 1987. It also acquired Stitzel-Weller and Glenmore (which included Medley and Fleischmann), which it combined into the American division of United Distillers (UD) in 1991. At its peak, UD owned seven different American distilleries and was well on its way to becoming a dominant player in American whiskey. In 1992, it shut down Stitzel-Weller and Glenmore, and all of their production was transferred to the new Bernheim distillery. All of the bottling was transferred to Glenmore's bottling facility. In 1997, Guinness merged with Grand Metropolitan to form Diageo.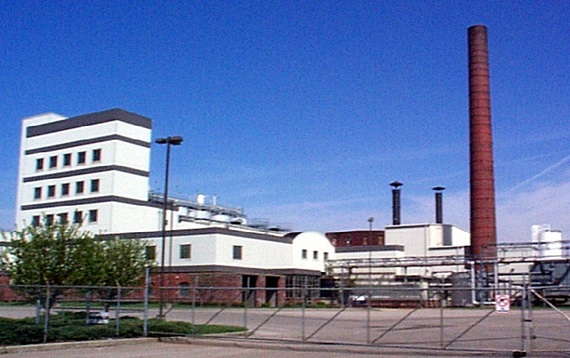 The historic Bernheim Distillery Photo courtesy Bourbon Archive
From 1992 through 1999, Bernheim used three separate mash bills for its whiskies. These were the original Stitzel-Weller formula of 75 percent corn, 20 percent wheat and five percent malted barley barreled at 57% ABV (114 proof), the traditional Bernheim formula of 86 percent corn, six percent rye and eight percent malted barley barreled at 62.5% ABV (125 proof) and the Glenmore formula of 80 percent corn and 20 percent consisting of a varying blend of rye and malted barley barreled at 62.5% ABV (125 proof). So far, all of the whiskeys released by Orphan Barrel, with the exception of Lost Prophet and Whoop and Holler, have been based on the historic Bernheim recipe.
The Stitzel-Weller warehouse was quite large and had good air circulation so it was used for aging some of the whiskeys produced at Bernheim. This is an unheated metal clad warehouse and experiences more pronounced temperature variations. The Bernheim warehouses were built of brick. They had steam heat, were warmer and experienced less variation in ambient temperature. Higher warehouse temperatures results in more extraction from the barrel wood, darker tints, accelerating aging, higher proof and produce more flavorful whiskey. The original stocks of whiskey distilled at Stitzel-Weller were also kept there. It's not clear if any stock from the other historic UD distilleries was also transferred for aging there.
In 1999, Diageo began selling off many of the various brands and distilleries that UD had acquired, to other companies. The Glenmore distilleries were sold to Barton. The Bernheim distillery was sold to Heaven Hill, along with the Old Fitzgerald brand. Sazerac (Buffalo Trace) purchased the Old Weller brands, and Rebel Yell went to the David Sherman Company (Luxco). All of these brands once had stock at Stitzel-Weller. The aging stock at Bernheim that Heaven Hill and the other distilleries didn't purchase was transferred to Stitzel-Weller; which is how they eventually came into the possession of the Orphan Barrel Whiskey Distilling Company.
The Lost Prophet brand is an exception to the Bernheim based bottlings. From roughly 1990 to 1992, during the period when the new Bernheim distillery was being built, United Distillers contracted with Age International for the production of some of its whiskey needs at the George T. Stagg Distillery. The stock, however, was also eventually sent to Stitzel-Weller for aging.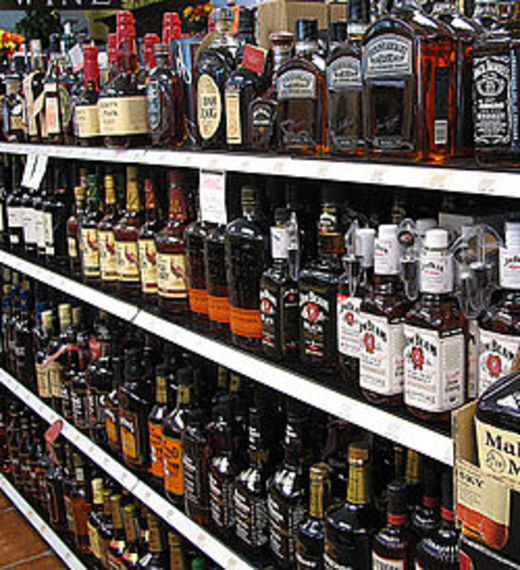 The world of American whiskey
Critics lampooned the notion of lost or orphaned barrels as a marketing ploy. In fact, however, it is a common enough occurrence for any spirit that requires long maturation. Barrels do get lost, miscounted, mislabeled, or otherwise not properly accounted for, only to be rediscovered years later. Sometimes the result is an extraordinary, ultra-aged spirit, and sometimes it is a tough, tannic, woody spirit of little use to anyone. To be sure, it is only the odd barrel that ever gets lost. No functioning distillery could "lose" thousands, or even hundreds of barrels, and expect to stay in business.
Orphaned barrels are an all-together different concept. The term is employed in a number of different instances. It is not uncommon, for example, for blenders to find barrels whose taste and aroma profiles are sufficiently different from the norm that they elect not to use them in a blend. Such stocks could sometimes represent exceptional whiskeys, so called "honey barrels," and could be bottled, before those terms became part of the marketing lexicon, for private use as "Family Reserve" or "Distiller's Choice." They could also be sold off to custom bottlers. Such practices were the genesis of the custom bottlers in the Scotch whisky industry, some of which, like Cadenhead or Gordon and MacPhail, have become Scotch whisky institutions.
When old distilleries are sold the value of their aging stocks often exceeds the value of the physical distillery itself. New owners do not necessarily want to buy all of the aging stock, only those portions that will fit into their desired whiskey portfolio and suit their blending needs. The odds and ends that are left are typically referred to as orphans and are retained by the previous owners until they can either be sold off to custom bottlers or some other use is found for them. The term is also used to refer to aging stocks of spirit from a closed distillery.
In the old days, i.e. pre-Prohibition, it would have been common for such "orphan" stocks to simply be blended into an existing brand and be used up. Today, however, master blenders place particular emphasis on ensuring consistency between bottlings in a whiskey's aroma, taste and color profile. Stocks of whiskey that don't fit in a current blending formula have to be either retained for an unspecified future use or disposed of in some way.
Diageo has not fully disclosed what other distiller's whiskeys may be maturing at Stitzel-Weller. According to Ewan Morgan, Diageo is currently aging stocks of Bulleit, Blade and Bow, and "others in our American whiskey portfolio," at Stitzel-Weller. He also noted that, "there are previous Stitzel-Weller stocks aging, and some of these became whiskeys integrated into the Orphan Barrel Project."
It's not clear whether some of these stocks were distilled at Stitzel-Weller or simply aged there. After 1992, it's possible that stocks from as many as seven different distilleries owned by UD might have ended up there. In addition, from 1992 to 1999, Bernheim produced quite a lot of wheated whiskies for the Old Fitzgerald, Rebel Yell and other brands. Stocks for the I. W. Harper blend produced at Bernheim, intended for Japanese sales, were also aged at Stitzel-Weller.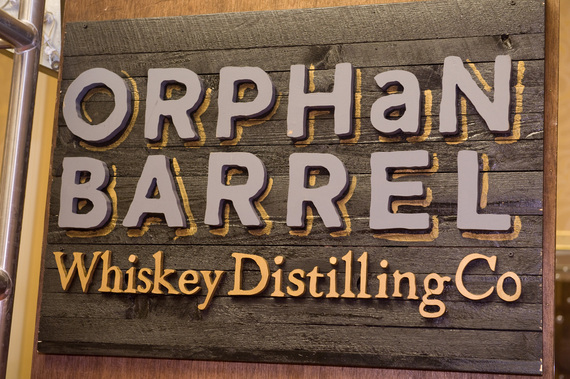 The Orphan Barrel Whiskey Company Photo courtesy Orphan Barrel Whiskey Distilling Company.
It's also possible that there may still be some of the original Switzer-Weller produced stock, although much of the stock was sold off with their associated brands and the better barrels were mostly bought back by the Van Winkle's for their own bottling needs. So far, none of the whiskeys released by Orphan Whiskey have been wheated ones.
Diageo has not disclosed the total number of barrels slated for release by the Orphan Barrel Whiskey Distillation Company. The current releases probably represent a bottling of 100 to 300 barrels each. In total, probably around 2,000 barrels of whiskey may have been released. It's not inconceivable that there are 5,000 to 10,000 barrels at Switzer-Weller eventually slated for the program. Whatever the number, Diageo isn't saying.
For the bourbon enthusiast, the thought of 10,000 barrels of ultra-aged whiskey sitting in a warehouse might seem like the ultimate treasure trove. To a company of Diageo's size, however, with some 14 million barrels of whiskey aging around the world and with a portfolio of spirit brands that sell from hundreds of thousands to millions of cases yearly, a stock of a few thousand barrels really is an orphan. Not enough stock around which to create a new brand, but probably far too much to sell off to custom bottlers.
Historically, major spirit companies did not bother with these sort of one-off bottlings. In Scotland, where the sheer number of distilleries created all sorts of opportunity for such offerings, a whole specialty bottler sector developed. Worldwide, there are now around 250 specialty bottlers of Scotch who buy barrels of mature Scotch whisky for their custom bottlings. Over the last several decades, however, major spirits companies have been cautiously moving into this "small batch/specialty bottling" sector. Not surprisingly it started in Scotland where the tradition was already well established, but it is increasingly becoming prevalent for both American and Canadian whiskeys.
In part this has been driven by the consumer trend towards "premiumization," drink less but drink better, and partly it is driven by the marketing and branding cache to be gained from associating spirit companies with ultra-premium offerings.
To date Orphan Barrel has released nine whiskey expressions, the last two this September. These expressions are: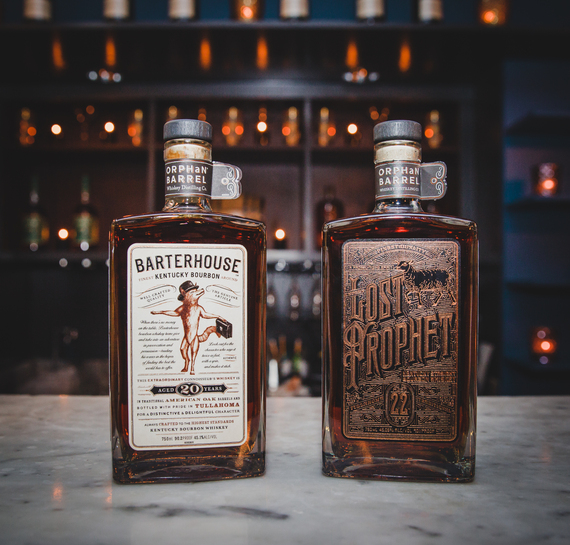 Barterhouse Kentucky Bourbon 20 YO and Lost Propher 22 YO Photo courtesy Orphan Barrel Whiskey Distilling Company.
Barterhouse Bourbon Whisky, 20 YO (45.1% ABV). The whiskey was originally distilled at the Bernheim Distillery. The mash bill is 86 percent corn, eight percent malted barley and six percent. When the whiskey was first released Orphan Barrel did not release the name of the original distillery, but hardcore bourbon enthusiasts quickly recognized that mash bill as Bernheim's.
Old Blowhard Bourbon Whiskey, 26 YO (45.35% ABV). The whiskey was also distilled at Bernheim and has the same mash bill.
Lost Prophet Bourbon Whiskey, 22 YO (45.05% ABV). This whiskey was originally distilled at the George T. Stagg distillery. Its mash bill is 75-78 percent corn, 7-10 percent malted barley and 15 percent rye.
Forged Oak Bourbon Whiskey, 15 YO (45.25% ABV). Another Bernheim distilled whiskey with the same mash bill.
Rhetoric, 20 YO (45% ABV) 21 YO (45.1% ABV) and 22 YO (45.2% ABV). These whiskies were also distilled at Bernheim. Orphan Barrel is planning to release successive batches of whiskey that are one year older than its predecessor. The sequential bottlings are slated to end in 2019, when Rhetoric 25 YO will be released. The 22 YO has just been released and is reviewed below.
One of the interesting anomalies of bourbon aging is that unlike a lot of spirits, including Scotch whisky and Cognac, the alcoholic strength of aging bourbon typically increases over time. Each successive bottling of Rhetoric, has had a .1% increase in the ABV. Since the cask strength was undoubtedly higher and the whiskey was diluted down for bottling, it was never made clear why successive yearly bottlings where diluted down to have slightly higher ABVs. According to Ewan Morgan, however, the slightly higher ABV was because Orphan Barrel "wanted people to taste how an extra year in the barrel affects taste."
The Gifted Horse American Whiskey (57.5% ABV) has no age statement. According to Orphan Whisky it was a fortuitous accident that won't be repeated. The whiskey consists of a blend (10.4%) 4 YO Indiana corn whiskey with a mash bill of 81 percent corn, 15 percent rye and four percent malted barley; (51%) 4 YO Indiana straight bourbon with a blend of two different mash bills, 60 percent corn, 36 percent rye, four percent malted barley and 75 percent corn, 21 percent rye and four percent malted barley and (38.5%) 17 YO Kentucky straight bourbon whiskey with the Bernheim formula of 86 percent corn, eight percent malted barley and six percent rye.
Technically, if the whiskey had carried an age statement it would have had to be called a 4 YO whiskey. A whiskey's stated age is always based on the youngest component of the blend. It's hard to charge a premium price for what would be seen as a four-year-old whiskey. Understandably, Orphan Barrel opted to leave out an age statement.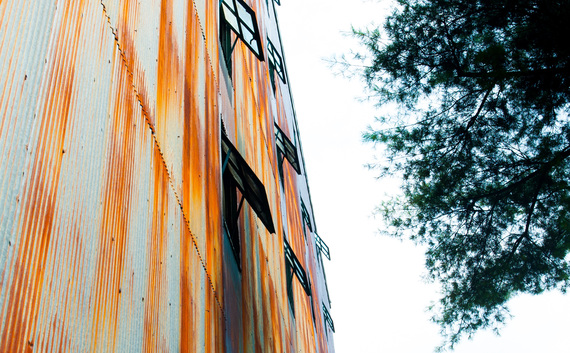 The Stitzel-Weller warehouse Photo courtesy Orphan Barrel Whiskey Distilling Company.
The main difference in the aroma and taste profile between the Orphan Barrel whiskies produced on the Bernheim formula is their age and maturation history. For example, a whiskey only matured at Stitzel-Weller will be different from one matured at both warehouses, even if their age is the same.
The two latest releases in the Orphan Whiskey portfolio are Rhetoric 22 YO and Whoop & Holler American Whisky (note that Whoop & Holler spells whisky without an "e"). That's a George Dickel tradition and it was applied to Whoop & Holler since, not surprisingly, this whiskey is sourced from the George Dickel distillery.
According to Morgan, "George Dickel always held Scotch as the finest example of whisky and so when he began distilling, he spelled his without the "e" because he felt his Tennessee whisky was just as fine a sipping whisky as anything out of Scotland." It is the first Orphan Whiskey not sourced from the Stitzel-Weller warehouse stocks. At 28 YO, it is the oldest Tennessee whiskey available for sale. You will have to sneak into George Dickel's or Jack Daniel's rick houses to find anything older.
Ultra-aged American whiskeys pose two particular challenges for blenders. They are prone to becoming woody and tannic. Any spirit left in wood too long can suffer a similar fate, but bourbon is particularly sensitive because it is aged in new wood and its alcoholic strength increases with age. Under the best circumstances it results in a whiskey with a long, dry finish with just a hint of bitterness, a perfect counterfoil to the sweetness and spiciness created by extended wood contact. When overdone, it's excessively mouth drying, woody and bitter and tastes like trying to drink whiskey off a barrel stave. (I've done it for experimental purposes only, it's not recommended).
Secondly, American whiskeys are also prone to higher levels of ethyl acetate. This is an ester produced by the interaction of ethanol with acetic acid. All whiskeys have ethyl acetate, but it tends to be more pronounced in corn based mash bills. New wood, because it has higher levels of acetic acid, and higher warehouse temperatures, also result in higher levels of ethyl acetate. It's not uncommon for an ultra-aged bourbon to have three to four times the concentration of ethyl acetate than a comparably aged Scotch whisky.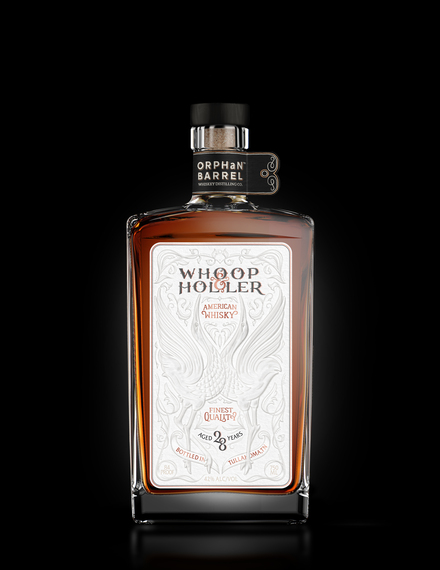 Whoop & Holler 28 YO Tennessee Whisky
Photo courtesy Orphan Barrel Whiskey Distilling Company.
Human sensitivity to ethyl acetate varies dramatically. It usually expresses itself as notes of nail polish remover, glue or band aid adhesive. It is also often associated with notes of pear drops, cotton candy, banana, hard candy and even cherry drops. Ethyl acetate tends to blow off relatively quickly. The addition of a little water also makes it appear fruitier and less solvent like.
The Rhetoric 22 YO (45.2% ABV) has a deep, dark amber color with traces of orange throughout. On the nose, there is a hint of a solvent like aroma against a backdrop of sweet notes of brown sugar and caramel and hints of corn sweetness framed by a dry woody note and elements of tropical spice. The addition of a little water brings out some green banana and hard sugar candy notes and suppresses the solvent like aromas.
On the palate Rhetoric is drier than on the nose, with an initial slight note of bitterness followed by pronounced notes of pepper at the back of the mouth. There are hints of cinnamon, cloves and some licorice/anise like flavors, but these are more fresh, green and herbal than candy like. There is some cooked corn sweetness early on. The mid-palate is a bit thin, dominated mostly by pepper notes. The whiskey is very smooth, with an almost waxy like flavor note at the end. The addition of a little water gives Rhetoric a creaminess and a more pronounced palate weight, while also emphasizing, green, unripe tropical fruit notes.
The finish is medium length, smooth but not particularly complex. There is a slight bitter note and some sweetness at the end that lingers.
Conclusion: This is an interesting whiskey. It is smooth, subtle and generally well integrated, with a nice dry finish. The wood is distinctive, noticeable but not, as is often the case in an ultra-aged bourbon, domineering. It shows good balance, but only just. It will be interesting to see how later bottlings stack up. Bourbon doesn't change that much after about 15 years in a barrel so it's hard to see that there would be significant changes in future yearly bottlings.
If there is any criticism to levy it is that it feels a bit washed out; interesting, intriguing, still eminently drinkable, and with a fascinating history, but just past its prime. It would have been interesting to try this whiskey at 15 years of age. One wonders if there were honey barrels amongst the lot chosen for bottling that might have offered a bit more intensity or complexity of flavor and character. It's definitely worth a shot and a bottle if you like it, but it's probably not for everyone.
Appearance 8/10, Nose 25/30, Palate 27/30, Finish 25/30, Final Score: 85/100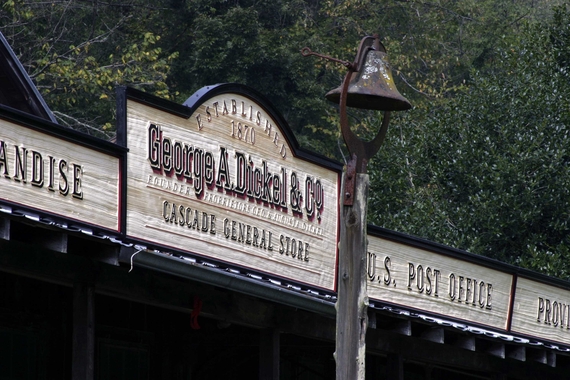 The George Dickel Distillery Photo courtesy Orphan Barrel Whiskey Distilling Company.
The Whoop & Holler 28 YO (42% ABV), is a Tennessee whiskey produced by the George Dickel distillery. At 28 years of age it is the oldest whiskey released by Orphan Barrel and the oldest Tennessee whiskey on the market. Its appearance is a gold/dark straw color.
On the nose it is distinctly sweet, with notes of honey and maple syrup. There is that distinctive cooked corn sweetness that is typical of Tennessee whiskey, although here it is subtler and in the background. There are notes of citrus, orange peel followed by some wood spice and hints of floral aromas. Surprisingly, the wood notes that you would have expected to be pronounced are in the background and well integrated with the other aromas.
On the palate it is dry, far dryer than what was indicated on the nose with just a hint of residual sweetness, followed by some pepperiness and a slight bitter note. The wood is more pronounced, but not unpleasantly so, and adds to the sensation of dryness on the palate. There are hints of wood spice, some cinnamon and even a bit of clove, but these are very subtle. The addition of a little water tends to suppress the sweet notes and emphasize the woody ones. Definitely a whiskey to drink straight.
The finish is short to medium length. It is largely dominated by dry wood, with just a hint of sweetness in the beginning and a slight but prolonged bitter note that lingers in the end. It is a smooth, pleasant finish without any harshness, but it is not otherwise nuanced or complex.
Conclusion: This is an intriguing whiskey. It's pleasant to drink, generally well integrated and satisfying. It's very smooth but lacks the nuance or complexity that is typically associated with ultra-aged whiskeys. In one sense it is more sophisticated than the typical Tennessee whiskey, subtler and refined, but at the price of giving up concentration and assertiveness; like a fading Hollywood star who's past their prime but still fascinating. Definitely worth a taste.
Appearance 9/10, Nose 28/30, Palate 27/30, Finish 26/30, Final Score: 90/100
Orphan Barrel should be commended for bringing these ultra-aged whiskies to market, although it would do well to dial down the marketing hype. These whiskeys possess fascinating histories that are in many ways paradigms for the story of American whiskey. For the connoisseur who has a passion for both American whiskeys and their history, these whiskeys are definitely worth a taste and if you like them, a bottle.
Related