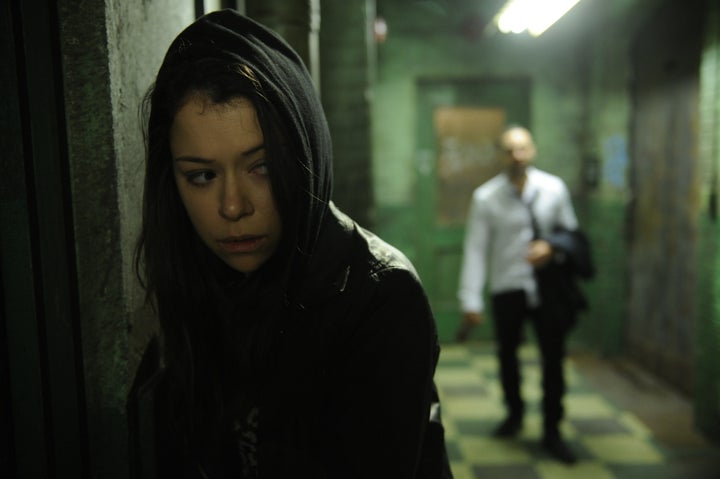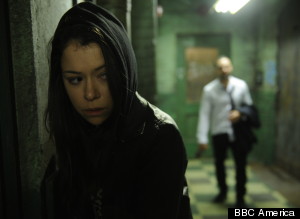 "Orphan Black" (Saturday, March 30 at 9 p.m. ET on BBC America) premieres right after "Doctor Who" as part of a "Supernatural Saturday" block, but the new drama is very different from the long-running series about the TARDIS and its inhabitants.
Slotting in the new show on Saturday looks like more of a convenience for the network than anything else; "Orphan Black" is not truly a "Who" companion piece, and its brothers and sisters are decidedly earthbound, edgy cable series like "Hunted," "Banshee" and "Top of the Lake."
If "Orphan" doesn't quite rise to the level of those shows -- especially the terrific "Lake," which you definitely should be watching -- that's no crime. It has a compelling premise, it weaves a distinctive tapestry of betrayal and loyalty and it offers its star, Tatiana Maslany, quite a few chances to prove her impressive versatility.
If you squint a bit, you might be able to spot one or two supernatural aspects to the show's premise, but they are very much on the periphery; the vibe here is "urban thriller," not "mad scientist on a spree." The scary thing about "Orphan Black" is that the situation that supplies its central mystery is actually quite plausible. You'll have noticed that I'm being purposely coy about the hook of the show; it's better to discover it on your own. But if you're a sucker for the "Bourne" movies and Michael Crichton novels, "Orphan Black" may be right up your alley.
Suffice it to say that, like the lead character of Cinemax's similarly efficient TV B-movie "Banshee," Maslany's character, a drifter and grifter named Sarah, finds it expedient to steal the trappings of someone else's life. She wants to score and move on, but the whole gambit proves to be far less straightforward than she thought, and it complicates the lives of Sarah and her only real friend (who is well-played, as my colleague Chris Jancelewicz pointed out in his review, by "Degrassi" alum Jordan Gavaris). It takes a bit longer than it should for the viewer to assemble a working knowledge of the show's core mystery, and there are some tonal issues (some attempts at jokey moments are a bit jarring), but overall, "Orphan Black" is a quite watchable thriller that plunges its heroine into a murky world that almost seems designed to drive her mad.
We're used to top-tier cable networks supplying us with a steady diet of solid dramas, but a quite a few of the programs on the most well-known networks travel in familiar realms. So it's been encouraging in the last year or two to see smaller cable networks debut shows that supply unusual formats, settings and characters, or that simply exhibit B-movie flair and energy. A fair amount of these kinds of shows are coming from abroad (Syfy's "Continuum" and "Lost Girl" both come from Canada, where "Orphan Black" is shot, and dramas as different as "Top of the Lake," "Call the Midwife" -- which returns Sunday -- and "Strike Back" were also created abroad).
It's fitting, then, that at its best "Orphan Black" has the feel of a reasonably entertaining, low-budget European crime thriller, half "Taken" and half "Luther." It's a story in which the lead character can't trust the basic facts about her life, but you can probably trust the show's creators (who hail from "Being Erica," "Flashpoint" and "Spartacus") to keep the twists coming.
Regarding "Doctor Who," by the way, Ryan McGee and I talked about the show's return (as well as that of "Game of Thrones) in this week's Talking TV podcast (which is not spoilery), and I hope to write about "Who" a bit later this season. You can find the podcast here, on iTunes and below.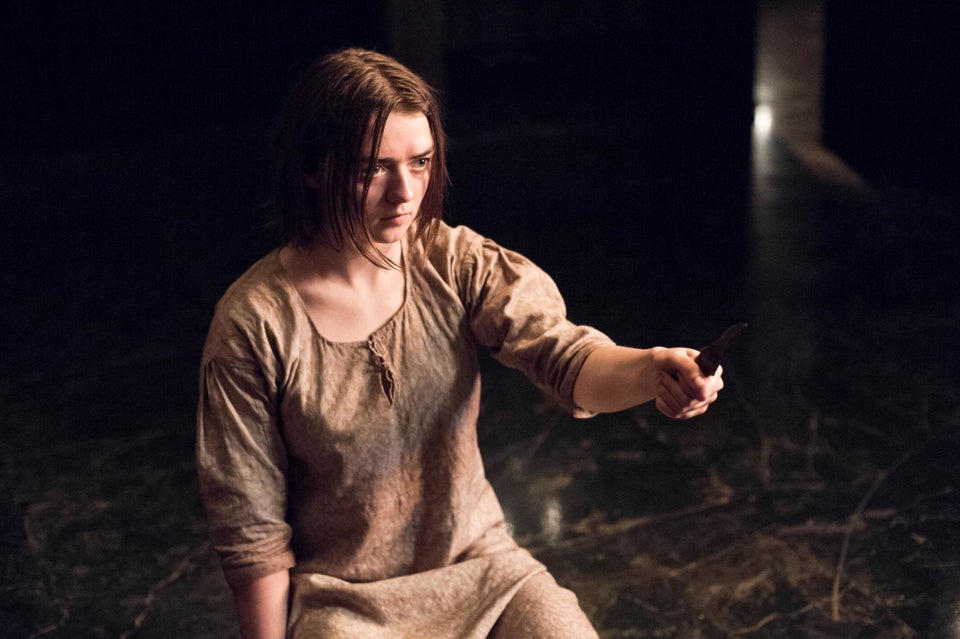 "Game Of Thrones"
Related
Popular in the Community