A few weeks ago, I invited readers to send their orphan heirlooms home. By this, I mean returning family treasures to descendants of their original owners. Especially in today's hyper-mobile world, it's amazing how many of us wind up with other people's photos and memorabilia, and even though many would love to give these items to someone who would truly appreciate them, they don't know how to find the right person. I like to use my genealogical sleuthing skills to reverse this flow, so will occasionally select from the submissions to my website and write about a particular heirloom's journey home -- or as I like to refer to it, its rescue.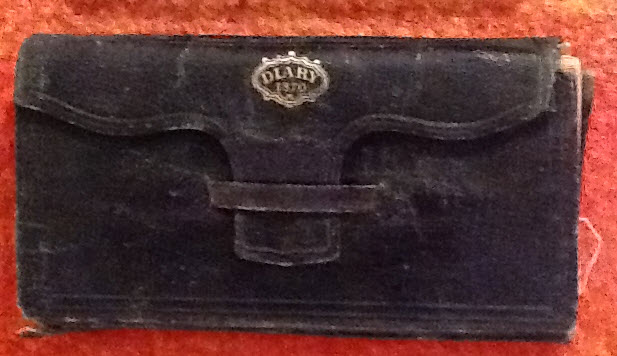 I have to admit that the case I've decided to cover today wasn't difficult to research. In fact, I found a likely recipient simply by Googling. But I loved the item in question -- a diary from 1870 kept by an immigrant -- and the tale of how it had wandered. Journals are a genealogist's dream because they help you get past the names/date/places aspect of an ancestor to what he or she was like as a person, so when Barbara Corotto told me about this diary, I couldn't resist. As she so aptly put it, she hoped that the writer's "personal notes will give life to his statistics."
Though Barbara resides in California, her father and grandfather were both from Bloomfield, Iowa. Her father was a collector and eventually sold many of his "treasures" (what reality TV has now trained us to call "picks"), but had carted about 50 boxes with him when he made the move from Iowa to California. Barbara had all of it in storage and had just recently gotten around to opening it, doing an inventory and repacking everything. That's when she spotted the diary.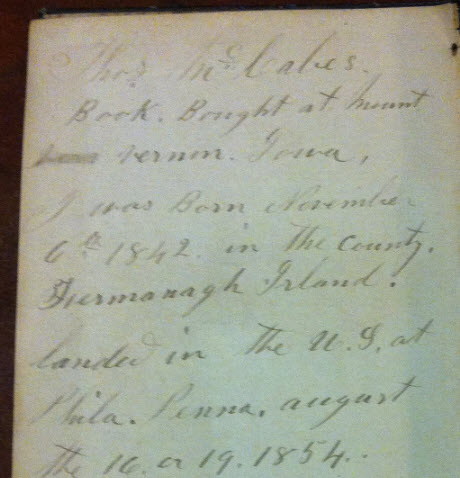 Perhaps Barbara and I were so taken with it because we both happen to have Irish immigrant great-grandfathers ourselves and fantasized about tripping across such a discovery in our own families. The owner, Thomas McCabe, noted on the inside cover that he "was born November 6th 1842 in the County Fermanagh Irland [sic]. Landed in the U.S. at Phila. Penna. August the 16th or 19, 1854."
That information alone was worth its weight in gold, but it went on to detail when he had moved to Iowa, married, and lost his first wife after just three years. With a little snooping through the pages, I discovered that he had wed a second time on October 10, 1870 when he matter-of-factly recorded that he "got married to Josephine M. Peasley today between 3 & 4 o'clock."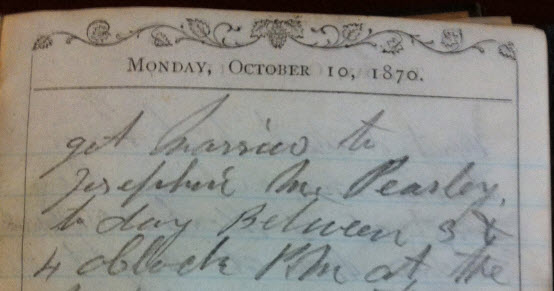 So how did I find Thomas' great-grandson, William McCabe, descended from a son from that brief, first marriage? It helps that a FindaGrave volunteer posted the details from the diarist's tombstone, but it was Bill's sprinkling of virtual breadcrumbs -- that is, postings in genealogical and other forums -- all across the Internet that led me directly to him (click on "genealogy" at the top to see his connection to Thomas).
Once I found him, I shot Bill an email including a scan of the wedding entry to demonstrate that this was legitimate (there are so many scams these days that it's a good idea to offer proof that a kind soul like Barbara simply wants to return a family treasure with no strings attached). That was 4:00 on the dot. By 6:01, I heard from Bill. And the next day, the diary was winging its way to him.
It wasn't long before he wrote again saying how thrilled he and his sisters were and how he was scanning and editing every page of the diary for close scrutiny. I'd say that this is one orphan that has definitely found the perfect home. If you should have any OPH's (other people's heirlooms) you'd like to return, please take a couple of minutes to tell me about it. And if this has whet your appetite for more rescues, I invite you to browse this library of previous cases.
Related
Popular in the Community