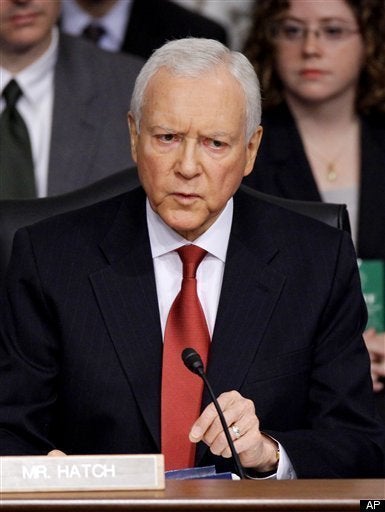 WASHINGTON--Sen. Orrin Hatch (R-Utah) attached an amendment to the U.S.-Korea Free Trade Agreement on Thursday that would ban any organizations that provide abortions, including hospitals, from receiving Medicaid family planning funds -- even if those abortions are to save a woman's life.
The Senate Finance Committee will consider the amendment Thursday afternoon as they begin action on the South Korea pact, despite the fact that there is no connection between the two issues.
"Clearly abortion has absolutely nothing to do with U.S-South Korea trade," Donna Crane, policy director for NARAL Pro-Choice America, told HuffPost. "It's completely insane -- he's looking to bring down trade bills for abortion politics, and frankly for his own politics."
Hatch, the Finance Committee's ranking member, has recently taken heat from the Tea Party for being too liberal on fiscal issues and immigration reform. He may be trying to display his anti-abortion credentials ahead of the 2012 election cycle; June poll numbers show that 59 percent of Utah voters say they'd vote against him.
Hatch also submitted several other amendments having to do with Medicaid and the Affordable Care Act that are unrelated to U.S.-South Korea trade. His office did not immediately respond to a request for comment.
"This is about his political survival," Crane said. "He's in a race for his political life. But really? This is where this is gonna play out?"
The Senate Finance Committee is expected to reject the amendment on Thursday afternoon.
Popular in the Community