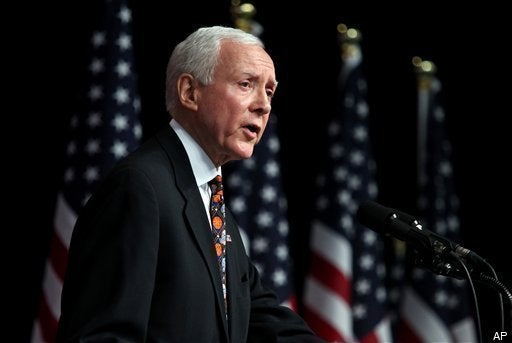 Sen. Orrin Hatch (R-Utah) introduced a proposal in the Senate this week that would make it a crime -- punishable with up to six months in prison -- to make inaccurate or misleading statements about one's military service record.
The Stolen Valor Act from Hatch comes one week after Democratic candidate for Senate in Connecticut Richard Blumenthal was exposed as having misstated his service record during the Vietnam War.
"It is sad that there are those who attempt to inflate their record and make these claims," Hatch said in discussing the intent of his proposal. "To do that defiles the sacrifice and service of those who have served in combat. Worse yet, it dishonors the sacrifice of the brave men and women in uniform who have given their lives in combat so that the freedoms we enjoy are defended."
Hatch introduced the legislation as an amendment to a supplementary war spending bill currently being debated in the Senate.
Here's more on what the Utah Senator had to say in debuting his proposal:
My amendment would add to this existing statute, making false statements regarding participation in combat operations. It appears to me that individuals make these false claims in order to obtain honorariums, employment, elected office or other positions of authority.

If convicted of this misdemeanor offense, the perpetrator could face 6 months in jail and/or a fine. This is the same penalty for falsely obtaining and wearing awards or medals.
...
It is a crime to dishonor the sacrifice of so many by falsely representing combat service for the purposes of self-promotion or benefit. My amendment would deter those who would falsely prop themselves up in order to appear worthy of the award and title of "combat veteran."

I would urge my colleagues to support this amendment and vote in favor of it.
Popular in the Community