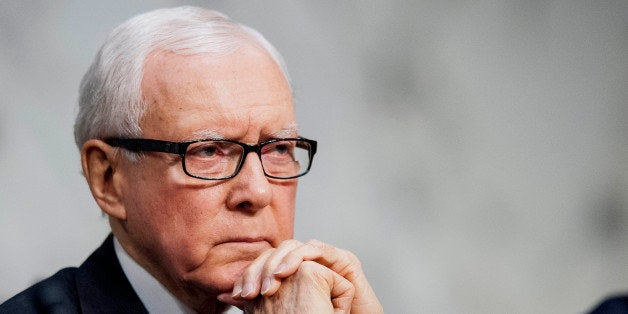 WASHINGTON -- A day after Republicans swept control of the Senate, Sen. Orrin Hatch (R-Utah) issued a plea to his party: Keep current filibuster rules in place, even though we hated it when Democrats pushed through reforms last year.
"Simply put, if Republicans re-establish the judicial-nomination filibuster, it would remain in place only until the moment that a new Democratic majority decided that discarding the rule again would be useful," Hatch warned in a Wednesday op-ed in the Wall Street Journal. Hatch co-authored the opinion piece with C. Boyden Gray, a former White House counsel to George H.W. Bush.
Hatch, the longest-serving GOP member of the Senate Judiciary Committee, wrote that it "would only invite further damage to the institution" if GOP leaders, poised to become the majority in January, chose to revert to the filibuster rules in place before last year, which required 60 votes to advance most nominees, versus today's 51 votes.
But it was just over a month ago -- and before the GOP clinched the Senate -- that he was saying the complete opposite, calling for restoring filibuster rules back to a 60-vote margin to make the Senate function better.
"We should get it back to where it was," Hatch told Politico in September. "You can see the destruction that has happened around here."
A Hatch spokesman did not respond to a request for comment.
Republicans have accused President Barack Obama of leaning on filibuster reform to fill out the judiciary with far-left nominees, and Hatch made that claim again in his Wednesday piece. However, Republicans have overwhelmingly been voting to confirm Obama's judicial picks.
Hatch is no exception. The Senate has confirmed 62 of Obama's judicial nominees this year. Of those, Hatch voted for 52 of them.
Calling all HuffPost superfans!
Sign up for membership to become a founding member and help shape HuffPost's next chapter
BEFORE YOU GO
PHOTO GALLERY
Senate Majority Leaders Through The Years