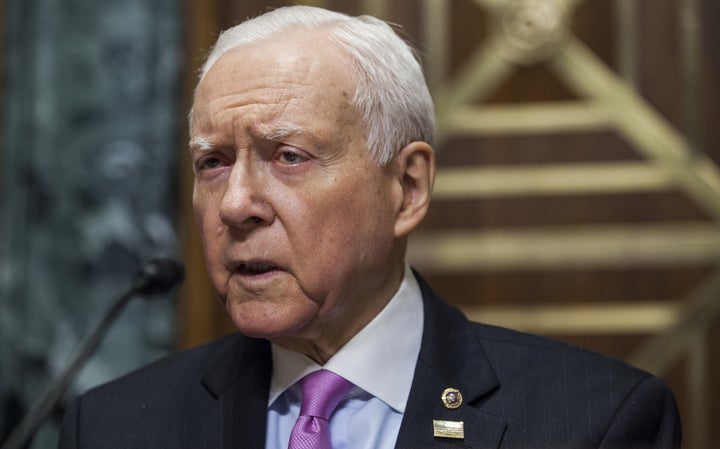 WASHINGTON ― Sen. Orrin Hatch (R), the 83-year-old conservative senator from Utah, made a strong case Wednesday for more federal research into the benefits of medical marijuana.
"While I certainly do not support the use of marijuana for recreational purposes, the evidence shows that cannabis possesses medicinal properties that can truly change people's lives for the better," Hatch said on the Senate floor.
He listed off a number of ailments that can be alleviated with marijuana: cancer treatment, severe epilepsy, post-traumatic stress disorder, the effects after a stroke and chronic pain. The senator's emboldened position on the issue coincides with legislation he is introducing with Sen. Brian Schatz (D-Hawaii). Their bill focuses on removing the "bureaucratic red tape and over-regulation" that can impede research into the drug's benefits for patients.
"It's high time to address research into medical marijuana," Hatch said in a related press release filled with pot puns. "Our country has experimented with a variety of state solutions without properly delving into the weeds on the effectiveness, safety, dosing, administration, and quality of medical marijuana. All the while, the federal government strains to enforce regulations that sometimes do more harm than good. To be blunt, we need to remove the administrative barriers preventing legitimate research into medical marijuana, which is why I've decided to roll out the MEDS Act."
Hatch and Schatz introduced a similar bill last year, but the Utah senator's position on medical marijuana has evolved even further since then. One reason may be personal. During his floor remarks, Hatch talked about a friend in Eagle Mountain, Utah, who takes 17 pills a day to alleviate seizures that he continues to suffer from. Compounds found in marijuana could "significantly help my friend," Hatch said, "and help him lead a regular life."
"I understand that medical marijuana is a difficult issue. I understand that it's not an issue without controversy," Hatch added. "But we cannot shrink from our duties simply because they require us to make hard choices. At present, we have a duty to help the thousands of Americans suffering form debilitating seizures and chronic pain who desperately want help."
Broader marijuana legalization is an issue that has attracted growing bipartisan support, although President Donald Trump's administration has promised to go the other way. Attorney General Jeff Sessions is considering reversing the Obama administration's more relaxed approach to state legalization, and may instead resume enforcing stricter federal laws.
There has been significant speculation that Hatch may retire at the end of his term, opening the door to a possible run by former GOP presidential candidate Mitt Romney.