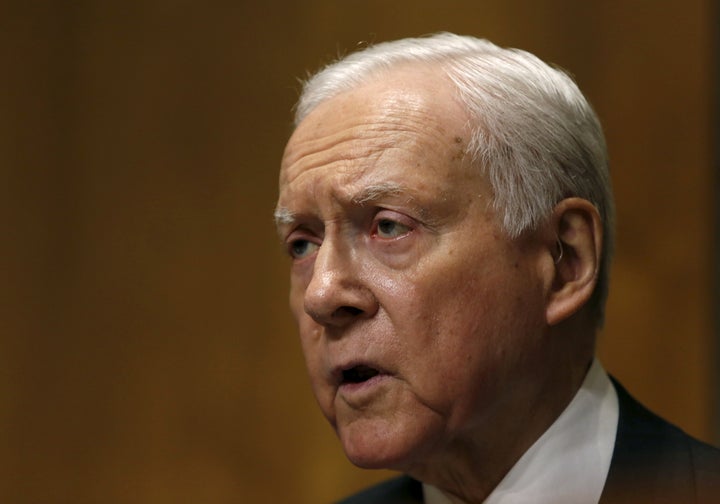 Sen. Orrin Hatch (R-Utah) said in an op-ed published early Thursday morning that a meeting with Merrick Garland hadn't persuaded him that Garland should be confirmed to the Supreme Court, despite the long history that the two men share.
The meeting, however, had not actually taken place yet.
Hatch and Garland were scheduled to sit down with each other on Thursday in a session that has been kept highly secret by both parties. But before that happened, the Deseret News published a piece by Hatch saying that he had come away unmoved in his belief that the next president should fill the current vacancy on the Supreme Court:
Like many of my Senate colleagues, I recently met with Chief Judge Merrick Garland, President Obama's nominee to the Supreme Court. I have known Judge Garland for many years and think highly of his character and credentials. He has an excellent reputation among lawyers and fellow judges alike. I met with Judge Garland as a personal friend and out of respect for his position as a distinguished federal judge."

Our meeting, however, does not change my conviction that the Senate should consider a Supreme Court nominee after this presidential election cycle.
Hatch's piece was published briefly at midnight, Utah time, and then deleted. The link was redirected to an error page, but a cached version remained accessible for everyone to see.
Paul Edwards, the executive editor of the Deseret News, said the publication's website mistakenly published the piece while it was still in draft form.
"The electronic publication of this version, awaiting edits from the Senator following his meeting with Judge Garland, was inadvertent," he said. "We apologize to Senator Hatch and our readers for this unfortunate error."
In the piece, Hatch made the case against granting Garland a hearing and a vote -- a stance that most Republican senators have maintained since the day of Justice Antonin Scalia's death. He also wrote that it would be "unfair" to hold a hearing to confirm Garland in the midst of a contentious presidential election.
"Indeed, holding the confirmation process amid the clamor and commotion of the current presidential election campaign would thrust Judge Garland into a punishing political gauntlet that is below the dignity of a Supreme Court nominee," Hatch wrote.
"Because I care for Garland personally and want to maintain the integrity of the Supreme Court, I believe the Senate is right to fill the current vacancy after the political season has ended."
But the very fact Hatch had a pre-packaged reaction written prior to the actual meeting belies his concern for Garland's well being and demonstrates that he had no intention of keeping an open mind.
A Hatch spokesman later confirmed the meeting with Garland would take place Thursday afternoon. The senator restated his opposition to holding a confirmation hearing for Garland before the election, while stressing the need for behaving politely toward him.
"Merrick Garland is an honorable public servant who deserves our respect," Hatch said. "We have been friends for nearly two decades, and I look forward to visiting with him today."
Jennifer Bendery contributed reporting.
This article was updated after publication to include comments from a Hatch spokesman and the executive editor of the Deseret News.
Support HuffPost
The Stakes Have Never Been Higher
Popular in the Community