Sen. Orrin Hatch (R-Utah) on Monday tweeted out an editorial in The Salt Lake Tribune naming him "Utahn of the Year," declaring that he was "grateful for this great Christmas honor."
The tweet prompted some head-scratching for an obvious reason. Although the editorial afforded Hatch the "Utahn of the Year" distinction due to his far-reaching influence on the national stage, it expressed its deep disapproval of the way Hatch has used that influence and called on him to retire.
"It would be good for Utah if Hatch, having finally caught the Great White Whale of tax reform, were to call it a career," the Tribune stated. "If he doesn't, the voters should end it for him."
But Matt Whitlock, Hatch's communications director, made clear in a Tuesday tweet that Hatch's seemingly approving tweet was "tongue-in-cheek."
"This is at least the 4th editorial the Tribune has written in the last two years urging Hatch to retire. Might as well have a chuckle about it," Whitlock said.
In a subsequent tweet, Whitlock issued a formal response to the Tribune editorial, urging the newspaper's editorial board to "find joy this holiday season in something beyond baselessly attacking the service and integrity of someone who [has] given 40 years to the people of Utah." 
But if a Democrat or Republican primary opponent were looking for ammunition against Hatch, the Tribune editorial would not be a bad place to look. The Tribune attacked Hatch for supporting President Donald Trump's drastic reduction in the size of federally protected land in Utah's Bears Ears and Grand Staircase-Escalante monuments, which the Tribune argued had "no constitutional, legal or environmental logic."
"To all appearances — appearances promoted by Hatch — this anti-environmental, anti-Native American and, yes, anti-business decommissioning of national monuments was basically a political favor the White House did for Hatch," the Tribune wrote. "A favor done in return for Hatch's support of the president generally and of his tax reform plan in particular."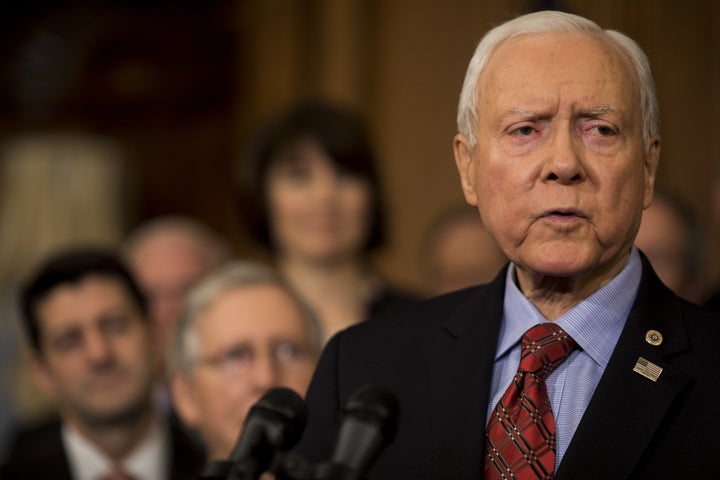 In addition, the Tribune attributed Hatch's failure to depart Congress in a timely fashion to his "utter lack of integrity that rises from his unquenchable thirst for power."
Hatch, a critic of politicians who overstayed their welcome from the time he unseated a three-term senator in 1976, is now the longest-serving Republican senator in U.S. history, the Tribune noted. His plans to run for re-election in 2018 also violate a 2012 promise not to do so, the editorial recalled.
"Clearly, it was a lie," the newspaper stated.
However, as the Tribune noted, Hatch has, for better or worse, indeed had a momentous year. As chairman of the Senate Finance Committee, Hatch presided over a sweeping overhaul of the U.S. tax code.
Even that milestone has not been without its hiccups. The famously mild-mannered senator lost his temper during a November hearing on the tax bill when Sen. Sherrod Brown (D-Ohio) derided the legislation as a lopsided handout for the wealthiest Americans.
"Listen, I come from the lower-middle class," Hatch said. "We didn't have anything. Don't spew that stuff on me. I get real tired of that crap."
Brown had a point though. By 2027, 82 percent of the benefit in the Republican tax legislation would go to the top 1 percent of American households, according to the nonpartisan Joint Committee on Taxation.
REAL LIFE. REAL NEWS. REAL VOICES.
Help us tell more of the stories that matter from voices that too often remain unheard.
BEFORE YOU GO
PHOTO GALLERY
2017 Scenes From Congress & Capitol Hill