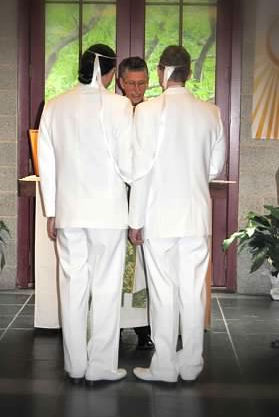 On Saturday, June 8, 2013, hundreds of thousands of couples across the United States and the world gave their vows of love to one another. Some of these weddings were religious, some were not, some were expensive and grand, others were minimalistic, some were lengthy, and others lasted only a few moments. There were marriages between a man and a woman, a man and a man, and a woman and a woman. Regardless, two people had declared their love for one another in the presence of a third party and affirmed their intentions to always care for each other. It was a beautiful thing.
Manhattan saw many couples married that day, but one wedding was different, not only because it was two men being married in a Christian church, nor because they were joined by 80 supportive family members, nor even because it was a fully legal marriage of a same-sex couple, but also because two thinly handcrafted silver metal hoops, seven inches in diameter, with decorative scrollwork on the side and a long ribbon tying them together, made an appearance during the ceremony. The stefana, or crowns, as they are commonly called, are symbols of royalty, martyrdom and unity and are used in the wedding ceremonies of the Eastern or Greek Orthodox Church. They are symbols of royalty because the marriage ceremony itself, in the Byzantine tradition, follows the form of a coronation, creating a small "kingdom" or family, as we would call it. The crowns remind Orthodox Christians of the holy martyrs because of the church's ancient belief of martyrdom being linked to the concept of God's crowning glory. Lastly, the crowns symbolize unity with their unending circular design and the ribbon tying them together.
The Orthodox or Byzantine rite of crowning dates back over a millennium and is maintained to this day in Orthodox parishes around the globe. Tragically, these same parishes continue to refuse this sacrament and beautiful rite to loving gay couples who seek to solidify their relationship in the eyes of their faith community, family and friends. However, on June 8, two men were united in holy marriage using these very same traditions. It was a unique wedding because a gay couple was crowned with glory and honor by the hands of a Christian priest in a new, inclusive translation of the Byzantine wedding liturgy.
It was important to this couple to be married with their cherished customs, including the use of icons, incense, chanting and stefana. For most heterosexual couples who are of Greek descent or members of the Orthodox Church, this would be as simple as setting a date with a local parish priest and ordering the crowns. For these two men it was a very different journey and well worth each and every step. The couple was crowned to one another in the name of the Trinity, establishing them as kings of their newly formed family, with their son close beside them. They were crowned with one another's glory, hope and love. The crowns revealed to their guests their decree to die to self-will for the benefit and welfare of each other, showing their belief in sacrificial love as key to a healthy marriage. The crowns upon their heads showed to all that they had been joined both in Heaven and on Earth as they took their first steps together.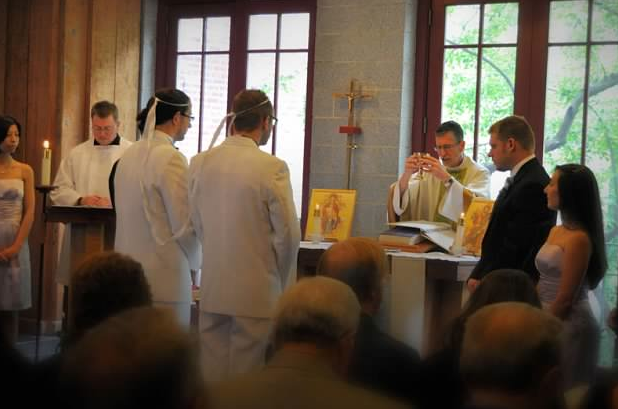 This day was ultimately sacred because I was one of the grooms, and I was blessed to be crowned to my beautiful husband, life partner and best friend Andrew. Together we entered the welcoming nave of Trinity Lower East Side and carried our flickering candles to the altar to be placed before icons of Christ and his mother, the Theotokos. Together we affirmed our love, drank holy wine from a common cup and were censed by the priest, Rev. Phil Trzynka, as the prayers and hopes of all gathered lifted to the heavens. We were crowned in majesty and circled the holy table three times while chanting was offered in Greek, bidding us to dance with God and one another. The wedding boldly reflected our faith backgrounds and family traditions without fearing what others would think. Together, Andrew and I dared to break the canons of a church that would declare our love false and our marriage impossible. We dared to be who God made us and receive the Divine's blessing for our family with tangible Greek traditions that date back over 50 generations. We dared to have the wedding of our dreams.
The results were beautiful. Tears were shed, resounding voices chanted Christos Anesti, and hugs were shared by all who gathered. They witnessed what once would have been thought impossible. Orthodox wedding crowns and two men had come together in a legal wedding ceremony, and no shame was found, no embarrassment was felt and no vengeance of a bigoted god was unleashed. The only emotions on this day were ones of unending love, joy and thanksgiving. What God brings together no one may separate!
Perhaps this same event has happened elsewhere in recent years (I hope it has), but I have been unable to locate any documented instances. So, very proud of our love, sexuality and family, Andrew and I stand hand-in-hand as two men married in the Byzantine rites of the Eastern Orthodox Church. Perhaps the service wasn't within the walls of an Orthodox parish, but it was under the mantle of God's love, and that is where the Church is truly found. Together we say in Greek, "σ'ευχαριστούμε," which means, "We are thankful!"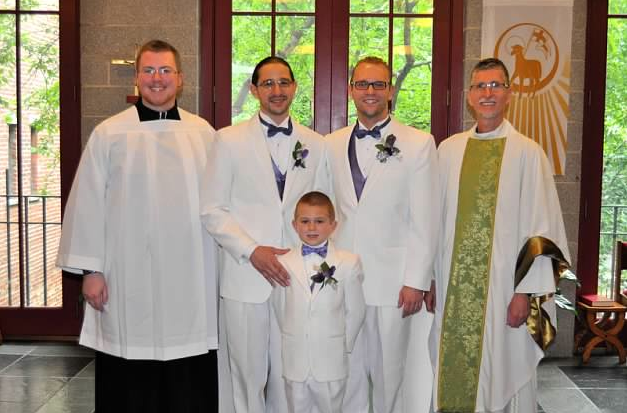 Photography courtesy of Molly Garrison-Best
Popular in the Community