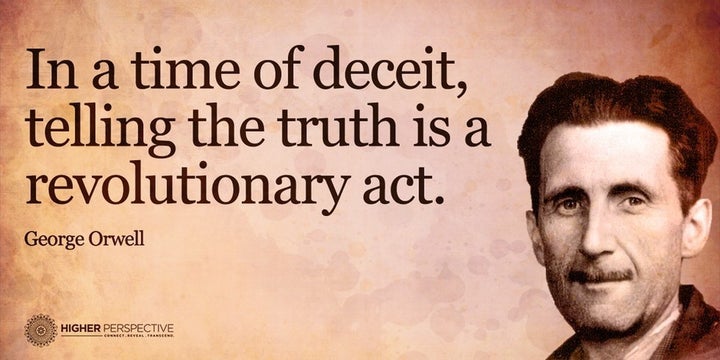 The British dramatization of George Orwell's subtle and beautifully written novel 1984 is making headlines in the U.S. because people freaked out during previews and someone might have fainted at the Broadway debut, according to The Washington Post.
Critics feel they have to warn readers about the torture sequences:
During the [torture scenes], the "main set is destroyed and transforms into a sterile white box, blasted with searing light," wrote the Hollywood Reporter's David Rooney. [The] torturers yell out ominous words like "fingertips" or teeth." Then strobe lights flash maddeningly while the piercing, punishing sounds of a jackhammer fill the room. "Blood is spattered and spit out; at least one beating about the face," wrote Vulture's Christopher Bonanos, who called these scenes, "visceral, ghastly, and hair-raisingly vivid."
When I saw the show in London, I thought they were some of the worst-produced and least convincing scenes of theater I'd ever seen. I grew up in New York and started Broadway playgoing in junior high school, and went on to become a member of the Stratford Festival in Canada when I moved to Michigan.
The shouting and the strobe lights and the noise in those 1984 scenes didn't feel remotely visceral, just obnoxious. As for the blood, it was so ridiculously fake that two TV actors I recognized sitting in front of me started to giggle. They themselves were far more entertaining, and when we chatted outside afterwards, they agreed with me that it wasn't a stellar production, despite the rave reviews.
The whole thing was truly a stone dud from the very first scene onward because the concept was flawed. This adaptation of 1984 offered a ridiculous frame narrative that was like a dreary summer course for under-achieving students who had to be spoken to very slowly, clearly, and repetitively to make sure they got it. Orwell's novel felt reduced to agitprop on Valium as lines were repeated ad nauseum.
The gorgeous, haunting novel about surveillance, truth, and individual freedom in an autocratic state that I'd just reread in a state of awe seemed like some cheap cartoon. But who knows, it may become a popular freak show if enough people go there and pass out, puke, whatever....
Lev Raphael is the author of 25 books in genres from memoir to mystery, most recently the thriller Assault With a Deadly Lie.
Popular in the Community