GETAFE, Spain -- Osama Abdul Mohsen's life turned around in September, right after Petra Laszlo, a camera operator for the Hungarian news channel N1TV, kicked and tripped him as he ran through a cornfield with his son in his arms, part of a crowd of refugees sprinting away from a relocation camp in southern Hungary.
That single humiliating interaction, caught on camera, saved Abdul Mohsen's life and his family. He went from anonymity to media stardom in the span of a few hours. He went to bed with nothing, and the next day he was on a train bound for Spain, where a house and a job awaited him thanks to his past as a football coach. Miguel Ángel Galán, president of Cenafe, the country's national soccer coaching academy, had made Abdul Mohsen's dream come true.
It felt "like walking in heaven," the Syrian refugee said, describing the moment he reached Madrid. His story had taken an unexpected turn, and now, there was a happy ending in sight. Still, there remains a hint of distress and anxiety in his grateful gaze.
Over a month after the incident with Laszlo, Abdul Mohsen recently opened his doors to HuffPost Spain. His two sons, Mohamed, 17, and Zaid, 7, were there too, in their new home in Getafe, a city south of Madrid. Zaid was munching on tiny gummy worms. It was 3 p.m.
The visit took the host by surprise. Abdul Mohsen had forgotten the appointment. He was resting in his room when we arrived, taking advantage of the gap between his morning Spanish classes and his job in the afternoon. As he put on a shirt, he apologized for the confusion and the state of the house. He was still disoriented -- everything was different. He was dealing with a foreign language, an office job and a nagging concern.
His wife and his two other children are still in no man's land. They parted ways because of the cost of the trip from Turkey, and they feared it would be dangerous for a woman to cross the Hungarian and Serbian borders. The rest of Abdul Mohsen's family is stuck in a refugee camp in Turkey, waiting for word that they can fly to Spain.
"I was told that they would be here in two or three weeks, but it has been over a month and they're still not here," Abdul Mohsen said carefully. "Why? I don't know, but it's hard to live like this."
For him, showing gratitude to the people and the city that have enabled him to build a new future is extremely important. He said he doesn't want to complain, "because the people are fantastic" to him. But he continues to suffer, knowing that half his family is stranded thousands of miles away.
That's why he no longer wants to talk about the Hungarian camerawoman who made him famous.
"I don't want to watch the video anymore. And I don't want to think about this accident," he said. "I have bigger problems and better things to do now. My family, my job... not that journalist anymore. I don't think about it."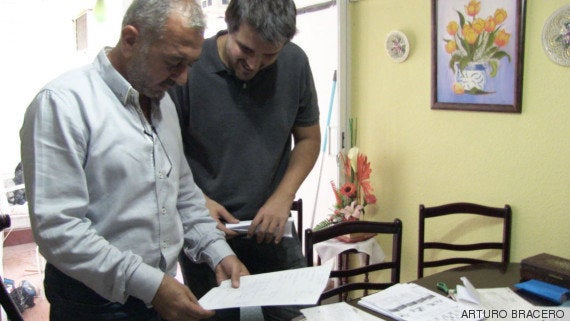 While he waits for news from his family, Abdul Mohsen is trying to get used to this new city, with its trains, buses, great food and many other things he says are unfamiliar to him. "Perfecto, gracias, hola y mola" are the first four words he learned in Spanish -- perfect, thanks, hello and cool. His Spanish notes are stacked on the living room table.
The neighbors are making it easy for him, he said, and they "want to help all the time," but he wants to be ready to fend for himself. He knows that if he wants to play a meaningful role in Cenafe's international expansion, he has to learn to interact with more than just the Middle Eastern world he is in most contact with these days. Learning the local language would help him fulfill his dream of coaching in Spain.
"Coaching is my life, not being in an office," he said. "It is what I have done for over 25 years."
Abdul Mohsen explained that the decision he made to leave Syria three years ago was far from easy. He had a good house and a good job with the Al-Fotuwa Sport Club, in Syria's premier soccer league. But he was also haunted by fear.
"You could be killed at any moment," he said. "Every minute, there was a bomb in the street. It was a dangerous, a very dangerous, life. I've seen [Syrian President] Bashar al-Assad's army kill many people, and not in combat. You can't talk about being free and having a good life. If you say you want freedom, you could die."
Could the wave of refugees be an entry point into Europe for jihadists, as Spanish Interior Minister Jorge Fernández Díaz has suggested? Abdul Mohsen doesn't think so.
"It is a mistake, and a big lie" to think that terrorists may make it into Europe, he said, referring to statements made by leaders of the conservative People's Party and to concerns voiced by Díaz -- and recently echoed by members of the Catholic Church -- that not all refugees are "clean wheat."
"We're fleeing from war, and we just need help," said Abdul Mohsen, who praises the position of countries like Germany, Belgium, the Netherlands and Austria on the refugee crisis. He still thinks that "Germany is number one."
Two hours later, at 5 p.m., Abdul Mohsen started his workday at Cenafe. The coaches' offices are located a 10-minute walk from his house, in the center of Getafe. He works there three hours a day, building bridges with the Middle East. His desk and computer are in a room behind the customer service area. Galán, the president of the academy, occupies the desk next to him. His company has not only given Abdul Mohsen a job, it also pays for his rent and maintenance.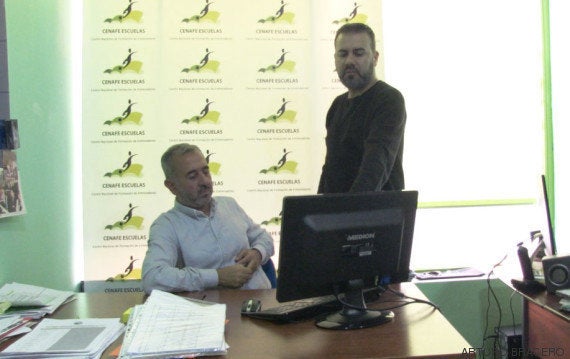 After giving him a few brief instructions, Galán told us that Abdul Mohsen is adapting well, because this is a field he is familiar with, despite the language difference. Galán said he doesn't want to overwhelm Abdul Mohsen, and that for now, he wants him to focus more on his Spanish lessons and helping his children with schoolwork than on his work at Cenafe. But Galán is convinced that in time, Abdul Mohsen will have more responsibilities.
"He will have many more duties than being at a computer," Galán said. "Training will not be a problem, because he can already do it. There is a law, but people can bend it. If [Zinedine] Zidane could do it, Osama can too."
"I have asked [Royal Spanish Football Federation] President Ángel Maria Villar to validate his title [as football manager], but Villar will deny any request that comes from me, because I want to chair the federation," Galán went on. He added that teams like Móstoles, Pinto and Villaverde have already shown interest in signing Abdul Mohsen.
As for family reunification, Galán says he is waiting for the Ministry of Foreign Affairs to respond. But he believes that everything will be resolved soon enough, despite the fact that, legally, family reunification can't happen until Abdul Mohsen has lived in Spain for at least a year.
"I promised that the six of them would be together, and I will not rest until that happens. If it takes a long time, I will look for a plan B," Galán said. "I am very bold, and I always try to keep my promises."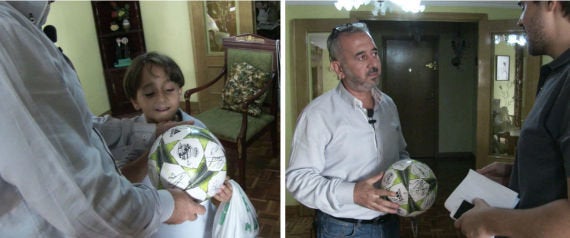 This story originally appeared on HuffPost Spain and has been translated into English and edited for U.S. readers.
Related
Popular in the Community