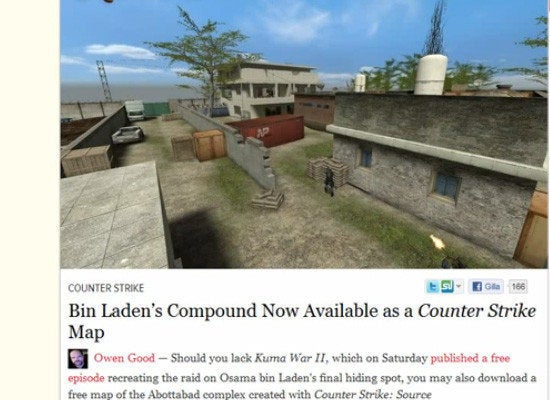 The level is set in a compound resembling photographs of the bin Laden hideout, which last week became the site of a U.S. Navy SEALs raid resulting in bin Laden's death. Users can download the map as a backdrop for different plots within "Counter Strike."
The New York Times reported on Monday that "several thousand people" had downloaded the level.
"I can see how people would think it is in bad taste, but honestly if that's your opinion you may as well protest the whole game (as well as many others)," Fletch wrote Monday on customization site GameBanana, where you can view screenshots of the Abbottabad level map.
Last week, developers released an episode of "Kuma War II" that recreates the raid on bin Laden's hideout. Players can choose to enter the game as Navy SEALs who pursue and kill bin Laden, or as guards who defend bin Laden against the intruders. Kotaku reports that the episode doesn't truly follow the details of the raid but that the layout of the compound is fairly accurate.

REAL LIFE. REAL NEWS. REAL VOICES.
Help us tell more of the stories that matter from voices that too often remain unheard.