Chants of "U-S-A, U-S-A," could be heard from the White House lawn late Sunday evening, as a mass of Washingtonians spontaneously gathered to celebrate President Obama's announcement that U.S. military forces had killed Osama bin Laden.
At its peak, several thousand rally-ready Americans assembled along 1600 Pennsylvania Avenue, waving flags and singing the national anthem to mark the historic event.
"I'm so overwhelmed! What a relief! I've thought of this every day, I've wondered when this was going to happen," said Allison Crowther of Nyack, N.Y., whose 24-year-old son was killed in the 9/11 attacks. "When are we gonna catch this guy? And now they find him living in a mansion? God bless these people that got him. God bless Obama for going in."
Los Angeles resident Derek Rowland was on his first visit to D.C. when he was swept away in the evening's events.
"History smacked me right in the face," he told the Washington Examiner. "It was almost like fate. I'm part of it. It's unbelievable."
North Carolina State University student Luke Costanza and his eight friends drove over 4 hours from their campus to witness the celebration.
"The historic event is something kids will soon be reading about in their history books in school," Costanza said. "It's like when we learned about dictators being killed and all of dictatorships, like Hitler. To think the SOB is finally dead is amazing."
Less than 12 hours after the announcement, D.C. street vendors were already cashing in with "Obama got Osama" t-shirts to mark the occasion.
A group of students mostly hailing from Catholic University led a crowd at the White House early Monday morning in a rendition of the national anthem followed, naturally, by Miley Cyrus' "Party in the USA." Most of the students were in fifth grade on 9/11, Amy Tyburski, 19, a Catholic student, told HuffPost. She was joined by Catholic classmates Greer Skinner, Gina McLaughlin, Helen Campbell, Maggie Burke, Maura Barnes and Hope Linthicum, whose father was at the Pentagon on 9/11.
And, of course, many more witnesses captured the late-night scene off of Pennsylvania Avenue.
Below is a slideshow depicting the thousands of flag-waving Americans who assembled in front of the White House.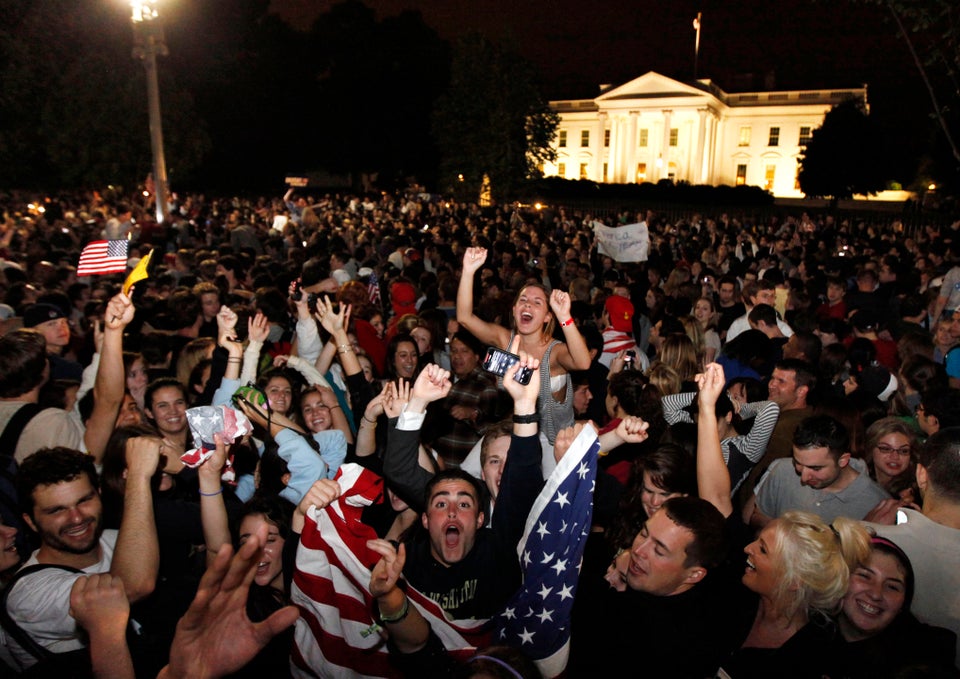 DC Crowds React To Bin Laden's Death
Plus, the scene in New York:
Popular in the Community