It was a crowd without a leader. Yet the chorus from hundreds outside 1 World Trade Center early Monday shifted seamlessly from the "Star Spangled Banner" to "God Bless America" to the pledge of allegiance and back--anything would do.
All along Church Street near Ground Zero, a mass of New Yorkers spilled into the streets to mark the death of Osama bin Laden, architect of the mass killing at that very spot nearly a decade ago. But behind the constant refrain of patriotic chants was a deep range of emotions among the masses gathered there.
There were the friends and family who lost loved ones nearly ten years ago; the doe-eyed college freshmen, scaling traffic signals, hoisting American flags and spraying champagne on crowds below, and the neighborhood loyalists, who every day deal with fresh reminders of a seminal New York City tragedy.
Lydia Roman and Maria Dapontes-Dougherty raised a t-shirt bearing a black-and-white photo and emblazoned with the name Christopher Santora high above the crowd. At 23, Santora was one of the youngest firefighters to perish in the World Trade Towers nearly 10 years ago.
Close family friends from Astoria, the two women come out to Ground Zero for every annual Sept. 11 memorial service. But this night was clearly different.
"The anniversaries become kind of normal, in a way," said Dapontes-Dougherty, who rushed over from Queens immediately after Obama's speech. "Tonight, we're celebrating justice. It just makes you proud. It lets you know that America didn't give up."
As younger students hoisted friends on their shoulders nearby, Rick Kelly calmly observed the crowd around him. Kelly lost 15 close friends and coworkers in the 9/11 attacks.
He had just ended his job as the bartender at the Windows on the World restaurant, located at the top of the North Tower of the World Trade Center, a few weeks earlier. After making frantic calls to former coworkers, he learned that none of his friends from that morning's shift made it out alive.
The second Kelly heard the news of bin Laden's death Sunday evening, he left his West Village apartment and headed straight to Ground Zero.
"That was something that really changed my life in every way," Kelly recalled. "So to be down here nine-and-a-half years later, it just makes me complete. This puts a bookend on it."
As the crowds poured down Vesey Street and completely blocked Church Street, cab driver Louis Buteau had all but given up on any fares for the rest of the evening. He was the unfortunate first in a long line of traffic continuously honking--at first in frustration, but eventually as celebration.
"What can we do?" Buteau laughed, as chants of "Obama got Osama" thundered in the crowd. "The moment is a big moment. It's a victory moment. And maybe after all of it, someone might have a big fare for me."
Standing toward the edge of the crowd, Rosalie Joseph and Robert Concister had more solemn thoughts for the occasion. They're residents of Battery Park City, a neighborhood brought to its knees by the attacks, but one they have tirelessly worked to rebuild.
They fled as fast as they could once the second plane hit. Their apartment building, Gateway Plaza, was severely damaged by the fires from the World Trade Center. Yet they returned to the neighborhood as soon as they could in early 2002: Concister reopened his business, while Joseph began working on charity events for the local fire community.
"It's a celebration, and I get it, but it's kind of hard to cheer," Joseph said.
"On some level, people don't know what to do," Concister added. "I don't think a lot of people actually realize why they're cheering."
Take a look at videos from Ground Zero
Take a look at pictures from the Ground Zero crowds below (all photos taken by Damon Dahlen, AOL):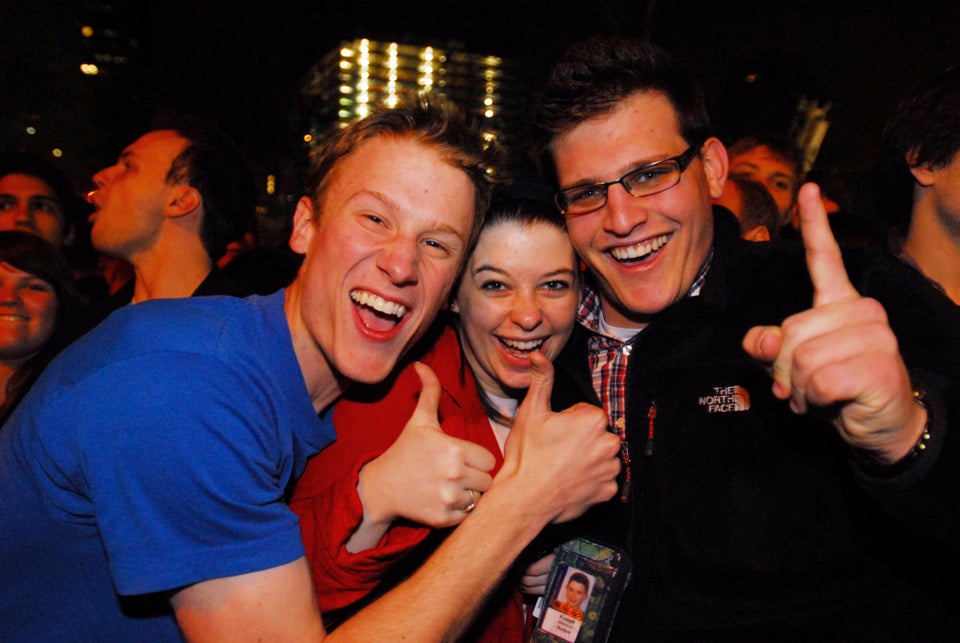 Osama Bin Laden Dead: Photos From Ground Zero
Related
Popular in the Community