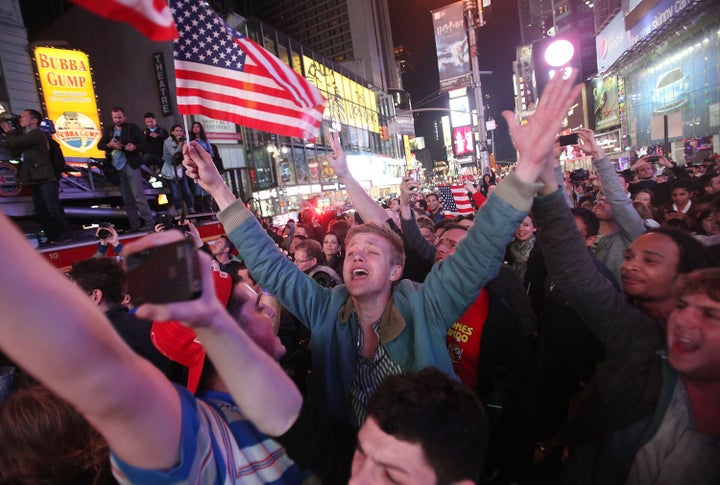 New Yorkers are responding to the news that Osama bin Laden is dead.
Shortly after the announcement from President Obama, New Yorkers in Times Square and Ground Zero flooded the streets to celebrate the news that the man behind the attacks of September 11th was killed by American forces.
Mayor Michael Bloomberg released a statement on the news, saying that "New Yorkers have waited nearly ten years for this news. It is my hope that it will bring some closure and comfort to all those who lost loved ones on September 11, 2001."
New York Police Commissioner Ray Kelly greeted the news as a "welcome milestone" for the victims of those horrific attacks, and for those "who remain tenaciously engaged in protecting New York from another attack."
Senator Charles Schumer said that the death of bin Laden is a "thunderous strike for justice for the thousands of my fellow New Yorkers -- and citizens from all over the world -- who were murdered on 9/11."
'A few-hundred-strong crowd has gathered along Church Street across the way from the lighted skeleton of 1 World Trade Center.
Most of them holding iPhones and cameras, and mostly young, they're breaking out into impromptu songs and cheers — "We Are the Champions," The Star Spangled Banner, USA, USA! Moments of intensity are punctuated by silence until the next chant starts afresh.
Francesco and Mario Vivacqua, brothers from Queens, held aloft an American flag on Church St. near ground zero.
They've lived in New York all their lives and saw smoke from outside their school windows in 2001.
"First we watched the president's speech and then we came down here," said Francesco. "Our pride brought us down here."
"It means everything," said Mario.
"Terrorism has been overshadowed in our world for so long." added Francesco. "To get one of its biggest leaders marks a new chapter. Showing that we actually have the power to get the guys proves that we can move forward now."'
Jordan Zakarin was also at ground zero Sunday, and spoke to a Vivian Farmery, a downtown resident and mother who was concerned what this news would mean for New Yorkers. "I gotta tell you, both my kids are really scared of retaliation, starting right about now."
Verona, NJ Patch spoke to someone touched by the tragedy of 9/11 about the news:
"It's been a long time coming," said Cheryl Desmarais of Millburn, whose husband Mark Charette died in the World Trade Center. "You know I'm not sure what the right word is. 'Happy' is a funny word to use. But this is the man responsible for my husband's death. This needed to be done. They needed to capture him or kill him and I'm glad they have. I think it's a huge blow to terrorism."
REAL LIFE. REAL NEWS. REAL VOICES.
Help us tell more of the stories that matter from voices that too often remain unheard.