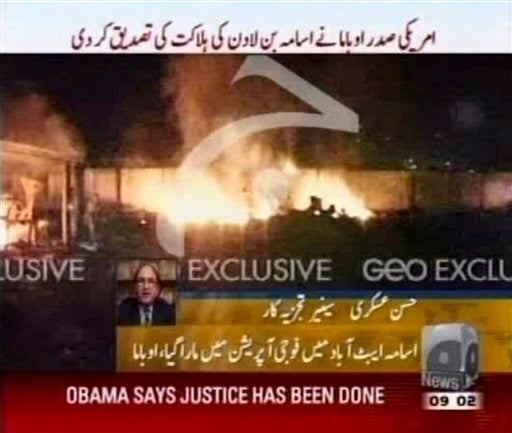 WASHINGTON -- The words so many Americans have waited to hear for nearly a decade -- Osama Bin Laden is dead -- were finally spoken on a spring night by a President still grappling with the national security crisis sparked by 9/11.
But as crowds streamed to the White House to chant "USA! USA! USA!" in ecstatic reaction to the news, experts were divided over whether bin Laden's end would weaken the terrorist movement he oversaw, or whether it had arrived too late to make a substantial difference: some suggested that al Qaeda is now so established and globally organized that it is likely to continue seeking Western targets.
"This closes a chapter but the most sobering aspect of this is that this is not the end," said Jack Cloonan, a former special agent in the FBI's bin Laden unit. "The reasons they hate us have not subsided and this could reinvigorate things."
Nearly 10 years after bin Laden directed the terrorist attack that felled New York's World Trade Center, a new Freedom Tower is rising at Ground Zero. The mastermind of the attack, Khalid Sheikh Mohammed, awaits a military tribunal in Guantanamo Bay. Despite numerous reported efforts, al Qaeda has yet to pull off another attack as deadly as the one it unleashed on Sept. 11, 2001.
And yet, say experts, the jihadists who revered bin Laden have not gone away. A Yemeni-American cleric named Anwar al-Awlaki has taken over as the spiritual director of al Qaeda, calling for attacks like the one the Christmas underwear bomber attempted over Detroit. Just last Friday, meanwhile, German police arrested three suspected members of the al Qaeda organization who officials said were preparing a test run for a terrorist attack there.
At the same time, the American mission in Pakistan on Sunday dealt the al Qaeda movement a serious blow with potentially grave ramifications: The symbolic leader of their cause is dead.
"A timely triumph -- especially coming as the 10th anniversary of the 9/11 attacks approaches," said Bruce Hoffman, director of security studies at Georgetown University. "After a long wait, the U.S. has made good on the pledge of President Bush nearly a decade ago that the U.S. would get bin Laden dead or alive."
The milestone was not lost on President George W. Bush. "This momentous achievement marks a victory for America, for people who seek peace around the world, and for all those who lost loved ones on September 11, 2001," he declared in a statement. "The fight against terror goes on, but tonight America has sent an unmistakable message: No matter how long it takes, justice will be done."
Some suggested that al Qaeda would be weakened by the loss of its long-time leader.
"It matters. Bin Laden represented consistent and coherent leadership of the movement for well over a decade," said former State Department spokesman P.J. Crowley. "The movement is more diffuse that it was before 9/11 – there are still franchises around the world, but the center is now hollow with bin Laden leaving the scene."
Crowley compared the impact of bin Laden's death to that of Abu Musab al-Zarqawi, the head of al Qaeda in Iraq who was also taken out in a targeted killing by U.S. forces in 2006. "Our experience in Iraq is instructive," he said. "AQI can still conduct isolated attacks, but it was never the same once Zarqawi was killed. I expect this will be similar."
President Obama called the death of bin Laden "the most significant achievement" in the long war that began in 2001 war. But he added words of caution: "We must and we will remain vigilant at home and abroad."
Several experts agreed with Obama's warning, saying that bin Laden's killing would itself hand al Qaeda a powerful rallying point, one it will seek to explode as it readies a new set of targets.
"Retaliation to some degree is probable," said Fred Burton, an intelligence analyst at the research group Stratfor. "Soft targets will be in the gun sights."
Candace Rondeaux, a senior analyst for the International Crisis Group in Kabul, said retaliatory strikes are particularly likely in Afghanistan and the broader region. "This is a significant blow but obviously not the endgame," she said in an e-mail. "We certainly should expect reprisal attacks in Kabul and possibly in Islamabad."
The hunt for bin Laden had long gone cold after he slipped away from the grasp of coalition forces bombarding his hideout in the mountains of Tora Bora in December 2001. But in August 2010, Obama said, intelligence officials got a tip that he was living in a compound in Abbottabad, deep inside Pakistan. That's where Navy SEALs killed him and others in a shootout Sunday.
Obama said he called Pakistani President Asif Ali Zardari, who he said agreed that, "This is a good and historic day for both of our nations."
"Counter-terrorism cooperation with Pakistan helped lead us to bin Laden and the compound where he was hiding," Obama said. "Indeed, bin Laden had declared war against Pakistan as well, and ordered attacks against the Pakistani people."
But Hoffman pointed out that no matter how much the Pakistanis cooperated with American forces in the operation, bin Laden was living in a mansion not far from the capital.
"The fact that he wasn't hiding or cowering in a cave somewhere in the mountains but in [a compound in a populated area] means that he couldn't have survived for this long without help from some quarters," he said.
Some expressed suspicions that Pakistan's Inter-Services Intelligence agency knew where bin Laden was all along. Thomas E. Gouttierre of the Center for Afghanistan Studies at the University of Nebraska suggested the ISI "gave him up because it was becoming clear he was now expendable, because the war in Afghanistan, even with its many issues, was going in a direction that was likely to reduce Pakistani influence and access to negotiations between [Afghan President Hamid] Karzai and Pakistani-supported Taliban elements."
"Pakistan wants to be able to manipulate Afghanistan much in the way Syria has sought to manipulate events in Lebanon," he said, noting bin Laden may have become a victim of the fierce rivalry between Pakistan and India.
For its part, the Indian government focused less on the fact of bin Laden's demise and more on the location of his killing, underscoring the tense state of relations between India and Pakistan.
In a statement, the government of India noted "with grave concern" the fact that bin Laden was killed deep inside Pakistan. "This fact underlines our concern that terrorists belonging to different organizations find sanctuary in Pakistan," it said, adding that it believed the perpetrators of the 2008 Mumbai terror attack continue to be sheltered in Pakistan.
Popular in the Community